Keanu Reeves Reveals How He Reacted To Reprising Neo In The Matrix Resurrections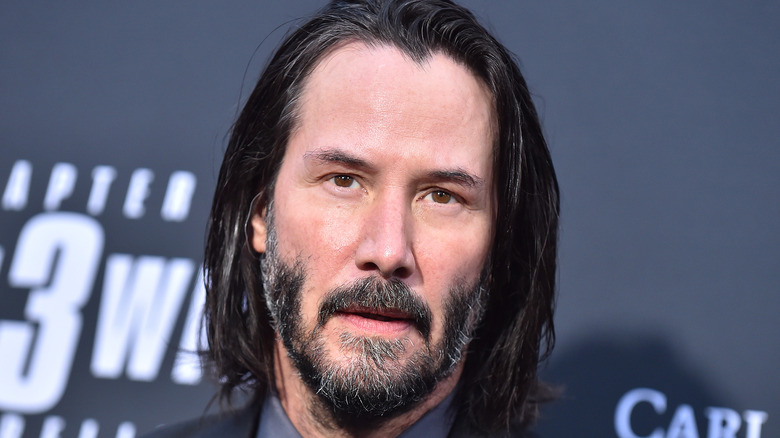 DFree/Shutterstock
"The Matrix Resurrections" is one of those movies that few people would ever have expected to become reality. After all, this fourth full-length movie installment in the franchise comes a whopping 18 years after "The Matrix Revolutions," which made some serious plays toward seemingly ending the story once and for all, what with the apparent deaths of main characters Neo (Keanu Reeves) and Trinity (Carrie-Anne Moss), along with the central antagonist, Agent Smith (Hugo Weaving). 
All of this indeed happened, but although Weaving's creepy villain is nowhere to be seen, the very first trailer for "Resurrections" revealed that both Neo and Trinity are still around ... at least, in some fashion. It's all pretty mindblowing, but the fandom's surprise about the continuation of "The Matrix" story is probably nothing compared to what the actors themselves must have felt like when they found out that their arguably most famous characters still have one more fight left in them. Now, Keanu Reeves has revealed how he reacted to reprising Neo in "The Matrix Resurrections."
Keanu Reeves was surprised that Neo might not be dead after all
Warner Bros.
"The Matrix" franchise is notorious for messing around with the concept of reality, but as Keanu Reeves revealed during a long-distance appearance in the BBC's "The Graham Norton Show" (via YouTube), director Lana Wachowski is perfectly capable of doing it in real life, as well. 
"I was at home and I got a text from Lana Wachowski, the director and writer, and she was like, 'What do you think about doing another 'Matrix' film?"' Reeves described the way he found out about the prospect of a new "The Matrix" movie. "And I went, 'What?! That sounds amazing, but I'm dead.' And she's like, 'Are you?'"
When you think about it, that exact train of thought must've ran through the heads of a great many fans when they first discovered that the new "Matrix" movie starring Reeves is underway, and it's pretty amazing to find out that the actor had the same reaction to the news as pretty much anyone would've have. Celebrities — they're just like us! 
"The Matrix Resurrections" arrives in theaters on December 22.