We Finally Know Why Rick And Morty's Season 5 Ending Was So Incredibly Sad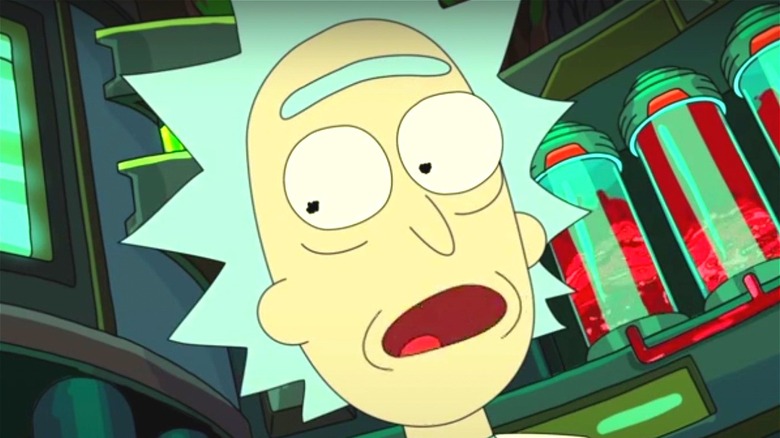 Adult Swim/Hulu
The Season 5 finale of "Rick and Morty" is one of the most plot-heavy episodes the Adult Swim series has ever released. Released on September 5, "Rickmurai Jack" (via IMDb) finally gives fans a continuation of the "Evil Morty" storyline that began all the way back in Season 1. Its more serious tone and emphasis on the plot was something that fans had been clamoring for the entire run of Season 5, with many specifically criticizing the loose, chaotic storytelling that the series has become so well known for.
Exploring the depressing nature of reality is a topic that is not new to "Rick and Morty," and while often they deal with it in a lighter, more absurd way, the speech at the end of Season 5's finale episode was anything but light. After the credits roll, fans are reunited once again with Mr. Poopybutthole (voiced by Justin Roiland), who shares a gut-wrenching story about how his life has spiraled out of control since the last time we saw him. He reveals his marriage has ended, he's lost his job, and he started isolating himself from the outside world. He delivers one of the most heartbreaking lines in the series history, saying, "[You] ever think of how horrified the people we love would be if they found out who we truly are?"
The monologue is deeply sad and might seem like an unusual way to cap a season. Now, "Rick and Morty" fans can finally find out why this speech made it into the episode.
This character's soul-bearing speech in Season 5 echoes a writer's own life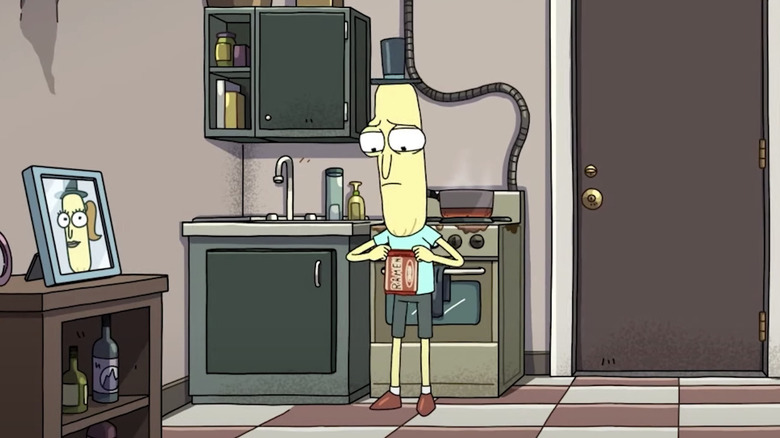 Adult Swim
Mr. Poopybutthole's Season 5 finale speech is a bizarre and depressing monologue that does not have one bit of comedic levity in it. While it might have seemed out of place at the time, "Rick and Morty" writer Jeff Loveness did his best to explain the dramatic scene on the Blu-Ray commentary for "Rick and Morty: The Complete Fifth Season." 
As reported by TVLine, Loveness opened up by sharing that, at the time he penned the speech, " I was going through a tough time, perhaps putting some of my failures in his voice." He then pointed to the isolation and depression that came with the onset of the COVID-19 pandemic as an inspiration for the monologue. He said, "I remember being a part of the couch in lockdown, bearing my soul through the voice of Mr. Poopybutthole, and I just remember thinking, 'Yes. You've done it. You've written something true.'"
True, it most certainly is true, not so much because it's a glimpse into the depressing reality around us as it is a full-on dive into all the uncertainty and terror that fills so many of us on a daily basis. It's a monologue about love, life, and the importance of attentiveness in our relationships. Even more poignant is the fact that, in classic "Rick and Morty" fashion, the whole thing is delivered by a character with the ridiculous name "Mr. Poopybutthole." Perhaps it does fit into the greater them of the story after all, but it certainly is a shocking little sequence to cap off what is supposed to be an animated comedy series.