The Best TV Couples Of 2021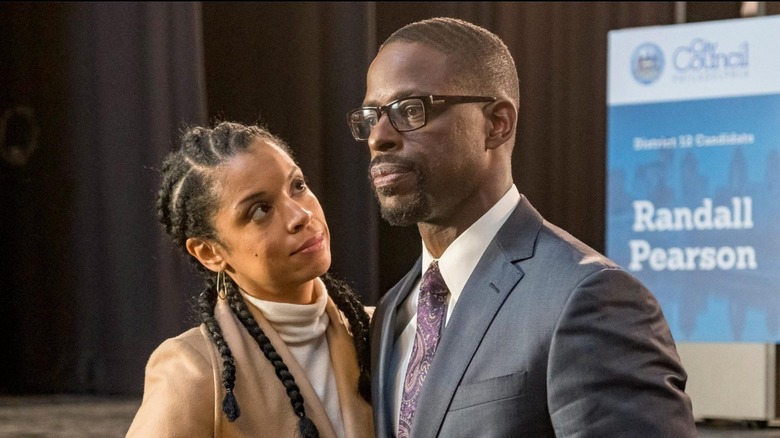 NBC
Whether we're watching an over-the-top comedy or a serious drama, romantic pairings are often the most interesting part of the experience. 2021 proved difficult for off-screen love given the pandemic, which kept us all in our homes for much of the year, either alone or trapped alongside our lover with nowhere to go. But on the small screen? Love was thriving. 
While our favorite television couples flourished in 2021, many of them also faced hardships: infidelity, work stressors, family issues, and even a death. We appreciated the way that they persevered against adversity and reveled in the ways that they handled conflict. Whether a budding new romance or an established TV love affair, these couplings truly dazzled us this year, both in their quieter relationship moments as well as their flashier ones. In celebration of love and commitment and all things syrupy, here's our list of the best television couples of 2021.
Zoey Clarke and Max Richman on Zoey's Extraordinary Playlist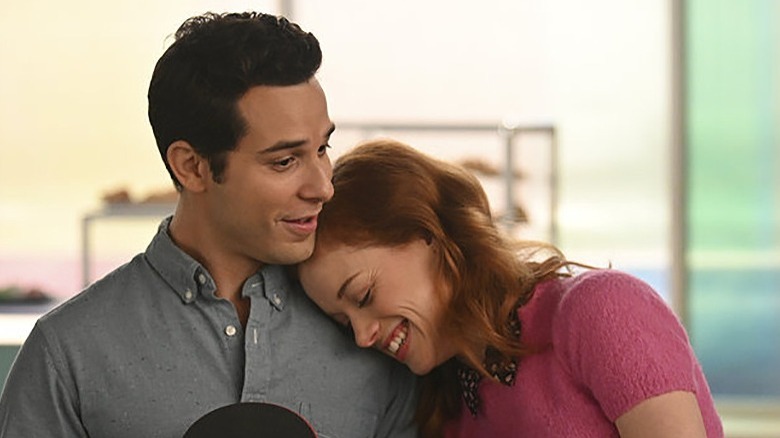 NBC
"Zoey's Extraordinary Playlist" was a fantastic musical comedy that NBC canceled before its due date. Main character Zoey Clarke (Jane Levy) is a programmer who has developed magical powers that allow her to hear the inner thoughts of those around her, expressed through song. This is depicted as both a blessing and a curse — and in the dating sense, certainly much more of a curse. Early in Season 1 of the show, a song allows Zoey to realize that her best friend and coworker Max Richman (Skylar Astin) has the hots for her.
Much of Season 1 has Zoey pining after another hunky coworker, Simon (John Clarence Stewart), though she starts contemplating Max as a romantic option midway through the 12-episode season. But in Season 2, which started airing in January 2021, Zoey and Max finally became a full-fledged couple — for all of two episodes. In the finale, Max surprised Zoey by breaking up with his girlfriend, and they get back together. And luckily, Roku picked up the show and produced a Roku Original movie, "Zoey's Extraordinary Christmas," which continues the story. Oh, and Max is now the one with the "powers."
Sonny Carisi and Amanda Rollins on Law & Order: Special Victims Unit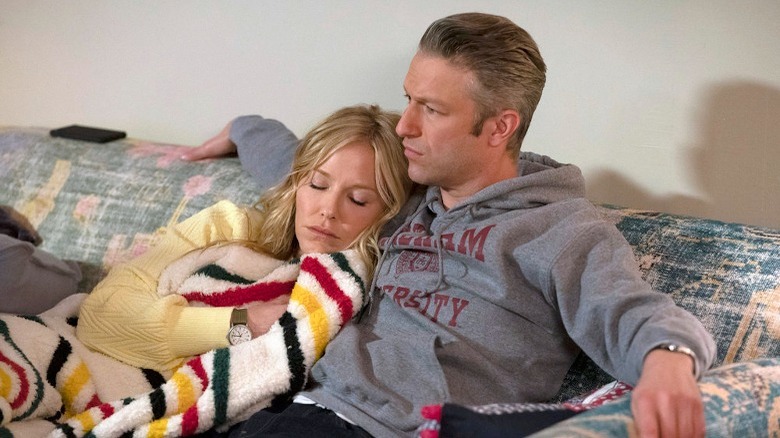 NBC
"Law & Order: Special Victims Unit" has been on the air for what feels like 35 years — in reality, 23 seasons. During that time, the focus has mostly been on the crimes at hand and the professional dynamics between the cops on the show. Elliot Stabler (Chris Meloni) and Olivia Benson (Mariska Hargitay) aside — because we all know they are the end game — we haven't seen a ton of romantic pairings. This changed in 2021, when Detective Amanda Rollins (Kelli Giddish) and Assistant District Attorney Sonny Carisi (Peter Scanavino) finally got together.
Eagle-eyed viewers have long sensed the sexual tension between Rollins and Carisi, who were partners before Carisi left policing for law. While Carisi had a bumpy start at SVU, he quickly won people over and developed a particularly close friendship with Rollins. In the season premiere of Season 23, which aired in September 2021, we learn that the two have officially become a couple. Rollins has had a difficult arc involving terrible family members, a gambling addiction, and a Season 14 shooting, so it's especially nice to see her happy. Carisi also has a tender, loving connection to Rollin's two children, and we would love to see them tie the knot and become a family before the show ends for good (if it ever ends).
Spencer James and Olivia Baker on All American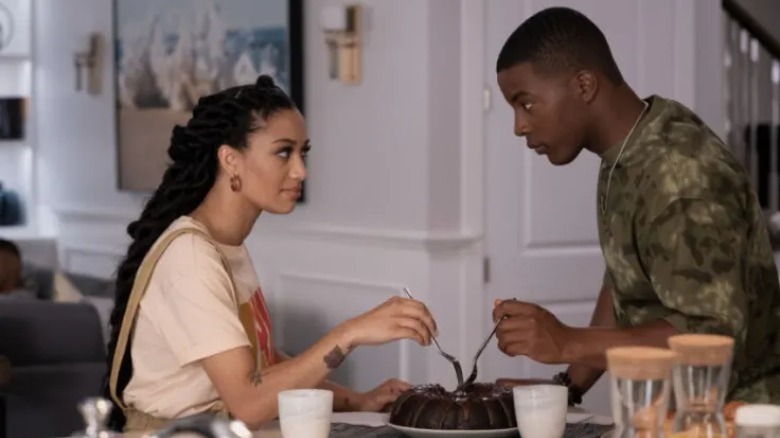 The CW
Fans of "All American" have been waiting for Spencer James (Daniel Ezra) and Olivia Baker (Samantha Logan) to give it a real shot since the CW show began back in 2018. But whether it was Spencer's football or Olivia's issues with addiction, there was always an obstacle. It also didn't help that the pair seemed to consistently fall into other relationships: Spencer with Layla Keating (Greta Onieogou) and Kia Williams (Asjha Cooper), and Olivia with Asher Adams (Cody Christian) and Chris Jackson (Spence Moore II). They also came from two very different worlds.
For a while, it seemed like Spencer and Olivia — or Liv, as he calls her — would remain in the friend zone for life, but Season 4 saw them get serious as a couple. We still don't know exactly what happened between the pair offscreen in the summer in between Seasons 2 and 3, but we loved seeing them end up together at the end of the third season. Now, in Season 4, after going public and dealing with a poor reaction from Olivia's father Billy (Taye Diggs), they feel truly solid. Let's see how that holds up post-graduation, though.
Cary and Sherry Conrad on You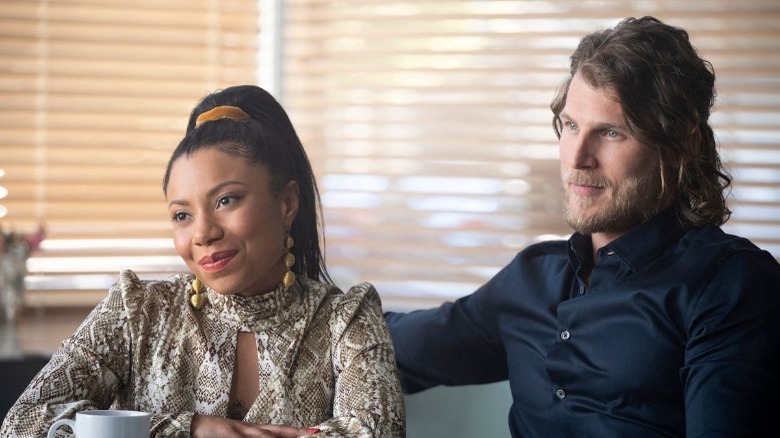 Netflix
Of all of the couples of "You," only Cary (Travis Van Winkle) and Sherry Conrad (Shalita Grant) seem to actually be a good fit for one another. Every other coupling has at least one partner who is miserable or crazy or both. That's not to say that Cary and Sherry are not ridiculous in their own right, but their version of ridiculous is not murderous, so that's always a plus. Sherry is a mom influencer ("momfluencer") who runs her upscale neighborhood with a combination of performative niceness and deep-rooted manipulation. Her husband, Cary, runs a supplement company and looks like a modern version of Tarzan.
As the season progresses, we learn that they are swingers, in what is a rare positive portrayal of an open marriage, as it suggests that Cary and Sherry's lives have been greatly improved by their inclusion of outside partners. The couple is used mainly as comedic fodder for the majority of their time on "You," but we see their truest colors when they are locked up and caged by murderers Joe Goldberg (Penn Badgley) and Love Quinn (Victoria Pedretti). Even though Sherry ends up shooting Conrad in the leg, the experience very much brings them closer together in that they confess how much they love each other. At the end of the show, we see the "You" couple that Bustle called "the most annoying" but also "the healthiest" capitalizing on their experience after escaping the cage.
TK Strand and Carlos Reyes on 9-1-1: Lone Star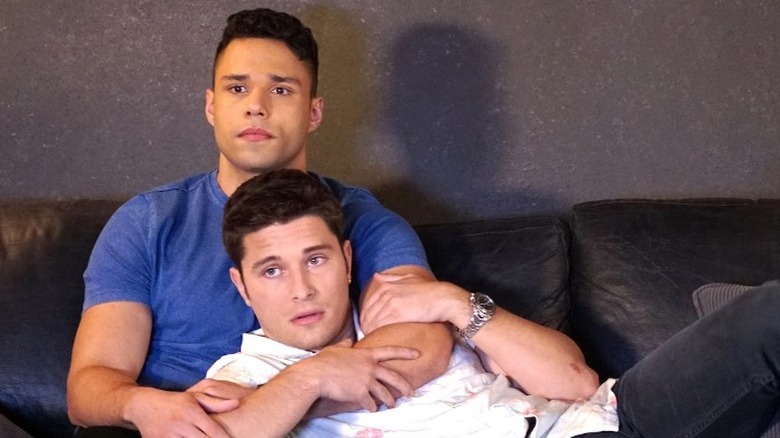 Fox
There are so many amazing couples in the "9-1-1" universe that we had trouble choosing just one. In the end, it was just too hard to deny the palpable chemistry between TK Strand (Ronen Rubinstein) and Carlos Reyes (Rafael Silva) and too important to ignore the way that this "9-1-1: Lone Star" pairing provides a very honest, complex portrayal of two men in love. TK is a former firefighter and current paramedic at the 126, which is headed by his father Owen (Rob Lowe). The way that Owen has embraced TK's boyfriend Carlos is a great change of pace for how we typically see men in traditionally "masculine" jobs react to homosexuality.
Carlos is also a first responder — a cop — and is the son of an old-school Texas Ranger, played by Benito Martinez. In the fourth episode, Carlos and TK run into Carlos' parents at a farmer's market and Carlos does not introduce TK as his boyfriend, which causes a big rift in their relationship. They were, thankfully, able to work through things. TK was later shown interacting with Carlos' family after the pair moved in together. It was delightful to see the happy couple cohabitating too — that is, until a house fire nearly killed them. Season 3 starts on January 3, so we are excited to see if and how our favorite couple on "9-1-1: Lonestar" deals with this trauma.
Jonah Simms and Amy Sosa in Superstore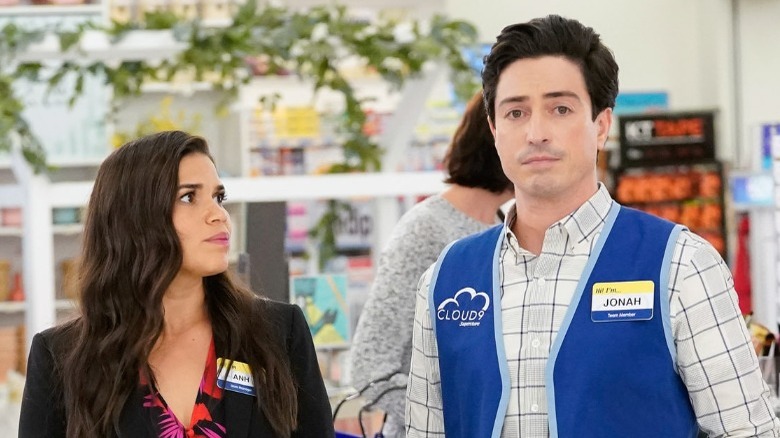 NBC
The hilarious sitcom "Superstore" ended in 2021, but we could not leave our favorite Cloud 9 couple, Jonah Simms (Ben Feldman) and Amy Sosa (America Ferrera), off this list. It took seasons for Jonah and Amy to get together, so we were devastated when they called things off when Amy turned down Jonah's proposal amid Amy's promotion and move to California. It seemed like that was where things would end since America Ferrera left the show before the final season, but Amy made a big return for the two-episode finale of "Superstore."
In the penultimate episode, Amy comes back to St. Louis to try to help the others save their store. They ultimately fail, but it's an opportunity to get Amy and Jonah face to face. Amy told Jonah she made a mistake when she turned down his proposal, and this time it was Jonah who was reluctant to move forward. In the ending montage of the "Superstore" series finale, we saw that the two ended up getting married and had a baby of their own (in addition to the two kids Amy already had, who are also featured).
Dr. Meredith Grey and Dr. Nick Marsh on Grey's Anatomy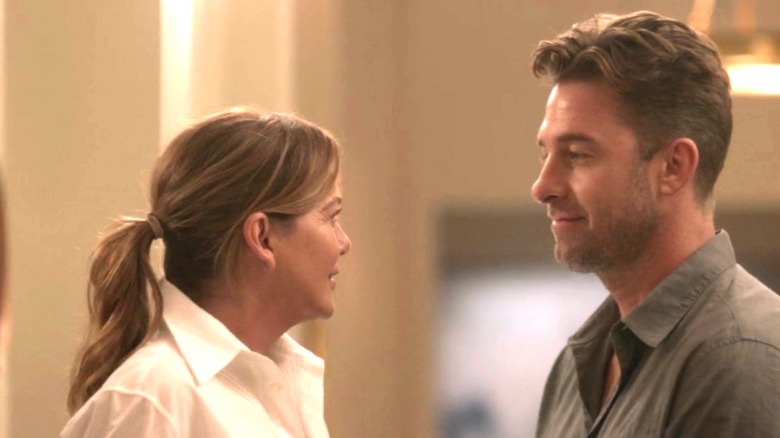 ABC
Few modern TV couples will ever be able to touch the love affair that was Meredith Grey (Ellen Pompeo) and Derek Shepherd (Patrick Dempsey) on "Grey's Anatomy." But Derek died seven seasons ago, and most of us want to see Meredith happily in love with someone else. She wasn't ready when she met Dr. William Thorpe (Scott Elrod), and though it looked like she might have a shot with doctors Nathan Riggs (Martin Henderson), Andrew Deluca (Giacomo Gianniotti), and Cormac Hayes (Richard Flood), none of these relationships worked. Just when it looked like Meredith might have to settle with medicine as her only love, her former patient Dr. Nick Marsh (Scott Speedman) returned.
Meredith and Nick have the kind of raw chemistry that she never had with the other post-Derek men and, given that she nearly died from COVID-19, Meredith might be finally ready to settle down with someone else. In a recent episode, Nick was on his way to a cabin when Meredith's flight home was canceled. They talked on the phone for his entire ride but, not wanting her to be alone on Thanksgiving, Nick turned the car around and surprised Meredith at her door. This is the kind of love story that Meredith deserves and that we, as viewers, can root for.
Angel Vasquez-Evangelista and Lil Papi Martinez-Evangelista on Pose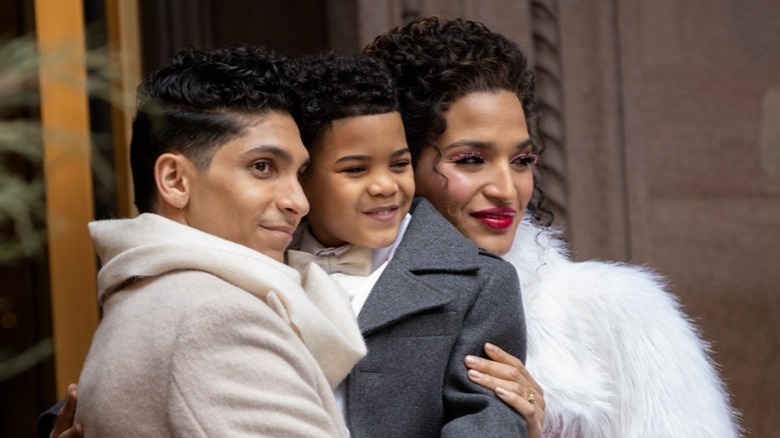 FX
FX's "Pose" was an important show in so many ways, as it prominently featured transgender women of color and dealt with issues that are so commonly left out of the television landscape. One of the best parts of the show was the iconic love affair between Angel Vasquez-Evangelista (Indya Moore) and Esteban Martinez-Evangelista (Angel Bismark Curiel), better known as Lil Papi. Angel and Lil Papi were both taken in by Blanca Rodriguez-Evangelista (MJ Rodriguez), and what started as a sibling-like bond blossomed into romance.
The show's third and final season saw a time jump to 1994, where Papi is thriving as a talent agent and Angel is struggling as a model. As always, Papi proved himself to be an incredibly supportive partner, not just in terms of Angel's career, but also by helping her to overcome a crack addiction. Angel was less supportive of Papi when he found out he had a child (whose mother had died), but she eventually realized how much she loved and needed him. Rather than the small wedding they had originally wanted, they agreed to an over-the-top ceremony, funded by Elektra Abundance-Evangelista (Dominique Jackson). In the sixth episode of the season, as a room full of trans women in wedding dresses looked on, Papi serenaded Angel with a rendition of All-4-One's "I Swear" in one of the most heartfelt and touching TV moments of 2021.
Dr. Conrad Hawkins and Nicolette Nevin on The Resident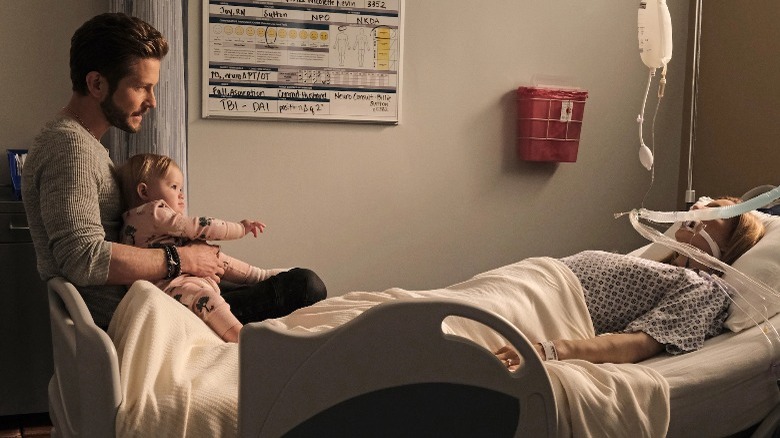 Fox
This is the most bittersweet entry on our list, but few other couples left as lasting a mark in 2021. For years, we have supported the romantic pairing of Dr. Conrad Hawkins (Matt Czuchry) and nurse Nicolette Nevin (Emily VanCamp) on "The Resident," which has been one of the pillars of the show. Season 4 began airing in early 2021, with Conrad and Nic marrying in the season premiere and, in the next episode, Nic telling Conrad that she was pregnant. Though medical drama and corruption surrounded the couple like usual, it seemed like Season 4 was going to be a pretty blissful one for Conrad and Nic.
But because this is "The Resident," things could not stay low-key for long. Nic was stabbed in the fifth episode of the fourth season and there was worry that she had miscarried. She made it through, and they eventually had a beautiful baby girl named Georgiana Grace in the season finale. But Season 5 hit in September, gutting us when Nic died in the hospital after a shocking car crash. Czuchry was stellar at conveying Conrad's desperation as he fought to save his wife, and his devastation once he realized hope was gone. Never has Conrad's love for Nic been as evident as when he had to say take her off life support and say goodbye.
Randall and Beth Pearson on This Is Us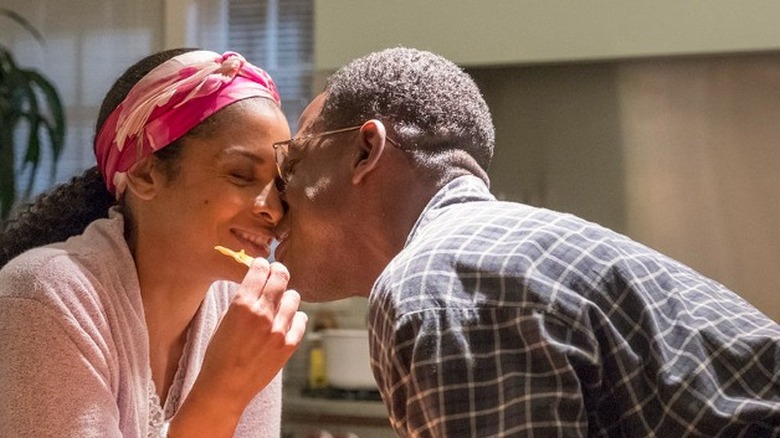 NBC
While Jack (Milo Ventimiglia) and Rebecca (Mandy Moore) Pearson are couple goals for sure, we opted to highlight the "This Is Us" couple that wows us the most: Randall (Sterling K. Brown) and Beth (Susan Kelechi Watson). Twelve episodes of "This Is Us" aired earlier this year, during which time Randall and Beth each experienced a number of issues for which they needed to be each others' pillars of support. Since one of the great parts of "This Is Us" is the multiple time periods that are featured, this season we also got to see Randall and Beth at the time of Annie's birth.
In Season 5, Randall became aware that his birth mother had actually been alive up until 2015. He also found out that he had inherited a farmhouse. Beth had to support Randall through his search for information about his mother and his attempts to come to terms with his family's inability to discuss race (Randall joined an interracial-adoption support group, as well). On the flip side, Randall offered Beth support when she had to close down her dance studio due to COVID-19 and stuck by her as she struggled in her relationships with both her mother and eldest daughter.
Emily Dickinson and Sue Gilbert on Dickinson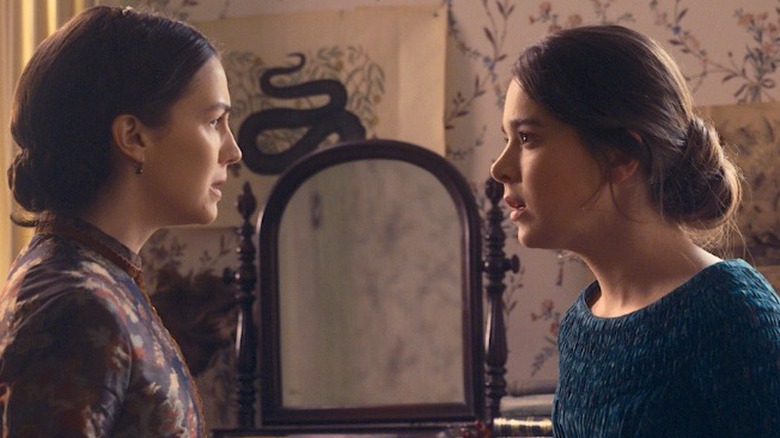 Apple TV+
Both Season 2 and Season 3 (the final season) of Apple TV+'s "Dickinson" aired in 2021, which means that there were 18 episodes featuring legendary American poet Emily Dickinson, played by Hailee Steinfeld. One of the best storylines was the forbidden love between Emily and her best friend Sue Gilbert (Ella Hunt), who happened to have also been engaged to Emily's brother, Austin (Adrian Blake Enscoe). We first saw Emily and Sue kiss in the series premiere, back in 2019, when Emily asked Sue to promise she would love her more than Austin, who had proposed marriage.
Though Sue marries and becomes pregnant by Austin, she and Emily remain soulmates. In the premiere of Season 3, Sue told Emily she wishes they could run away together and raise her baby as a family unit. But even with an imaginative sequence in the show's last episode giving us one last glimpse of Emily and Sue together, Emily appears to remain focused on her writing above all else, including Sue. This aligns with reality, since Dickinson reportedly became a recluse in her later adult life. Had they not been living in the 19th century, their love would have developed differently, but no matter how their love played out, it is clearly a strong and complex bond that the women shared.
Sarah Hayworth and Denise on Home Economics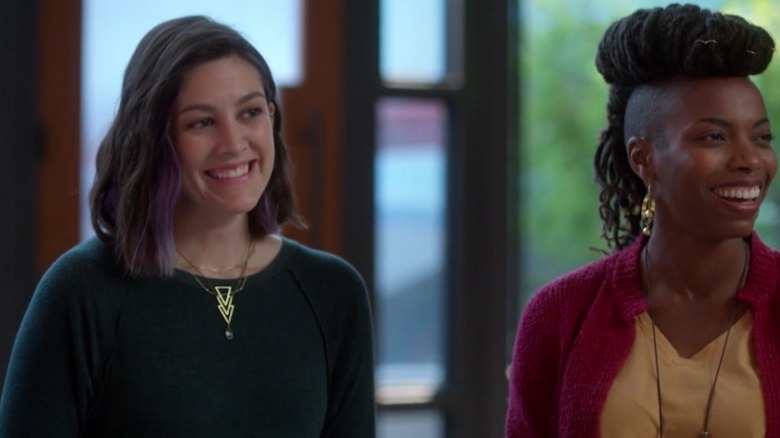 ABC
"Home Economics" is a very funny show that largely flies under the radar, but Season 2 is more than worthy of your time. The show focuses on three siblings who fall on very different points on the spectrum of socioeconomic status. Much of the focus is on the conflict between the three Hayworth siblings. But another great element of the show is the strong marriages that two of the siblings — Tom (Topher Grace) and Sarah (Caitlin McGee) — have and the way that their partners integrate into the family.
While Tom's marriage to Marina (Karla Souza) could easily have made our list, we chose to highlight Sarah and her wife Denise (Sasheer Zamata) instead. After all, the women have managed to remain solid partners while living, with their two kids, in the smallest apartment on television. They also connect so well on their moral and ethical beliefs, despite being tested when Sarah was gifted an expensive purse from her swanky new job at a private school. Whether struggling with their daughter wanting to become a cheerleader or trying to keep up with younger new friends, Sarah and Denise are always a partnership and seem to always balance one another in a way that feels organic and true to life.
Mark Callan and Amy Quinn on All Rise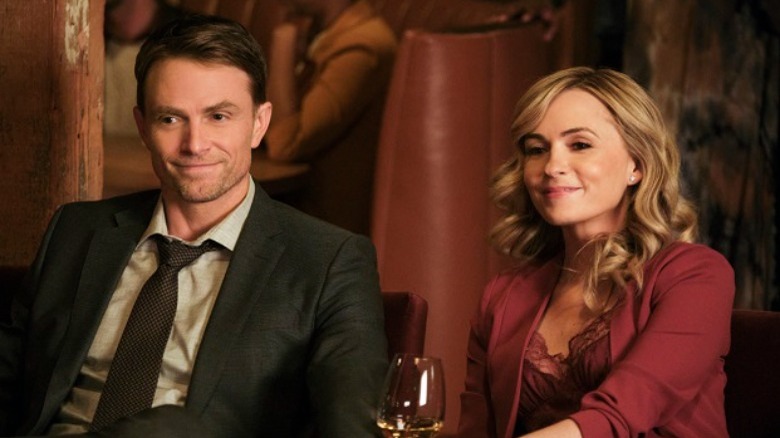 CBS
We were sad when CBS canceled "All Rise" at the end of its second season, if only because it meant we would lose the ability to follow Deputy District Attorney Mark Callan (Wilson Bethel) and criminal defense lawyer Amy Quinn (Lindsey Gort) on their unconventional love journey. Thankfully, OWN picked up the show at the last minute, which means that a third season is coming in 2022. Given how much happened between Mark and Amy in 2021, we cannot wait. In the second episode of the first season, we learn that Mark has liked Amy since law school, according to his good friend Judge Lola Carmichael (Simone Missick), but it was not immediately clear the role that Amy would play in Mark's present.
We got to see a softer side of Amy when Mark hired her to defend his father, and this was also when the two slept together for the first time. This year, the couple was shown living together, but they also faced a number of severe challenges: namely, Mark kissing his friend (and Amy's law partner) Rachel Audubon (Ryan Michelle Bathe), and the discovery that Amy is still married to her ex because she does not want to cut off his health care. In the finale, Mark proposed to Amy at the ice rink where they had their first date. We desperately want a Season 3 wedding – once Amy gets divorced, of course.
Jamie Spano and Lexi Haddad-DeFabrizio on Saved by the Bell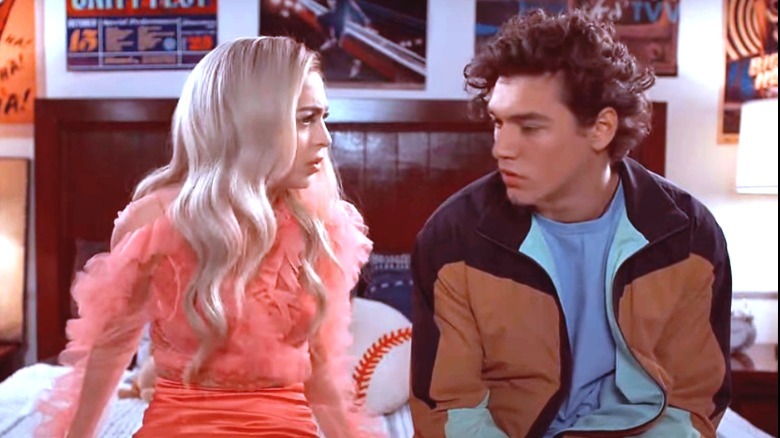 Peacock
The original "Saved by the Bell" is an iconic show that had two amazing couples. While no high school pairing on the reboot compares to Zack and Kelly or Slater and Jessie, there is one couple that truly warms the heart: Jamie Spano (Belmont Cameli) and Lexi Haddad-DeFabrizio (Josie Totah). To have a transgender character be the popular girl who lands the hot football player is revolutionary and a welcomed advancement in the way that trans women are shown on TV. It's not just that this is a barrier-breaking pairing for teen television that has us wild about Jamie and Lexi — it's also the fact that they work so well together.
After some evil scheming, Lexi eventually sacrificed her own happiness so that Jamie could be happy with Aisha (Alycia Pascual-Peña) in Season 1. When that didn't work out, and the pair got together, we finally saw a softer side of the school's resident ice queen. Then, in Season 2, because their entire courtship coincided with the COVID-19 pandemic, Jamie and Lexi had to learn how to be a couple out in the world for the first time. This was an especially realistic storyline for a show that is filled with absurdist humor. The pressure that Lexi put on their second kiss was understandably adorable. Bonus points for the talent show storyline where the two dressed like Cardi B. and Megan Thee Stallion in the "WAP" video.
Keeley Jones and Roy Kent on Ted Lasso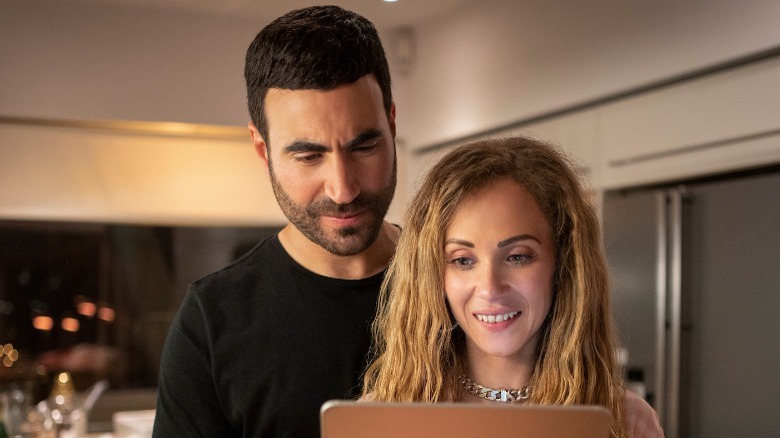 Apple TV+
"Ted Lasso" is one of the hottest TV shows out there, and like all fans, we adore the epic romance between Roy Kent (Brett Goldstein) and Keeley Jones (Juno Temple). While Keeley started off as Jamie Tartt's (Phil Dunster) girlfriend in Season 1, she ultimately struck up a romance with Roy. The second season begins with a now-retired Roy dating Keeley, and the couple has a level of steam that Keeley and Jamie never did.
Keeley is a supportive girlfriend, as evidenced by when she pushed Roy to become a Sky Sports announcer. The pair also have some very relatable issues. For instance, they got into a fight when Roy learned that Keeley was complaining about feeling suffocated by him, a common issue in relationships when one partner wants more independence than the other. But then Roy realized why Keeley needed space, which just made us love them together even more. Though they were tested when Jamie confessed his love for Keeley and Nate kissed her, they have not yet broken up — despite opting to spend their summers apart.