Zendaya Confirms What We Suspected All Along About Tom Holland's On-Set Behavior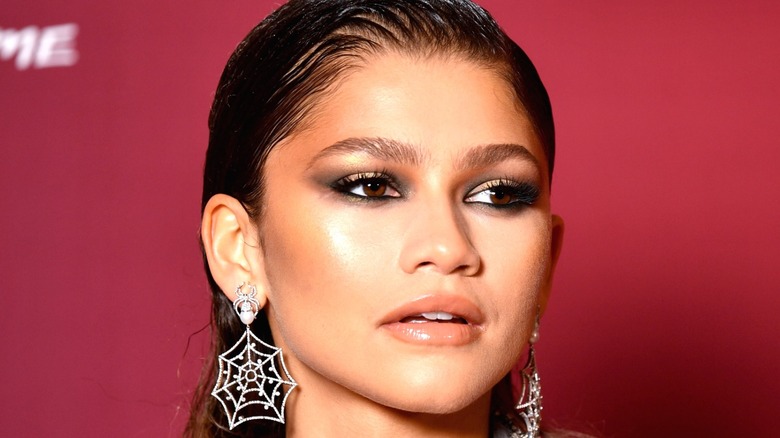 Gareth Cattermole/Getty
When people speak of young stars on the rise in Hollywood, one of the first names to cross their lips is Zendaya. Though in all honesty, it's probably time to take the "on the rise" designation out of that statement, because in the last decade alone the "Euphoria" actor has risen from the ranks of Disney Channel breakout to Emmy-winning A-lister on the brink of superstardom.  
That, of course, has a lot to do with Zendaya's current status as the quippy, no-nonsense Michelle aka MJ in the Marvel Cinematic Universe. The young star joined the MCU's Tom Holland-led "Spider-Man" franchise with a scene-stealing supporting turn in 2017's "Spider-Man: Homecoming." She subsequently became a big part of the titular hero's life in the 2019 sequel "Spider-Man: Far From Home," and is set to play a major role in this year's "Spider-Man: No Way Home." 
The infectious on-screen chemistry between Holland and Zendaya has played a big part in the success of the new Spidey movies. That chemistry runs through the entire cast and crew of the "Spider-Man" franchise, however, with everyone involved having nothing but great things to say about each other. Not surprisingly, Zendaya's recent comments to InStyle about Tom Holland's on-set behavior are pretty on-brand.
Tom Holland really, really cares about being Spider-Man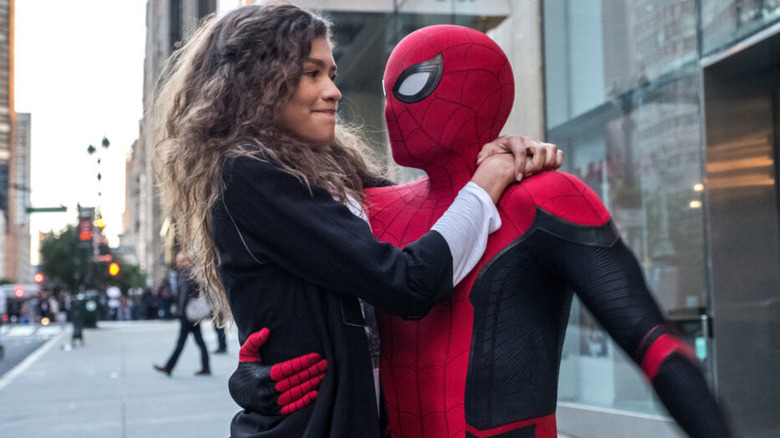 Sony Pictures Entertainment
Those comments came via an in-depth interview with InStyle in which Zendaya spoke about all things personal, professional, and beyond. And on the subject of Holland, she held nothing back in her admiration of how he handles himself as Spider-Man, offering, "There are many things, obviously, that I appreciate. In an actor way, I appreciate that he really loves being Spider-Man. It's a lot of pressure — you take on the role of a superhero wherever you go. To the little kid who walks by, you are Spider-Man. I think he handled that so well."
Zendaya goes on to claim that Holland is all business on-set, particularly in regards to shooting action scenes, "And seeing him at work, even though he's not a Virgo, he is a perfectionist. Our director allowed me to come in every day [of the shoot], and it was cool to see how he cares so much about his work and making it right." She continued, "I watched him do a fight scene all day, which is exhausting. He'd do a move, come back to the monitors, watch it, and say, 'I can do that better.' I'd be like, 'Dude, you got it.' But he wants us to be perfect, and I really appreciate that."
None of that is especially surprising to hear as Holland has arguably taken ownership of Spidey in ways no prior actor has. Still, it's always nice to hear when an actor is this invested in his work.