Watch The Bonkers First Teaser For Netflix's Live-Action Cowboy Bebop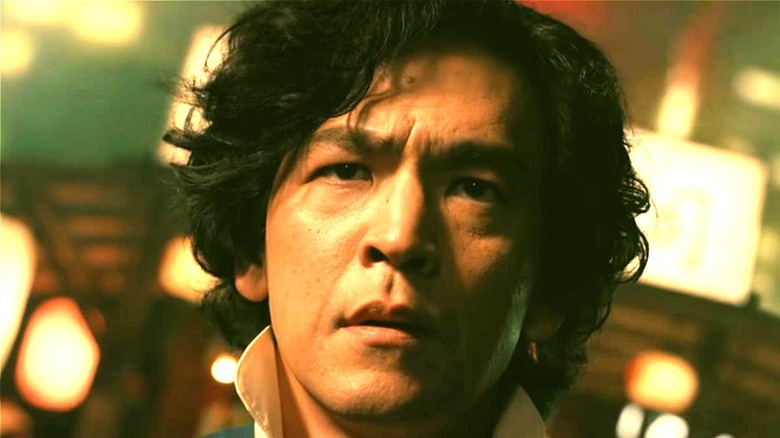 Netflix
With only a month left until Netflix's daring live-action adaptation of beloved anime, "Cowboy Bebop," the streaming giant has dropped a new teaser for those who love the original show and anyone that has true adoration for massive hair. For those who might not know their Spike's from their Swordfish II's, "Cowboy Bebop" will see "Star Trek" actor John Cho as the iconic suit-wearing bounty hunter, Spike Spiegel, as he travels across the stars to haul in some of the most wanted folk in outer space. The original show was made in 1998 and spanned only 26 episodes, but is a beloved part of Japanese anime.
Showcasing a truly wild taste of what we can expect in the upcoming series, "The Lost Session" is a crazy promotional short that sees Spike Spiegel (John Cho), Jet Black (Mustafa Shakir), and Faye Valentine (Daniella Pineda) in action tracking down a bounty. Not satisfied with just giving us a simple chase scene, this new preview sees the trio jumping in and out of frames reminiscent of the original show's iconic intro, as that chest-thumping tune that "Cowboy Bebop" fans will know kicks in alongside it. Give it a look and have your day immediately improved.
John Cho is the perfect Spike in The Lost Sessions
Besides being immensely creative in its shifts between scenes, the most notable element of "The Lost Sessions" is just how close to the original series this show is looking. Spike, Jet Black, and Faye Valentine all look the part, and it only takes a steel pipe to prove that Cho will be able to handle himself as the hero of the show. There's also the reassuring involvement of the show's original director Shinichirō Watanabe on board to consult showrunner André Nemec, as well as original composer Yoko Kanno, who is responsible for that absolute banger you're going to listen to again after reading this.
If you're hungry for more previews, then you won't have to wait too long — a trailer is scheduled to arrive next week. As for the final product, you can expect to see how all of this new comes together when "Cowboy Bebop" takes its first shot on Netflix on November 19.