The Major Iron Man Prop Robert Downey Jr. Gifted Tom Holland's Little Brother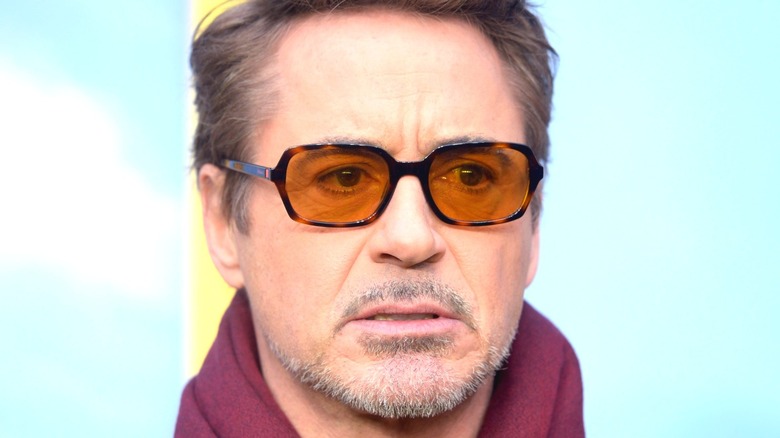 Dave J. Hogan/Getty
With the countdown to "Spider-Man: No Way Home" nearing its end, Marvel fans have been keeping a close eye on Tom Holland, who has a reputation for accidentally revealing major MCU spoilers. Of course, he's not the only Marvel cast member who has spoiled things about the studio's films, but he has definitely done it more than most.
Holland joined the MCU as Spider-Man/Peter Parker in 2016's "Captain America: Civil War" and has portrayed the web-slinging superhero in several of the franchise's subsequent films. The actor became an instant favorite among fans, charming them with his shocking inability to avoid spoiling things — even when he's given fake scripts to prevent that very thing from happening.
With that in mind, fans were impressed that Holland managed to get through his interview with Sean Evans on "Hot Ones" without giving anything about "Spider-Man: No Way Home" away. The unconventional interview show is notorious for putting its guests through the wringer, feeding them increasingly spicy chicken wings with every new question that gets asked.
Holland kept his lips sealed throughout the interview about "Spider-Man: No Way Home," and instead, offered advice about golfing, explained pub culture, and recounted how he "got the giggles" during a "Star Wars" audition. The actor also shared that, despite being known for taking souvenirs from sets, the one MCU treasure he cherishes the most was actually a gift from fellow Marvel star Robert Downey Jr.
RDJ gave Paddy Holland part of the original Iron Man suit
After powering through ten hot wings, Tom Holland braced himself at the end of his "Hot Ones" interview for a final question, one that asked what his favorite souvenir is that he's taken from a movie set. The actor took a long pause before answering to catch his breath and recover from the interview's tear-inducing final wing. However, he finally admitted that his favorite MCU souvenir technically belongs to his little brother, Paddy.
Holland explained that while Robert Downey Jr. was filming "Dolittle" near his home a few years ago, he invited Holland and his family over for a screening of "Black Panther." While there, Downey gave Paddy his original Iron Man helmet as a gift.
"That's a really special one for me because I was lucky enough to join the MCU but I joined it very late," said Holland. "And that souvenir, you know, that's from the original film, that's the birthplace of this incredible world that Kevin Feige and Marvel have created. ... So to have something from that film is a huge honor."
"Spider-Man: No Way Home" is set to hit theaters on December 17.