The Sci-Fi Classic That Inspired Tom Holland's Spider-Man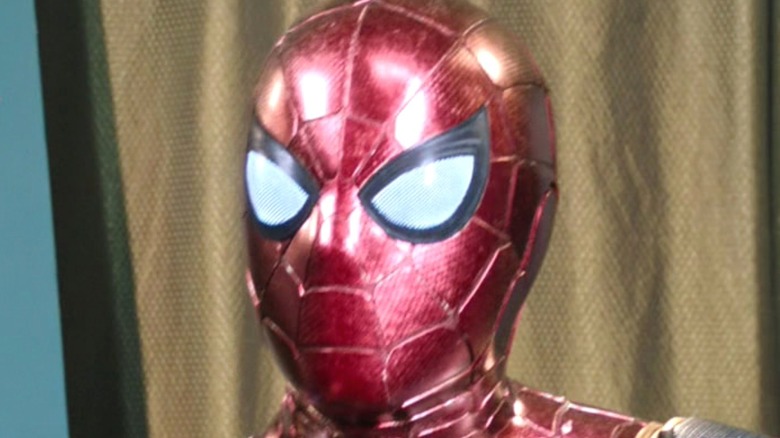 Marvel Studios/Sony Pictures
Tom Holland's third solo film as Spider-Man is fast approaching, with the highly anticipated "Spider-Man: No Way Home" set to premiere in the U.S. on December 17. Holland first appeared as the teen superhero in 2016's "Captain America: Civil War," where he gave a supporting turn that he then followed up by leading his own film in 2017's "Spider-Man: Homecoming." It was 2019's "Spider-Man: Far From Home," however, that contained the shocking mid-credits scene in which Peter Parker's identity as Spider-Man is revealed to the world.
The upcoming "Spider-Man: No Way Home" picks up in the aftermath of that bombshell reveal, with Peter asking Doctor Strange (Benedict Cumberbatch) to erase most of the world's memory of his secret identity. Unfortunately, when the duo tries to do that, the multiverse is cracked open, letting in supervillains from alternate realities who have previously faced off against Tobey Maguire and Andrew Garfield's Spider-Mans.
In anticipation of the film's release, Holland and several of his co-stars, including Zendaya and Jacob Batalon, have been busy doing press interviews talking about "No Way Home." Most recently, Holland appeared on the popular YouTube series "Hot Ones," in which guests are interviewed by host Sean Evans while eating a batch of hot wings. 
During the interview, Holland discussed the classic sci-fi movie character that helped inspire his take on Peter Parker.
Tom Holland's Peter Parker was inspired by Marty McFly
In Tom Holland's "Hot Ones" interview, Sean Evans brought up the fact that "Spider-Man: Homecoming" director Jon Watts gave the film's cast a John Hughes movie marathon to watch. The interviewer then asked Holland if he sees a connection between those classic coming-of-age films and his "Spider-Man" movies. Holland noted that he does see similarities between Peter Parker and Ferris Bueller (Matthew Broderick), a character written by Hughes, in that Ferris is a "kid who's kind of breaking the rules, but he kind of is doing it for the right reasons." 
However, it turns out that it was another classic 1980s movie character that Holland took the most inspiration from for his performance as Peter Parker: none other than Marty McFly (Michael J. Fox) from "Back to the Future." Additionally, Holland says he particularly found inspiration in Marty's relationship with Doc Brown (Christopher Lloyd).
"The biggest inspiration for me and my biggest goal in playing Spider-Man was, I really wanted to be this generation's Marty McFly," Holland revealed. "That's up for everyone else's opinion, but for me, I'm really proud of what we did. And especially my relationship between me and [Robert Downey Jr.]. To me there's a lot of similarities [there] between Marty and Doc. ... So that for me would've been the biggest inspiration."
Knowing this, fans of Holland's Peter Parker should definitely look for any signs of Marty McFly's influence when they watch the actor's performance in "Spider-Man: No Way Home," or in his previous two "Spider-Man" films.