Why A Fellow Marvel Star Punched Tom Holland In The Face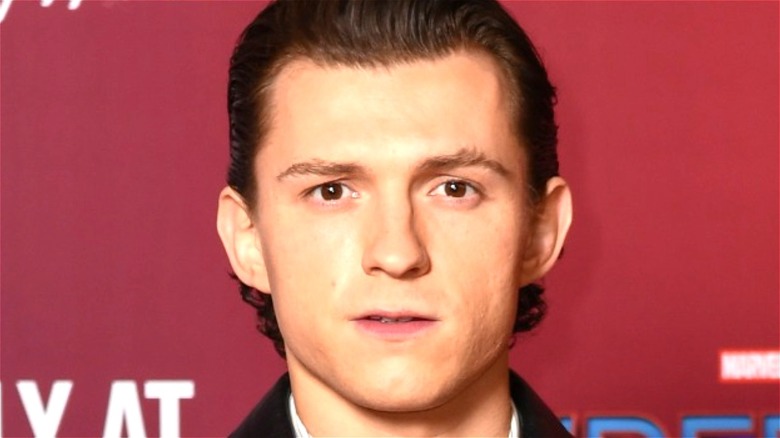 Gareth Cattermole/Getty
On movie and TV sets, fight scenes are carefully choreographed to ensure that actors don't hurt each other. Even so, accidents sometimes happen, like when Harrison Ford's errant punch on the set of "Bladerunner 2049" almost knocked out Ryan Gosling. Occasionally, however, actors actually want the physical violence on camera to be real as a way of delivering an authentic performance, and sometimes they can take things a bit too far.
Tom Holland is starring in the upcoming "Spider-Man: No Way Home," which premieres on December 17, 2021. It's Holland's third time starring as Spidey overall, coming on the heels of 2017's "Spider-Man: Homecoming" and 2019's "Spider-Man: Far From Home." With Holland's third Spider-Man movie just around the corner, he's been making the rounds to promote the film. On a recent episode of "Hot Ones," (via YouTube), he told a story about a time when a co-star gave him a solid smack in the face.
Holland asked Jon Bernthal to smack him to help him get into character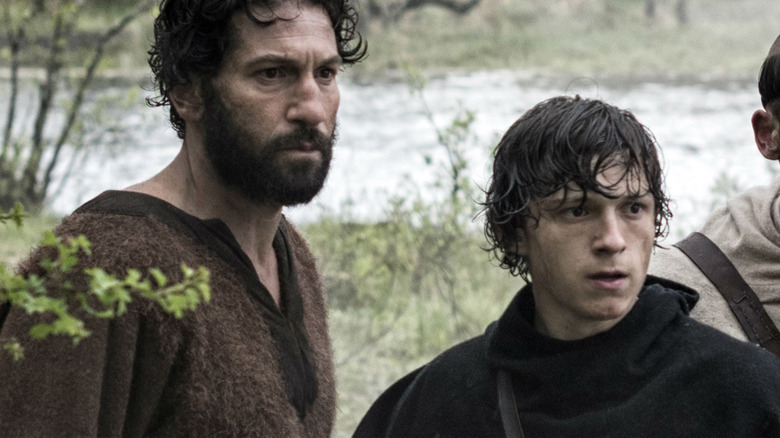 RLJE Films
The smacker in question was Jon Bernthal, a.k.a. Frank Castle/The Punisher. Holland didn't say which movie the slap happened on, but most likely it was 2017's "Pilgrimage," which starred Holland and Bernthal as two medieval monks trying to deliver a holy relic to Jerusalem. 
"I love [Jon Bernthal] so much. He's one of the greatest guys I've ever met." Holland said between mouthfuls of ultra-spicy wings. "Sometimes as an actor, if you're doing a scene that requires, like, real stress, I find it quite helpful if someone kind of roughs me up a little bit. And I said to Jon, 'Mate, before the scene, could you just rough me up a bit? Just scare me a little bit, please.' And he was like, 'Nah, man, I don't wanna do that. You're my little brother. I love you, man.'" 
Then, when the cameras started rolling, Bernthal surprised Holland by giving him a big slap in the face. "It was great," Holland continued. "And it worked so well for the scene, but he just didn't want me to know it was coming. He properly cracked me one."
Fortunately, there were no hard feelings after the fact. "I look back on that as a very fond experience, and meeting him was one of the highlights," Holland continued. "We haven't had the chance to work together since, but I would love to."