Every Jonah Hill Movie You Can Watch On Netflix Right Now
This content was paid for by Netflix and created by Looper.
If there's one actor who can shine in both searing dramas and raucous comedies — and even more so when there's a clever blend of both — it's Jonah Hill. And the actor really delivers on that promise with his performance In Adam McKay's apocalyptic satire "Don't Look Up." The film features Hill as Jason Orlean, the smart-mouthed chief of staff to his own mother, the opportunistic U.S. president Janie Orlean (Meryl Streep). As Jason, Hill presents a character who has only ever ridden on his mother's coattails to gain his wildly unearned position but still regards himself as the worthy gatekeeper for the entire federal government apparatus.
So, when news reaches the Oval Office that there's a planet-killing comet on a collision course with Earth, well, Jason happily joins the chorus of official disinterest and proves to be a frustrating — albeit hilarious for audiences — thorn in the side of the scientists trying to warn the world. Hill fans will not want to miss his take-notice turn in "Don't Look Up" when it arrives on Netflix on December 24, but before that film premieres, there are quite a few other Jonah Hill favorites you can check out on the streaming service right now. In addition to his mind-blowing work in Cary Joji Fukunaga's miniseries "Maniac," here's a look at all the Jonah Hill movies you can currently watch on Netflix.
Moneyball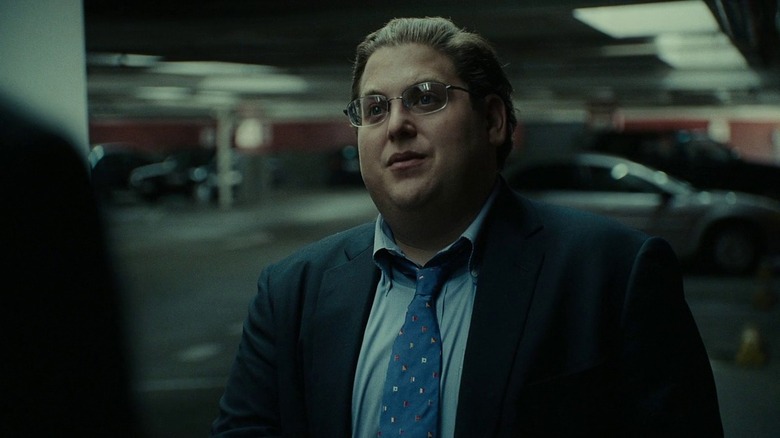 Sony Pictures Entertainment
Though Hill established himself as a household name early on in his career thanks to his unforgettable roles in comedies like "Superbad" and "Get Him to the Greek," he became an official awards season contender due to his stunning work in 2011's "Moneyball." The biographical sports film tells the true story of Oakland A's general manager Billy Beane (Brad Pitt), as he faces a bloodletting of on-the-field talent and has to assemble a new team with far less funds than all of the wealthier clubs in Major League Baseball.
Hill stars in the Bennett Miller-directed film as Peter Brand, a mathematics genius who helps Beane hatch a plan to find the most undervalued players in the league and put together a team that can actually win games. As the no-nonsense and determined Brand, Hill impressed critics and audiences alike and nabbed his first Oscar and Golden Globes nominations for his supporting role in the film. Fans simply won't want to miss Hill's quietly compelling character work in "Moneyball."
21 Jump Street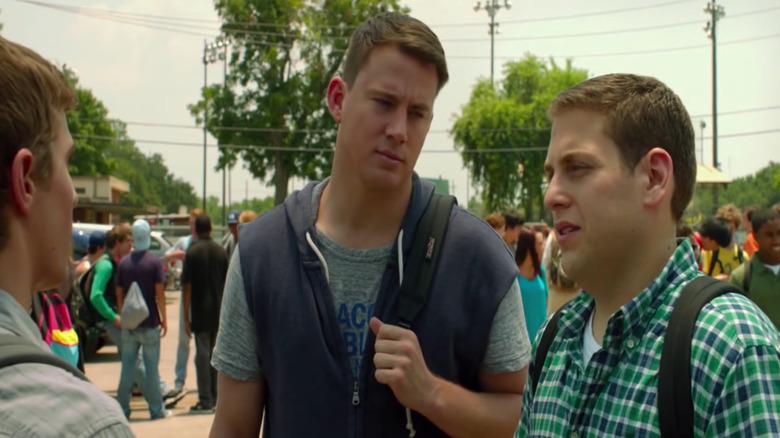 Columbia Pictures
For Hill fans who like watching him lean into his sillier side, "21 Jump Street" is a must-see. The 2012 buddy comedy film, from co-directors Phil Lord and Christopher Miller in their live-action debuts, offers a modern twist to the classic television series of the same name. The movie features Hill as Morton Schmidt, a rookie police officer who's partnered with his former bully turned best friend Greg Jenko (Channing Tatum) for an undercover beat that sends them back into the halls of high school to bust up a drug ring.
Schmidt, who still feels the sting of the rejections he experienced in his own youth, embraces the opportunity to try and rule the school this time. And his unlikely alliance with Jenko produces some truly laugh-out-loud moments, even as the stakes of their wobbly operation become ever more dangerous for the duo. Put simply, get your popcorn ready and prepare to giggle endlessly at Hill's hysterical work when you leap into "21 Jump Street."
Django Unchained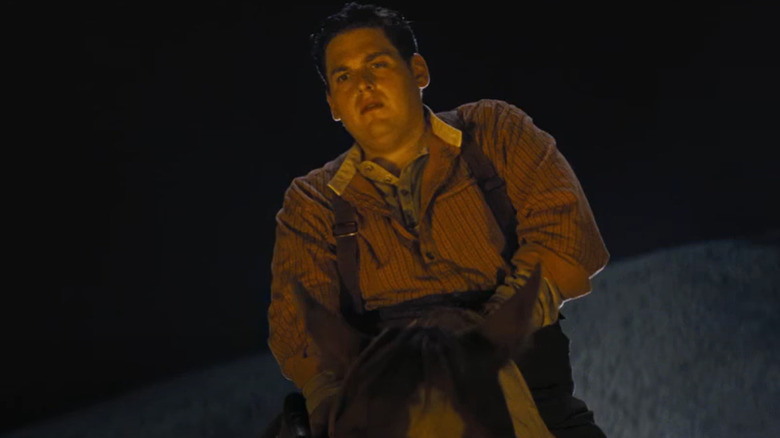 The Weinstein Company
In addition to being a disarmingly authentic satire about the political, social, and technological landscapes of the modern era, "Don't Look Up" also marks a triumphant reunion between Hill and Leonardo DiCaprio, who portrays the desperate astronomer Dr. Randall Mindy in the film and learns the hard way just how incompetent the Orlean administration is. The two previously starred as an unforgettably devious duo in Martin Scorsese's "The Wolf of Wall Street," which netted Hill his second Oscar nomination, but they actually first shared the call list together back in 2012, in Quentin Tarantino's revisionist Western film "Django Unchained."
Tarantino just so happened to be a fan of Hill's titular turn in the 2010 dramedy "Cyrus," so after the two connected at an awards show, Tarantino offered Hill a role in the film and even rearranged his shooting schedule to make sure Hill could make his cameo in the pic. Audiences will no doubt recognize Hill as soon as he appears as the goofy member of an ill-fated hate group. And even though he has limited screen time in the film, he's part of an explosive moment indeed in "Django Unchained."
Hail, Caesar!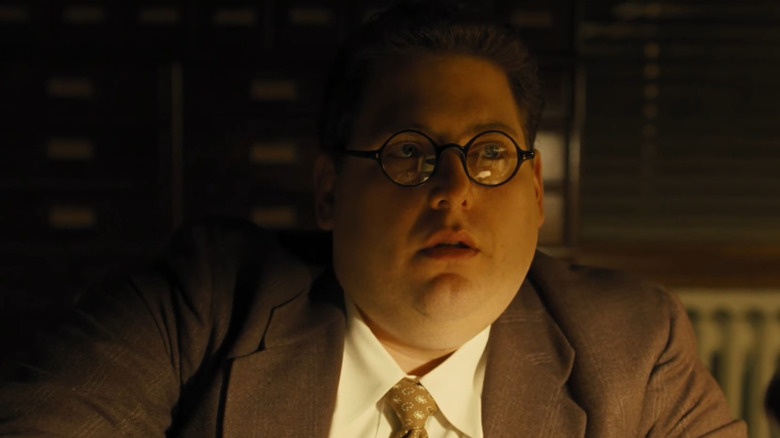 Universal Pictures
Jonah Hill got to work with perhaps the most notable director duo in Hollywood, Joel and Ethan Coen, in their 2016 comedy "Hail, Caesar!" The film follows legendary Hollywood executive/fixer Eddie Mannix (Josh Brolin) as he tries to put out a series of unusual fires raging in the studio, including turning a cowboy into a comedy star and safely solving the mystery of a kidnapped A-list actor, all while staving off a pair of look-alike gossip columnists.
Hill stars in the film as Joe Silverman, an exceedingly reliable strawman that the studio employs for their most unique cases — this time, helping a single synchronized swimming actress named DeeAnna Moran (Scarlett Johansson) prepare for the public relations aspects of her pregnancy. Silverman is brought in to serve as an on-paper foster parent for the child so that DeeAnna can adopt her own child and stave off any image issues that might accompany out-of-wedlock motherhood in the less-than-enlightened 1950s social scene. However, Silverman's commitment to his contractual duties proves to be quite alluring — to audiences and DeeAnna alike. It's a brief, but once again memorable, role that Hill fans will certainly enjoy seeing in "Hail, Caesar!"
War Dogs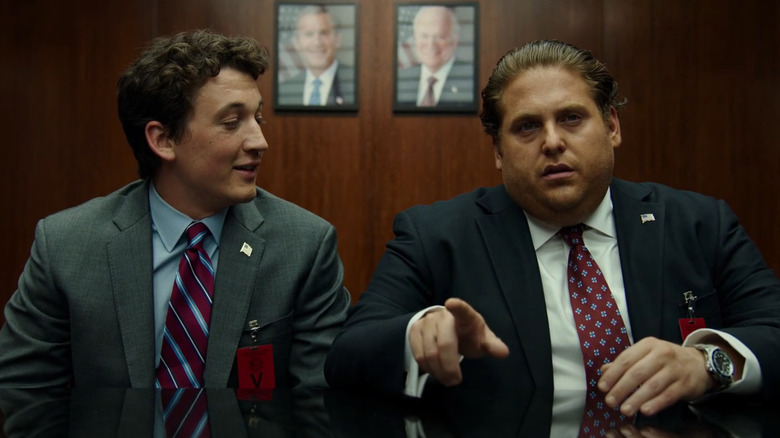 Warner Bros. Pictures
Another film that Hill fans won't want to miss on Netflix is "War Dogs," Todd Phillips' 2016 crime-dramedy about a notorious real-life event involving Afghanistan, the Pentagon, and a whole lot of ammo. Hill stars in the pic as Efram Diveroli, a young man who goes to Miami and reconnects with his former best friend, David Packouz (Miles Teller), and launches a weapons supply company that bids on the lesser-desirable (but still lucrative) military contracts amid the then-ongoing war conflicts in the Middle East.
Hill delivers an enigmatic performance as Efraim, who's wildly unpredictable and self-concerned but also manages to be endlessly magnetic and truly fearless when it comes to taking advantage of a flawed federal bidding system. From start to finish in "War Dogs," Hill is at the top of his game on both the dramatic and comedic fronts, and in addition to featuring a stellar performance from its cast, the film is also just plain fun to watch.
How to Train Your Dragon: The Hidden World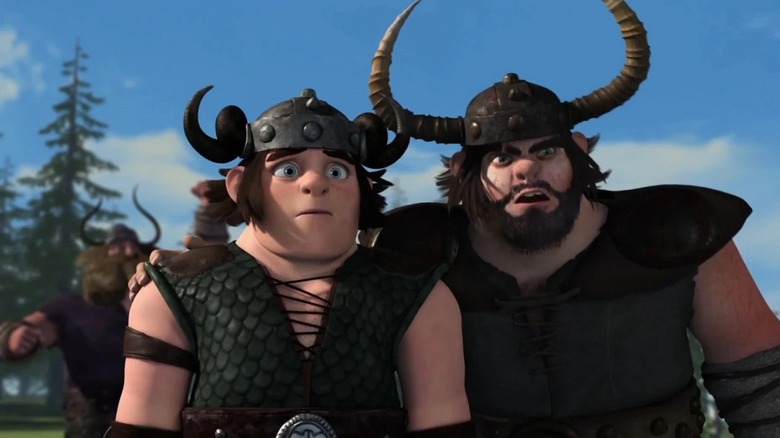 Dreamworks Animation
Adventure fans, if you're in the mood for a good time and a good laugh, you can hear the vocal stylings of Jonah Hill in the 2019 animated film "How to Train Your Dragon: The Hidden World." Hill voices the character of Snotlout Jorgenson, one of the founding members of the dragon riders throughout the "How to Train Your Dragon" films. The character is introduced as a haughty and disrespectful Viking who's brash but dependable for his pal Hiccup (Jay Baruchel).
This film, the third in the series, follows Hiccup and the dragon riders as they try to find a fabled safe haven for all of the dragons they've been diligently rescuing from capture. In addition to being a scene-stealing presence in his on-screen roles, Hill has also proven to be a quite impressive voice actor, and in this lovely little DreamWorks flick, he more than shows off his animated comedic chops.