The Reason Why Brendan Fraser Wasn't In The Mummy Remake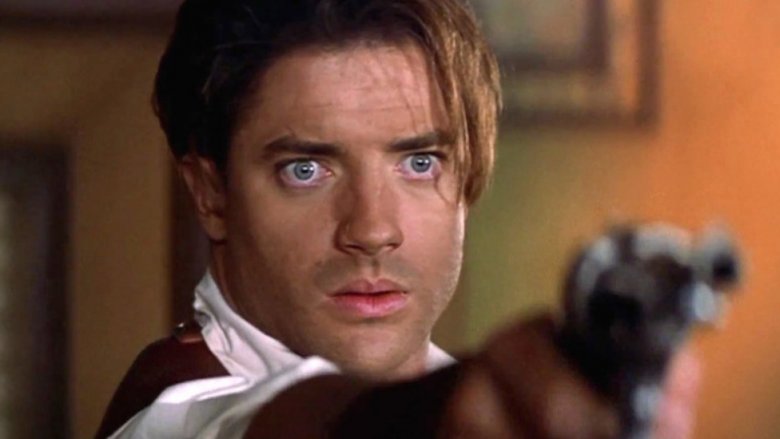 It would have been amazing to see Brendan Fraser back for more Mummy action in this year's remake, but sadly, he didn't make an appearance alongside Tom Cruise as the new lead. And in an interview with ET Online, director of The Mummy Alex Kurtzman explained exactly why a Fraser cameo never happened.
According to Kurtzman, bringing Fraser, who portrayed protagonist Rick O'Connell in the '90s Mummy movie series, back for a small role wasn't ever an option. This was due to the gap of time between the last film and the recently released one. Logistically, it just wouldn't work out.
"We never really talked actively about bringing Brendan Fraser in, because he lived in a very different time period than the modern day and so he would be potentially not even be alive," Kurtzman explained with a laugh. "Unless he himself were a monster, it didn't seem like he would make a whole lot of sense. And if he were a monster, then we would have had a lot of explaining to do about why he was there."
But just because The Mummy didn't include Fraser himself doesn't mean it was totally without inspiration from its predecessors. The remake does contain a small Fraser easter egg, said Kurtzman: "We wanted to tip our hat to [Fraser], and there are two moments that do that in the film [including the Book of Amun-Ra, which Fraser's character use to defeat Imhotep in 1999's The Mummy]."
The Mummy remake stars Cruise as Nick Morton, Russell Crowe as Dr. Henry Jekyll, Annabelle Wallis as Jenny Halsey, Sofia Boutella as Ahmanet, Jake Johnson as Chris Vail, and Courtney B. Vance as Colonel Greenway. 
It's actually probably a good thing that Fraser isn't included on the cast list, even in an unnamed cameo, as The Mummy is currently tanking at the box office, and has a 16 percent approval rating on Rotten Tomatoes. (That's arguably even more frightening than the titular monster.) If you're wondering why the remake flopped, take a look at the real reason The Mummy wasn't a success.