See The Gorgeous New Black Panther Poster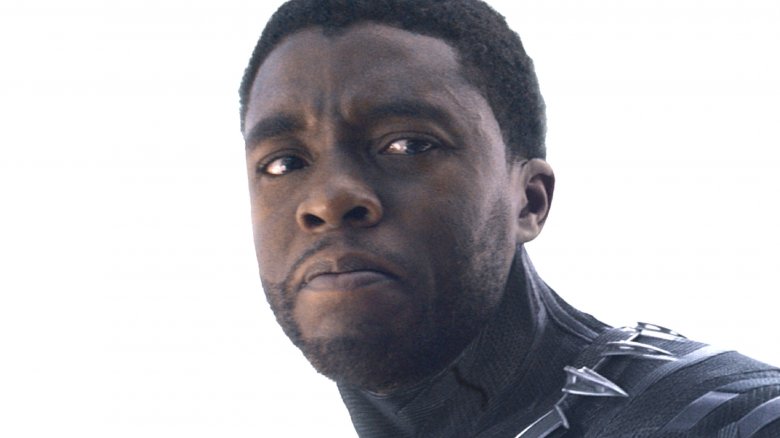 The first Black Panther teaser trailer is coming in less than 24 hours. Marvel released a poster for the movie on the film's Twitter account Friday, while also announcing that the first bit of footage will air during Game 4 of the NBA Finals on Friday night.
Black Panther, which takes place after the events of Captain America: Civil War, follows Chadwick Boseman's T'Challa after he returns to the isolated, technologically advanced African nation of Wakanda to take his place as king. However, when an old enemy reappears on the radar, T'Challa's mettle as king and Black Panther is tested when he is drawn into a conflict that puts the entire fate of Wakanda and the world at risk. 
The rest of the cast includes Lupita Nyong'o as Nakia, a member of T'Challa's personal guard, Michael B. Jordan as villain Erik Killmonger, and Martin Freeman and Andy Serkis reprising their roles as Everett Ross and Ulysses Klaude, respectively. Forest Whitaker, Angela Bassett, Danai Gurira, Sterling K. Brown, and Daniel Kaluuya also star. Ryan Coogler directs based on a script he co-wrote with Joe Robert Cole.
Black Panther has already received a lot of buzz, with Marvel Studios head Kevin Feige describing the film's cast as the "highest class" they have ever recruited. The film also got positive reactions from reporters after screening gritty footage a few months ago. The movie is also, according to Feige, set to play a big part in the events leading up to Avengers: Infinity War, which Boseman recently began filming his part of.
Black Panther is due out on Feb. 16, 2018, while Game 4, between the Cleveland Cavaliers and the Golden State Warriors, will air at 9 p.m. ET on ABC. While we wait for the first footage to be released, prep by reading up on the character's dark history.
Check out the new #BlackPanther poster and tune in to game four tonight to see the world premiere of the teaser trailer! Witness the legend. pic.twitter.com/Z4LQLNxwIc

— Black Panther (@theblackpanther) June 9, 2017