Ocean's 11 Star Carl Reiner Will Make A Cameo In Ocean's 8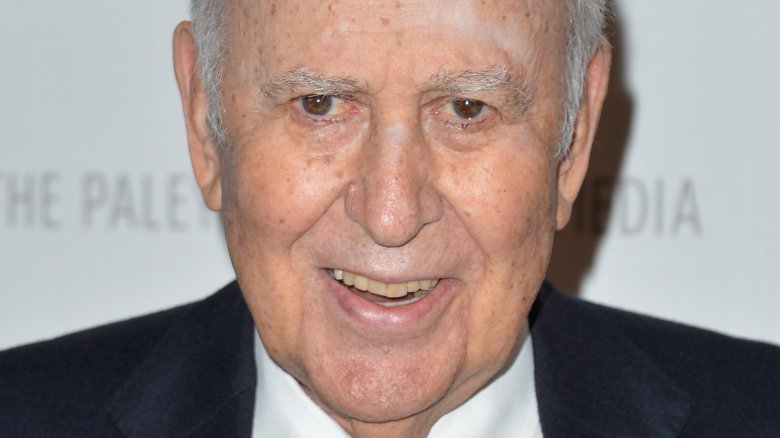 Getty Images
One of the boys will make an appearance in the all-female Ocean's Trilogy spinoff, Ocean's 8. 
During an interview with Vanity Fair, Ocean's 11 actor Carl Reiner revealed that he has a scene in the upcoming flick. When asked about his involvement with Ocean's 8, Reiner said, "[I'm in] Ocean's 8, I think they're calling it. And I got to work with my favorite actress, Sandra Bullock. I did one little scene with her, and it was such a pleasure. She's a work of nature."
In the original film trilogy, Reiner plays Saul Bloom, the high roller of in the crew of Danny Ocean (George Clooney). Reiner's Bloom takes on a handful of aliases throughout each movie, like an arms dealer named Lyman Zerga, a Swiss doctor who aids in the Lookie-loo con of Ocean's 12, and a hotel reviewer named Kensington Chubb. 
Not only does Reiner team up with Bullock (who plays Debbie Ocean, Danny's estranged sister) for the movie, he also joins another Ocean's alum who has a small scene in the film. Matt Damon previously confirmed he'll reprise his role as Linus Caldwell, the pickpocketing prodigy and son of a legendary con artist. "I'm doing a little bit in the movie," Damon said. "I haven't read [the script] yet, but the cast is phenomenal and I'm excited to see what those women do with it. It's going to be fun." Unfortunately, Clooney isn't expected to return as Danny. 
Here's the official synopsis for Ocean's 8: "In Summer 2018, the tide will turn as Debbie Ocean (Sandra Bullock) attempts to pull off the heist of the century at New York City's star-studded annual Met Gala.  Her first stop is to assemble the perfect crew: Lou (Cate Blanchett);  Nine Ball (Rihanna); Amita (Mindy Kaling); Constance (Awkwafina); Rose (Helena Bonham Carter); Daphne Kluger (Anne Hathaway); and Tammy (Sarah Paulson)."
Ocean's 8 is set for release on June 8, 2018. In the meantime, check out the other movies that are going to blow everyone away next year.