Game Of Thrones Final Season Might Not Arrive Until 2019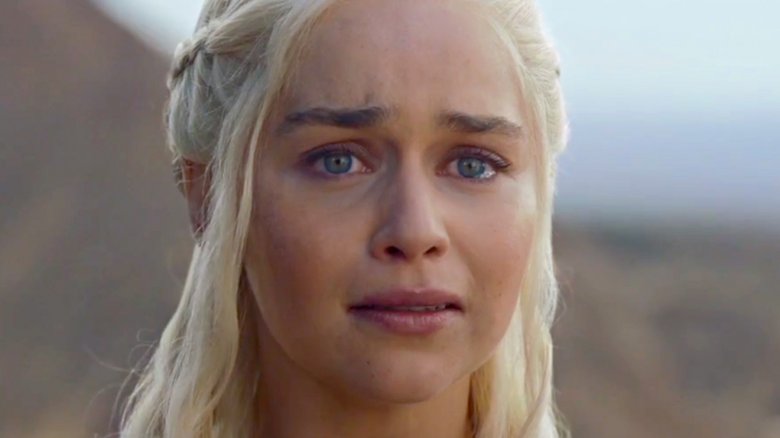 There's good news and bad news from Westeros.
The good news is that the final season of Game of Thrones is shaping up to be the biggest, most "cinematic" yet. The bad news is that it might not premiere until 2019. 
HBO programming president Casey Bloys spoke to Entertainment Weekly about the plans for the final two seasons and the potential spinoff prequels, and he hinted that season 8 could be as much as two years away. To be fair, it was the interviewer who mentioned the specific timeline of "2018 and/or 2019," but Bloys didn't shoot that down.
"[Showrunners David Benioff and Dan Weiss] have to write the episodes and figure out the production schedule," Bloys said. "We'll have a better sense of that once they get further into the writing."
However, he said the scope of the final two seasons will be incredible. "One of the hallmarks of the show has been how cinematic is it," Bloys said. "The show has proven that TV is every bit as impressive and in many cases more so, than film. What they're doing is monumental. When you see these battles in season 7, and what I imagine season 8 will be, it's a big, big show. We've done a lot of great shows, but this one combines the complex characters we love with a huge cinematic scope. I think this is the first show to prove that can be done, and we're the first people to pay for it."
As for those possible spinoffs, Bloys confirmed that Benioff and Weiss won't be involved.
"In conversations with them, they feel if their name is on the prequels—even in a passive way—it conveys some sort of expectation or responsibility," Bloys said. "They want to enjoy the show as fans and don't want to worry about the scripts or production issues. We were hoping to have their names on it out of respect for them, but we understand why they don't want that."
We already knew that writers are working on five different prequel spinoffs with the plan that HBO will develop the best one. Author George R.R. Martin is involved in different capacities with each of them, but none of the current Game of Thrones cast members are expected to return. Each of the projects are set at various points before the main series.
If HBO does greenlight one of them, it also won't premiere until well after Game of Thrones wraps up. "The show that Dan and David have created will get its proper send off first," Bloys said. "We wouldn't want to take away from that in any way."
But before all that, season 7 is just a little more than a month away from its July 16 premiere date. Until then, check out the action-packed trailer.