Upcoming Star Wars Disney+ Series The Acolyte Casts Hunger Games Star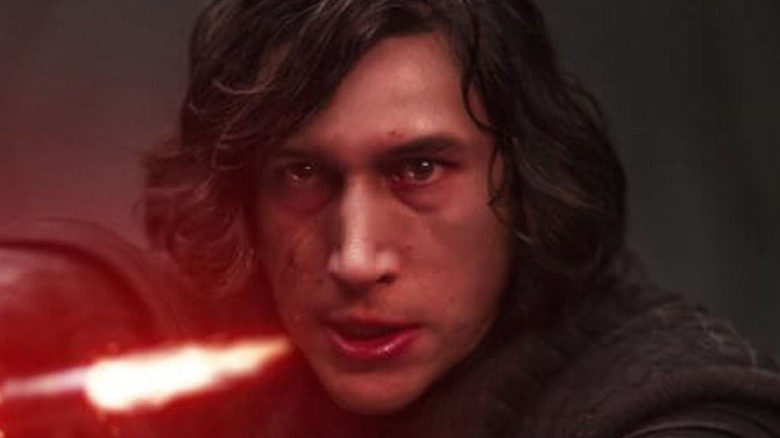 Lucasfilm/Disney
When it comes to visual "Star Wars" media, 2021 felt like a thin year. The first season of "Star Wars: The Bad Batch" on Disney+ spanned from May to August, and the entirety of "Star Wars: Visions" dropped in September, leaving a months-long gap between it and "The Book of Boba Fett," which premieres on December 29. Thankfully, for those hoping for more out of a galaxy far, far away, Lucasfilm has you covered for 2022. Once "The Book of Boba Fett" concludes in February, "Obi-Wan Kenobi," "Andor," and "The Bad Batch" Season 2 will take the reins, but they're just the beginning.
Well beyond the next calendar year, fans have a lot of small screen "Star Wars" material to look forward to. For example, Rosario Dawson's Ahsoka Tano will get her own series, as will the suave Lando Calrissian. Not to mention, the widely-beloved "Mandalorian" is up for a third season, and new titles like "A Droid Story" and "The Acolyte" are on their way down the pipeline too. Speaking of the latter, since its initial announcement, it has been kept heavily under wraps, with not a story beat nor cameo leak to speak of. Thankfully, that radio silence surrounding "The Acolyte" has just been interrupted.
In an exciting bit of casting news, a "Hunger Games" alum has signed on to enter the "Star Wars" world.
Amandla Stenberg has joined the Acolyte cast
Lionsgate
As revealed by Deadline on December 8, 2021, Amandla Stenberg has signed the dotted line to be a part of "The Acolyte." According to the announcement, they'll take on a lead role in the Leslye Headland-created series, which takes place in the waning days of the High Republic era, approximately 50 years before the events of "Star Wars: Episode I – The Phantom Menace." It's still unclear who Stenberg will play and how they'll factor into the plot, but bearing in mind their track record, they'll make a strong addition to the cast all the same.
Amandla Stenberg's acting journey began in the early 2010s when they took on small roles in "Colombiana" and "A Taste of Romance." Their big break came in 2012's "The Hunger Games," where they portrayed the character of Rue, thus setting them up for big things in the next few years. They became a regular on TV shows like "Sleepy Hollow" and "Mr. Robinson" while keeping up cinematic appearances with "The Hate U Give" and "Where Hands Touch," among others. Stenberg's latest credits include the miniseries "The Eddy" and the musical film "Dear Evan Hansen."
Amandla Stenberg's filmography indicates that they'll fit into "The Acolyte" just fine. Hopefully, we'll learn more information about the series and Stenberg's character sooner rather than later.