How To Watch The Curse Of Oak Island If You Don't Have Cable
We may receive a commission on purchases made from links.
The ninth season of History Channel's "The Curse of Oak Island" is getting ready to wrap up, but there's still time to catch reruns of the show and get up to speed before the final episode airs on December 21. Don't have cable? Don't sweat it. There are several other options for viewers in this predicament. 
During the show's ninth season, the Oak Island team is back for the "biggest" chain of episodes yet, as History describes it. Brothers Rick and Marty Lagina and the rest of the gang are still trying to uncover the 224-year-old treasure mystery involving Oak Island, located in Nova Scotia, which is believed to hold hidden artifacts and other profitable items, including the Ark of the Covenant and Holy Grail.
"After seismic testing conducted at the end of last season revealed a possible sunken ship buried in the triangle-shaped swamp, the team will use sonic core drilling, strategic dives, and finally a historic big dig to find out what could be buried below," History explains in the Season 9 synopsis. "Now, fully partnered with fellow landowner Tom Nolan, the son of the late Fred Nolan, Rick, Marty, and Craig Tester will have unprecedented access to areas of the island that they hope will yield answers ... and treasure." 
So, where can people watch this reality show scavenger hunt?
The Curse of Oak Island is available to stream on iTunes, Amazon, and Vudu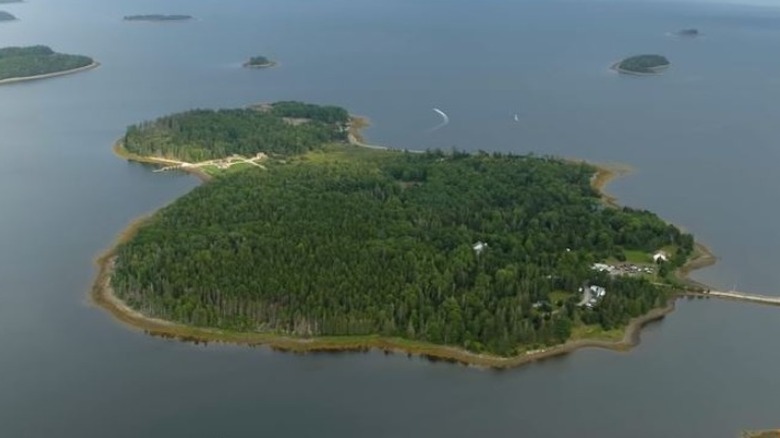 History/YouTube
There are a few different options available for people looking to stream "The Curse of Oak Island" rather than watch it on cable. First, there's always the option of buying the entire ninth season through iTunes or Amazon for a price of $24.99 on both platforms. However, you can find it for $19.99 if you look on Vudu. Then, there's the possibility of buying each individual episode one at a time. That'll cost $2.99 on Amazon and iTunes and $1.99 on Vudu.
It's also worth mentioning that iTunes, Amazon, and Vudu also offer interested viewers the opportunity to have their own "Curse of Oak Island" marathon. If you're in the mood, Seasons 1 through 8 of the History Channel series are also available for purchase on all three of these platforms. Folks have the option to purchase entire seasons or individual episodes.
"The Curse of Oak Island" has been a pretty popular hit with viewers, amassing a large audience and fairly decent audience scores on IMDb and Rotten Tomatoes. "Off the Nova Scotia coast sits the mysterious Oak Island," reads the show's Amazon description. "What lies there: pirate treasure or a Viking horde? No one knows and anyone who tries to find out has encountered an unexpected problem: booby-traps. Someone went to great measures to hide what is there. Enter the Lagina brothers, who deploy technology like never before, but there will be obstacles: The island is allegedly cursed."