Squid Game's Director Teases An Epic Test Of Will For Gi-Hun In Season 2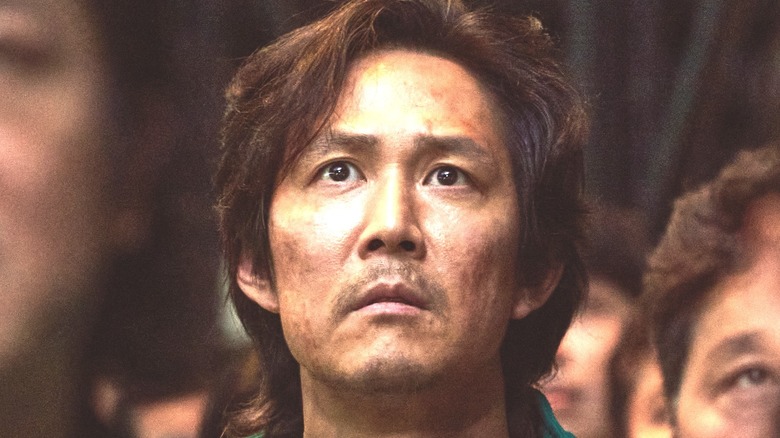 Noh Juhan/Netflix
"Squid Game" is a dark show. It brings together hundreds of contestants and forces them into a competition consisting of children's games to see who comes out on top and walks away with billions of won. It gets a little disorienting to watch one lovable character after the next meet a horrific end, but eventually, Gi-hun (Lee Jung-jae) ends up the victor. You might think things would start to look up once all of the main character's financial problems are solved, but even with all of that money, Gi-hun still isn't happy. 
He can't help but feel depressed at how he trampled over so many lives to wind up financially secure. And we soon learn that he hasn't spent any of the money on himself. He lives a barren existence until he decides to travel to the United States to see his daughter once again. But as the old quote goes, "Just when I thought I was out ... they pull me back in. 
The last we see of Gi-hun in Season 1, he's forgoing the plane ride and heading back into the games, likely to expose them to the world. But things only look as though they'll grow darker going into Season 2, provided another season eventually materializes on Netflix. The show's director appears confident another season will happen, and in a recent interview, he teased what could happen for the show's future. 
Hwang Dong-Hyuk compares Season 2 of Squid Game to Star Wars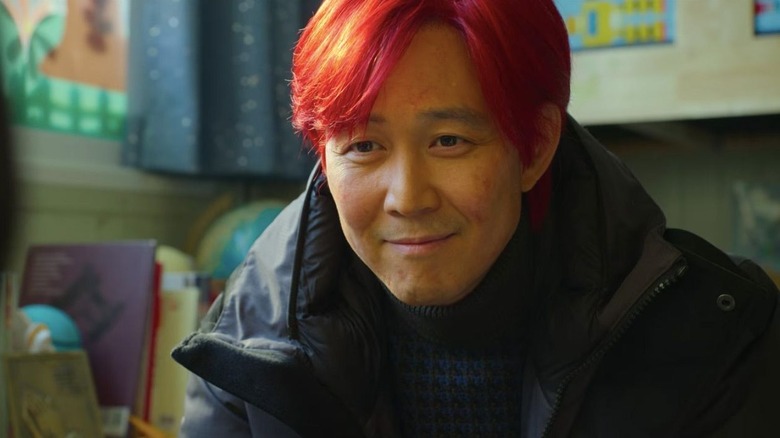 Netflix
Netflix has yet to renew "Squid Game" for Season 2. However, given the cliffhanger ending of Season 1 and the fact it was one of the most-watched shows the platform had ever seen, a second season seems like a certainty at this point. Still, that didn't stop director Hwang Dong-Hyuk from being cautious when sitting down for a Screen Actors Guild panel hosted by Mary Margaret of Entertainment Weekly.
Hwang discussed what kind of changes we can expect in Gi-hun, specifically how he'll go from a passive presence to an active one. "If there were to be a Season 2, in the first season that we saw Gi-hun is a character whose humanity is shown through or exposed in certain situations," he elaborated. "In other words, his humanity is shown through a very passive manner. But I would think that in the second season, what he has learned from the games and his experience in the first season, they will all be put to use in a more active manner." That could mean that instead of merely playing the games, Gi-hun looks for a way to dismantle them from the inside. 
What's even more intriguing is the battle between good versus evil naturally present in the series. Hwang goes on to compare a prospective second season to one of the biggest franchises of all time. He states, "At the same time, as for the Front Man (Lee Byung-hun) who was also a past winner but became a Front Man, it's like Darth Vader. Some end up Jedi and some become Darth Vader, right? I think that maybe Gi-hun will go through a certain critical point where he is put through a test as well." Could that mean Gi-hun receives an opportunity to become a Front Man and potentially descend into the Dark Side? We'll just have to wait for "Squid Game" Season 2 to come out (if it even happens) to find out.