The Real Way That Black Adam Could Change The Way Superhero Movies Are Made
It's no secret that walking 'franchise viagra' Dwayne Johnson has big plans for the DC Universe. With a seemingly large gap needing to be filled with an iconic hero given the question mark hanging over Henry Cavill's return as the Man of Steel, Johnson may have the lightning in a black and gold bottle with "Black Adam" to get things going again. The only difference is that this bottle may pack quite a kick.
The difference, of course, is that he won't be going about it nicely. Well known among comic book fans as an anti-hero in DC Comics, Black Adam's dark debut will see him going up against Noah Centineo as Atom Smasher, Aldis Hodge as Hawkman, Quintessa Swindell as Cyclone, and Pierce Brosnan Doctor Fate. Director Jaume Collet-Serra will be handling this spectacular showdown after recently working with Johnson on "Jungle Cruise." Speaking to Total Film, he promises something we've never seen before.
Black Adam will have 'new and unique' storytelling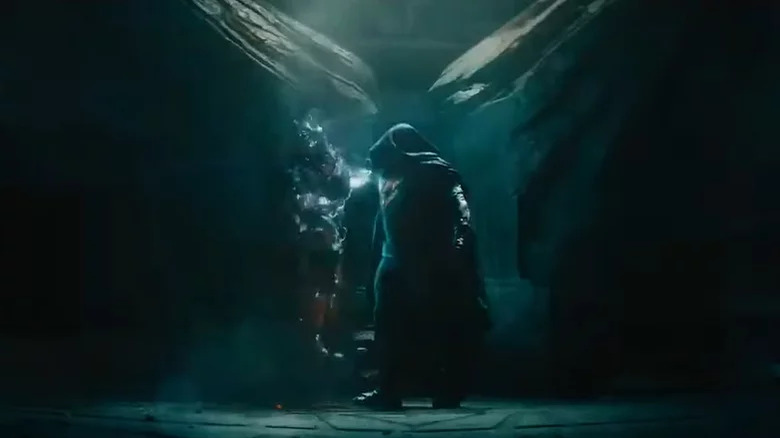 Warner Bros/YouTube
Jaume Collet-Serra highlighted the groundbreaking territory The Rock's new character would be wrecking in the upcoming film, which is part and parcel of Adam's modus operandi.
"Black Adam is a disruptor in the DC Comics world, and it has to be a disruptor in the way that we make a superhero movie," explained Collet-Serra. "I like to be challenged, and I wanted to create new technology, so we developed the way that [Adam] moves, the way that he flies, his costume."
This new way of looking at a different kind of hero had an extended impact on the characters around him. "It trickled down to every other character and the movie itself," added the director. "But there was always the goal –— to be new and unique in the storytelling and in every aspect of it."
It'll be fun to see just what this will all entail when "Black Adam" finally touches down with hopefully massive impact on July 29, 2022.