The Dark Tower Easter Egg You Missed Early In The Shawshank Redemption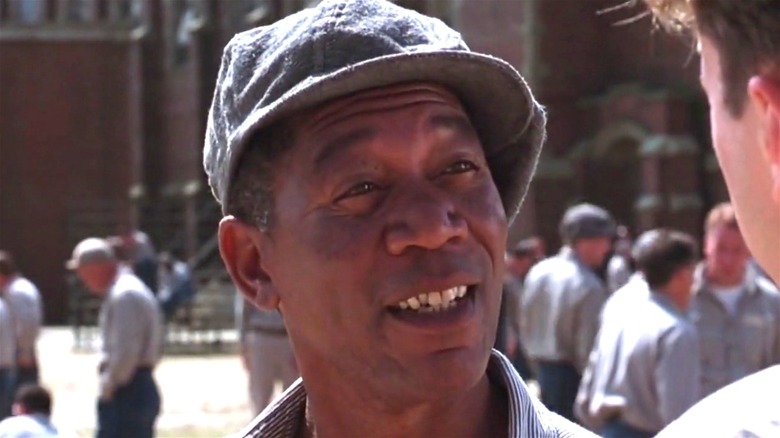 Columbia Pictures
For decades, Stephen King has been one of the leading authors in the world, specifically in the horror genre. From full-length novels to short stories, his creativity has shown next to no bounds, hence why his bibliography is loaded with a wide variety of fictional tales. "The Shining," "Cujo," "It," and numerous others have found their way to the forefront of literary history, but that's not all. Thanks to the worldwide popularity of King's works, as well as their wholly original nature, it should come as no surprise that Hollywood has repeatedly invested in live-action adaptations.
The first director to take a crack at one of Stephen King's career-defining publications was Brian De Palma, who developed "Carrie" for the silver screen in 1976. To this day, De Palma's supernatural horror flick is regarded as one of the strongest King translations to date, though it's no longer the only one. Some have fallen into relative obscurity, such as "The Lawnmower Man" and "Dolan's Cadillac" from 1992 and 2009, respectively, while others like 1986's "Stand By Me" and 1994's "The Shawshank Redemption" are regarded as cinematic triumphs.
Speaking of "Shawshank," did you know that it pays homage to another famed King creation — the "Dark Tower" series — in an incredibly subtle way? Here's where to find this Easter egg.
Andy Dufresne's new identity is a reference to Randall Flagg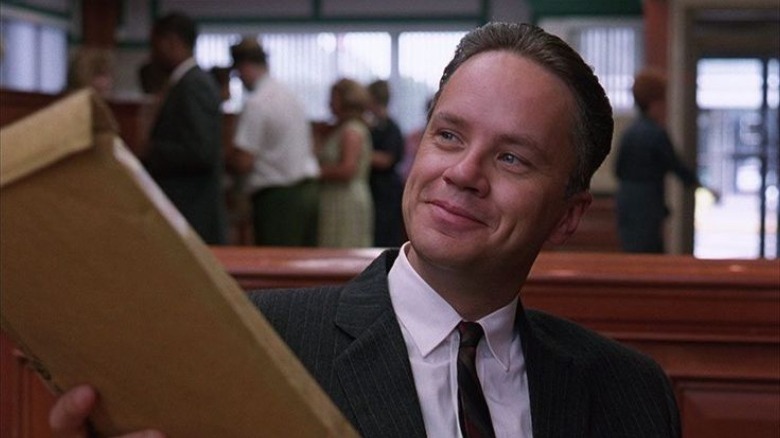 Columbia Pictures
Following his escape from prison, Andy Dufresne (Tim Robbins) begins an entirely new life under a new name: Randall Stevens. For those unfamiliar with the minutiae of Stephen King's literary works, this isn't the alias Andy adopted in the source material, "Rita Hayworth and the Shawshank." Rather, he decided on Peter Stevens, but "The Shawshank Redemption" director, Frank Darabont, wanted to tweak his name selection to reference a recurring King antagonist known as Randall Flagg, who has popped up in the "Dark Tower" saga as well as "The Stand."
"Where the name Randall comes from — I'm sure the lawyers won't like this one, either, but — that was from me doing a little homage, a little tip of the hat, to our friend, Stephen King," Darabont revealed on the "Shawshank Redemption" director's commentary (via /Film). He heralded the character as one of King's "all-time great villains," adding, "So when I needed to replace Peter, I chose Randall, as a little salute to Steve." Randall is a common name, and for one to appreciate this Easter egg, they'd have to be a big King fan, so it's easy to see why this reference is often glossed over.
The "Dark Tower" big-screen adaptation, which featured Matthew McConaughey as Randall Flagg, didn't quite measure up to the success of "The Shawshank Redemption." At least the film and character have a nod in an Oscar-nominated drama to hang their hats on.