The One James Bond Director Producers Want To Bring Back
Cary Joji Fukunaga's work on "No Time To Die" has received rave reviews ever since the film was released in October 2021 (via Rotten Tomatoes). Throughout the course of the 25 films in its history, the "James Bond" franchise has employed the talents of a variety of directors to helm the feature films that have made the British spy a dominant and enduring fixture of the international box office. However, more than a few directors have come back for seconds.
"Dr. No," the first film in the franchise, was directed by Terence Young, who later returned to direct 1963's "From Russia with Love" and 1965's "Thunderball" (via IMDb). In between the latter two films, Guy Hamilton was invited to direct 1964's "Goldfinger." Three years later, Lewis Gilbert directed Sean Connery in "You Only Live Twice." "Goldfinger" director Guy Hamilton later returned to direct Connery's final Eon Productions appearance as Bond in 1971's "Diamonds are Forever," as well as Roger Moore's first two portrayals of Bond in 1973's "Live and Let Die" and 1974's "The Man with the Golden Gun" (via IMDb). Living up to the name of his debut "Bond" feature, Lewis Gilbert also later returned to direct Roger Moore as 007 in "The Spy Who Loved Me" and "Moonraker" (via IMDb). 
In 1981, John Glen was hired to direct Roger Moore in "For Your Eyes Only" and led the franchise for nearly a decade, with a record five-in-a-row "James Bond" films, including Moore's final three films and both installments starring Timothy Dalton (via IMDb). In 2002, Martin Campbell returned for Daniel Craig's debut in "Casino Royale" after having already directed Pierce Brosnan's first 007 role in 1995's "GoldenEye" (via IMDb). Since Campbell's second "Bond" outing, Sam Mendes is the only other "James Bond" director to return to the series, having directed both 2012's "Skyfall" and 2015's "Spectre" (via IMDb). 
A recent interview published by The Hollywood Reporter makes clear that there's one director that film producer Barbara Broccoli would be happy to see return.
Barbara Broccoli says she and her family 'love Cary Fukunaga'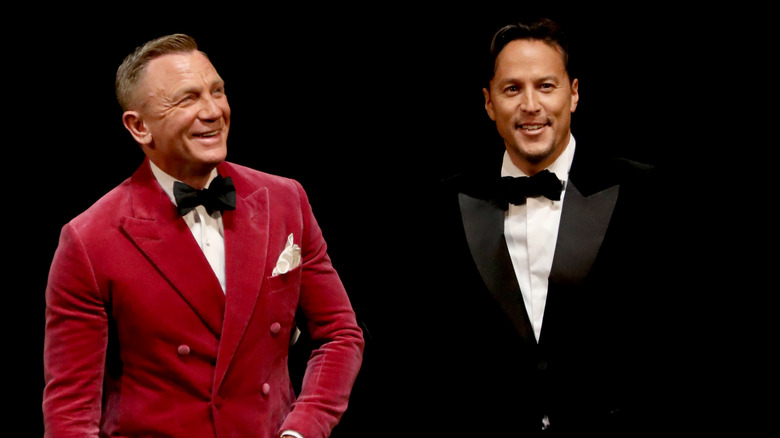 Tristan Fewings/Getty Images
During a recent interview with The Hollywood Reporter, "James Bond" producer Barbara Broccoli went over a variety of franchise-related topics with the publication, including the question of if we'll ever see a female James Bond. She was also asked about the possibility of "No Time to Die" director Cary Fukunaga returning to direct more "James Bond" films.
"We love Cary. He's done an exceptional job," Barbara Broccoli told The Hollywood Reporter. "I don't have any idea whether he'd do another one. I think he did this because he wanted a challenge, and he sure pulled it off. But I'm not sure if he'd do another one. We'd love to work with him again."
The accomplished producer has been heavily involved in the production of "James Bond" movies ever since the 1987 release of "The Living Daylights" (via IMDb). Barbara's father, Albert, was the first member of her family to produce a James Bond film with the release of 1962's "Dr. No" (via IMDb). The family has been heavily involved in the decision making process of all 25 Eon Productions-led adaptations of author Ian Fleming's work.
In the same article, Fukunaga was quoted as noting that Broccoli and her half-brother, Michael G. Wilson, were intimately involved in the production of "No Time to Die." "I've never worked with producers that were so creatively involved," Fukunaga told The Hollywood Reporter. "But I also knew that going into it, I knew this is their baby. So I came into it very much with the perspective of how can I do my part to try to make this a good film."