The Phineas And Ferb Detail That Is Darker Than You Think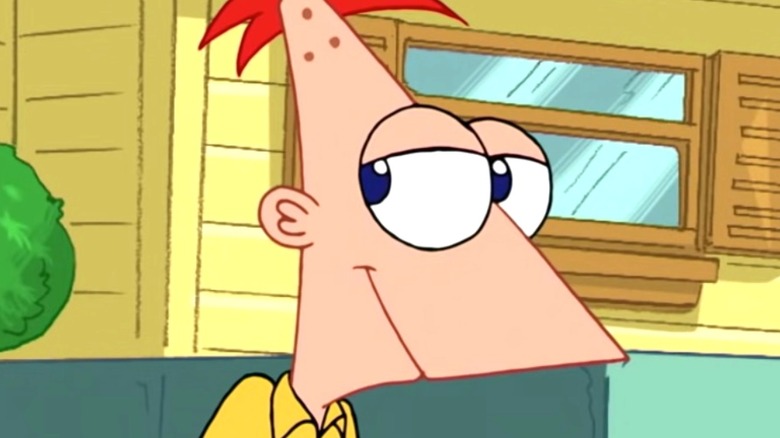 Disney
"Phineas and Ferb" is a classic Disney animated series from the late 2000s. Premiering in 2007, the show became one of Disney's few successful cartoons from this era, which was dominated by children's sitcoms such as "Hannah Montana" or "Wizards of Waverly Place." The series, which concluded in 2015, followed the wacky adventures of brothers Phineas Flynn (Vincent Martella) and Ferb Fletcher (Thomas Brodie-Sangster.) The two brothers are creative inventors, who spend each episode building a new, over the top invention that solves a problem brought forth in the episode. Their sister, Candace Flynn (Ashley Tisdale), is constantly attempting to get the boys in trouble, as their parents are unaware of their shenanigans creating inventions. 
The show was popular most likely due to its wacky premise, bright and fun art style, and — of course — the iconic character of Perry the Platypus. Perry is Phineas and Ferb's pet platypus who doubles as a secret agent, sneaking away during episodes to fight his arch nemesis Dr. Doofenshmirtz. This is another running gag in the show as, at some point in each episode — once the characters have realized Perry has disappeared — they will ask, "Hey, where's Perry?"
Being primarily targeted at children — and on the Disney Channel, no less — "Phineas and Ferb" was usually lighthearted and easygoing. However, there were some moments that got a bit darker than what you'd expected for a Disney show. Here's one of the darkest ones.
Phineas and Ferb go to reformatory school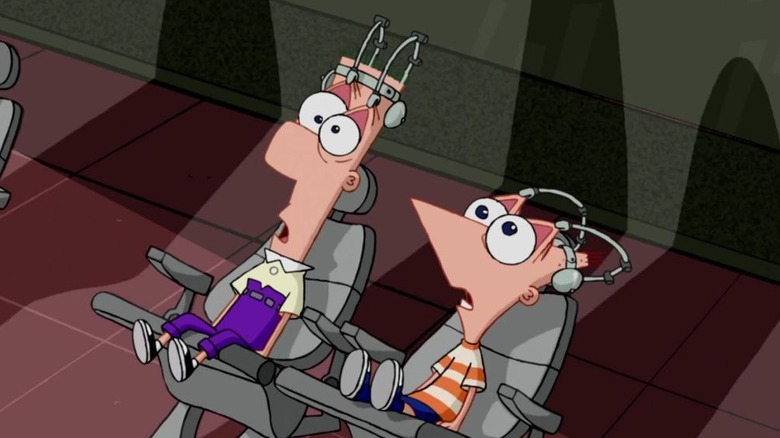 Disney
Season 1, episode 45 — titled "Phineas and Ferb Get Busted!" — takes the running gag of Candace failing to expose her brothers' inventions to their parents to a new, darker extreme, while referencing the very much not-child-friendly Kubrick film "A Clockwork Orange." In the episode, Candace manages to get their parents home in time to catch the boys in the act of testing their new flying car invention which results in Phineas and Ferb being shipped off to a reformatory school.
At the school, Smile Away Reformatory School, the brothers are subjected to brainwashing because, as the school's warden says, their innovative ideas are "unacceptable levels of creativity, imagination, and unbridled enthusiasm." Phineas and Ferb each get buzzcuts and are forced to watch an indoctrination video describing how an imaginative mind is wrong while their eyes are forcefully held open. There are also disturbing scenes of punishment with the brothers being locked away in metal cages as well as being sprayed with water when being trained to be more realistic than idealistic. The episode does end on a positive note with Candace eventually rescuing the boys from the school, but it also later revealed that the episode's events were all a dream sequence.
While the episode does conclude in a heartening way, this does not take away the dark elements already explored in the episode: as said by Reddit user Daaa657h in a thread about the episode, "I reckon this is probably my [favorite] Season One episode. It's very funny, and yet deeper and darker than anything we've seen so far."
Topics like indoctrination, brainwashing, and torture, even watered down, are still very bleak subject matter. Even more gloomy is that the episode seems intended as a commentary on growing up.