The Mr. Scheuster Scene In Glee's Pilot That Aged Poorly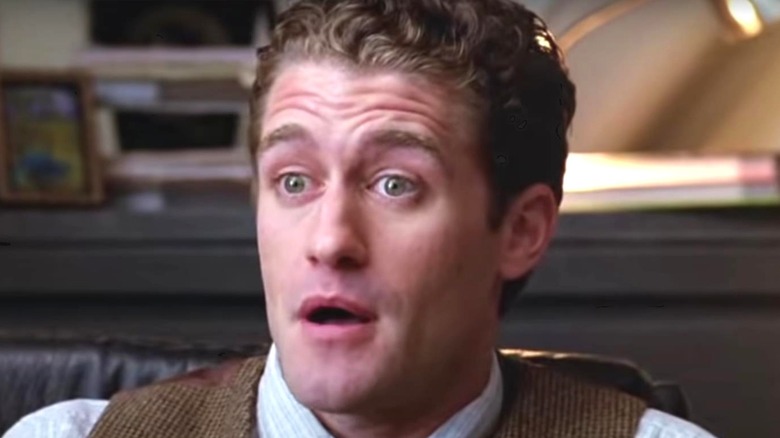 Fox
Highly stylized, often entertaining, and no stranger to controversy, the TV musical sensation "Glee" is indicative of the style of Ryan Murphy, who co-created the series with Brad Falchuk and Ian Brennan. "Glee" ended after Season 6 with a total of 121 episodes and more musical numbers than anyone can count. Over the course of the series, fans followed the journeys of their favorite couples like Santana (Naya Rivera) and Brittany (Heather Morris), and endured heartache over the tragic passing of series star Cory Monteith.
And while the show did push many under-represented characters to the forefront, you'd have a hard time arguing that "Glee" was perfect. The pilot was a concise story with motivations for the characters, but those motivations weren't always sympathetic. In fact, one of the worst offenders in the show's first episode is the future glee club director himself, Mr. Scheuster, aka Mr. Sheu (Matthew Morrison), who resorts to illegal activities to get students to join the club.
Mr. Sheu blackmails a student into joining the glee club
The pilot of "Glee" is full of problematic choices and characters. Former glee club director Sandy Ryerson (Stephen Tobolowsky) was preying on students and Mr. Sheu's wife Terri (Jessalyn Gilsig) fakes being pregnant. But one of the worst offenses was from Mr. Sheu himself. After Sandy was rightfully fired from William McKinley High, Mr. Sheu immediately makes a play to take over the glee club. Mr. Sheu takes on several selfish acts in this episode to recapture the glory days of his own glee club experiences, and you could argue that he doesn't do this out of a desire to help the kids. This plot point is significant considering the fact that he has to blackmail the school's star quarterback who happens to have an incredible singing voice, Finn (Cory Monteith), into joining the club because no one else wants to. 
Mr. Sheu is so desperate to get Finn in the club that he accuses Finn of possessing drugs when they were actually from football coach Ken Tanaka (Patrick Gallagher). Finn is adamant that the drugs aren't his, but Mr. Sheu never backs down. His drive to create a glee club and take them to nationals is so strong that he would trap a high school student in any way possible.