The Ending Of True Story Explained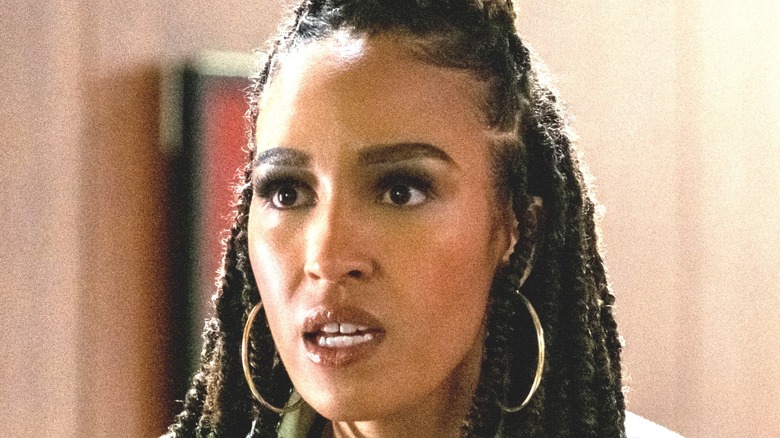 Adam Rose/Netflix
Netflix's "True Story" is quite a departure for comedian Kevin Hart. The crime thriller is a limited series that features Hart as The Kid, a rising stand-up comic whose tour stop in his old stomping grounds of Philadelphia goes terribly awry. Kid's older brother Carlton (Wesley Snipes) encourages him to forsake his sobriety in favor of celebration, and Kid soon passes out. He wakes up the next morning with a hangover — and a woman named Daphne (Ash Santos) dead in his hotel bed beside him, having overdosed on Oxycontin during the evening. In a panic, Kid calls the ne'er-do-well Carlton to help him dispose of Daphne's body. The lies and deaths begin to pile up as Kid tries to keep his skyrocketing career afloat and conceal the truth from Billie (Tawny Newsome), who writes material for him, his bodyguard, Herschel (Will Catlett), and his manager, Todd (Paul Adelstein).
In the final episode of "True Story," fans are let in on one whopper of a secret and get to watch Kid make a final stand against those who were trying to leech off of his fame. Join us to find out how — or if — he makes it out alive.
Blackmail leads to revelations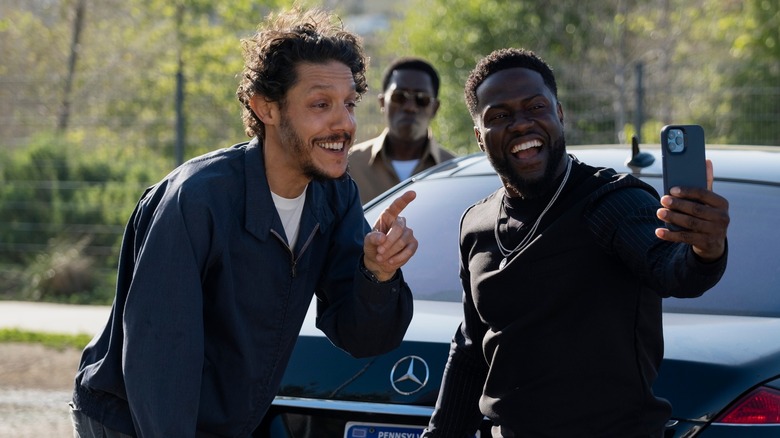 Adam Rose/Netflix
Carlton engages the services of Ari (Billy Zane), a gangster, to dispose of Daphne's body. It seems as if Ari has done the job, and Kid thinks the matter's been handled — but Ari isn't willing to take a paltry few thousand dollars as payment when he realizes that Kid is about to make a big splash in the superhero film "Antiverse." Ari demands $6 million in cash, and Kid responds by strangling him.
Kid is forced once more to call Carlton in to help him clean up his mess, and the brothers team up to dispose of Ari's body themselves. The murder puts Kid in the crosshairs of Ari's seedy brothers, Savvas (Chris Diamantopoulos) and Nikos (John Ales), and at the heart of a police investigation — thanks to their sloppy disposal of Ari's body. Carlton has a simple solution for that — they'll pin Ari's murder on Gene (Theo Rossi), an obsessive fan of Kid's, who also captures Kid and Carlton tossing Ari's body in a dumpster on video. Carlton plants Ari's watch on Gene. Ari's brothers then torture Gene to death but soon learn the truth thanks to his video evidence. Kid and Carlton, both relieved thinking they have gotten away with murder, go out for another night of partying. 
But everything changes when Kid looks at Carlton's text messages. He quickly learns Daphne is really Carlton's girlfriend, and that they cooked up a scheme with Ari to defraud Kid of millions. Things quickly devolve into a hail of bullets and recrimination, ending in Carlton's death.
Kevin Hart was Inspired by Narcos and his own real life problems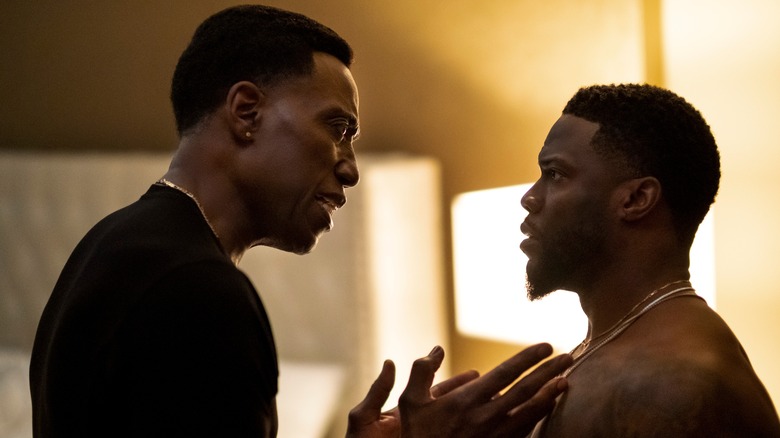 Adam Rose/Netflix
The end of "True Story" takes its twisted tale of murder to a stunning conclusion — one involving fratricide. Why does Kid choose to kill his own brother?
Call it a battle between Kid's past and his present. Carlton represents the character's past life in Philadelphia — a time of addiction. Carlton not only has never managed to successfully escape their old lifestyle, he revels in it. Hart has said that the story is loosely inspired by his own life, per CBS News, likening Kid's story to a "parallel world" for him. Hart intimated in an interview with The New York Times that the appeal to backslide and do wrong while in the public spotlight is a factor for him.
"It's so easy to do dumb [expletive]. It's available whenever you want it. Doing the right thing, living life correctly, there's a conscious effort behind it. And it's work," he told the newspaper. The actor added that having a team that's "OK with saying no" is crucial to his success.
There's no one to help Kid in "True Story," mainly because he has locked his team out to listen to old voices. Carlton represents everything about his past that Kid has tried to shed with his new, sober California life. Recognizing that his misplaced loyalty to Carlton is sucking him down into a whirlpool of evil, Kid does the only thing he thinks he can do to free himself permanently from the temptation to do wrong: he kills his brother.
"True Story" is about shedding your past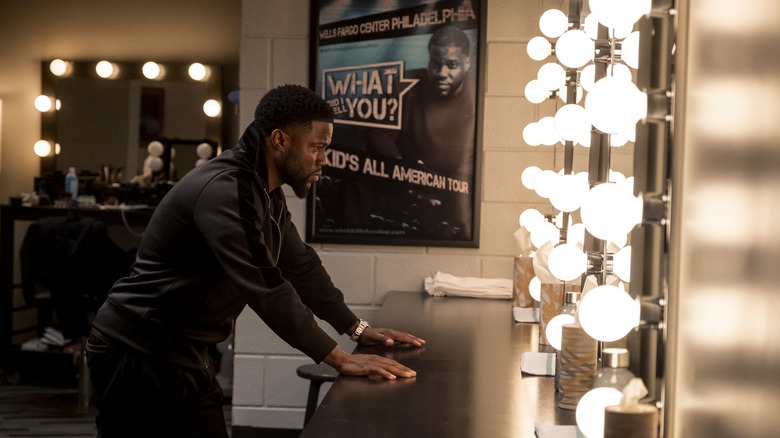 Adam Rose/Netflix
The end of the show gives us an interview with Kid, who tells the world about the harrowing triple murder of Carlton and Ari's brothers. We learn that the murders of Savvas, Nikos, Carlton, and Ari have been blamed on their shared conflict. Kid denies any knowledge of Carlton's criminal doings and paints himself as an innocent victim during this interview.
Beyond its exploration of twisted brotherly dependence, "True Story" is also about the pressure cooker rising stars face. That's something Kevin Hart has in common with Kid. Hart has faced his fair share of controversy, stepping down from hosting the 2018 Oscars ceremony after homophobic tweets he'd made several years before resurfaced (per The New York Times). Hart mused to the paper in 2021 that every person has a different boiling point. For a famous person, "if you take their career away, that is a fate worse than death," he said.
Thus, Kid is motivated to kill both his brother and Ari — and then cover the true nature of both deaths up to protect his own image. During his climactic interview, he can be heard making remarks about the lengths people will go to save themselves, but the interviewer believes that Kid is speaking about Carlton, and Kid does not disabuse them of this notion. He is clearly affected by what has happened, but he does not regret doing it.
Whether or not the truth comes out someday depends on whether or not "True Story" spawns a sequel. "True Story" is available to stream in its entirety on Netflix.