The Power Of The Dog Scene That Brought Kirsten Dunst To Tears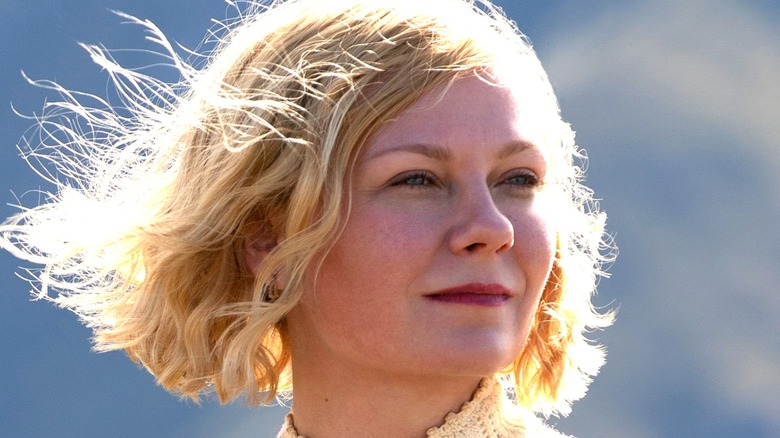 Kirsty Griffin/Netflix
Director Jane Campion's "The Power of the Dog" is a tense family saga that depicts the harsh conflict between two ranching brothers, kindly George Burbank (Jesse Plemons) and his caustic brother, Phil (Benedict Cumberbatch), which develops after George successfully woos widowed innkeeper Rose Gordon (Kirsten Dunst) during a cattle drive. Rose and George marry, and soon she and her young son, Peter (Kodi Smit-McPhee), move to the Burbank family ranch, only for both to join George as targets of Phil's relentless mockery. 
While Rose collapses into alcoholism, Peter wins Phil's love by proving his "manhood" and showcasing his ability to survive in the West. However, all is not as it seems, and a lesson about the importance of bucking toxic masculinity eventually reveals itself over the course of the film's story.
Dunst is no stranger to big-screen romance. After all, her upside-down "Spider-Man" kiss with Tobey Maguire is the stuff of legends. But when she was asked what it was like filming one of the most romantic scenes in "The Power of the Dog," the actor admitted that she was moved to tears by the moment in question.
Rose and George's dance scene made Kirsten Dunst tear up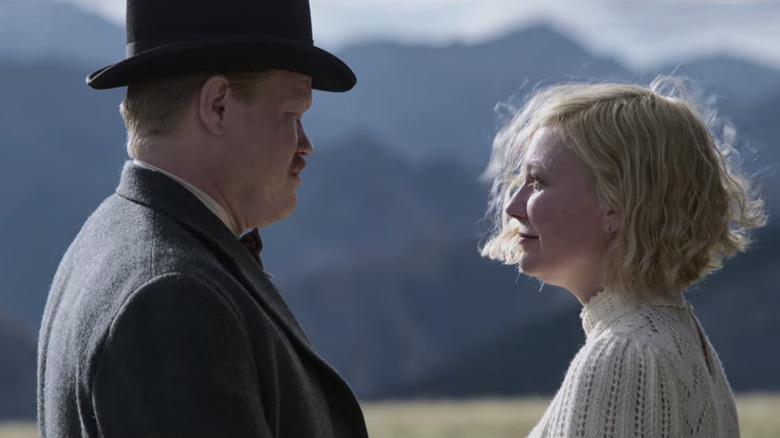 Netflix
In "The Power of the Dog," there's a scene where Rose and George drive to the summit of a mountain. Just married, Rose offers to teach George how to waltz, which moves George to tell Rose how happy he is to be with her. The moment cements both their romance and the relief they both feel over having found each other.
In an interview with the Los Angeles Times, Dunst revealed that this particular scene — as well as the performance of her real-life fiancé, Jesse Plemons, with whom she has two sons (via Today) — brought her to tears on the film's set. "When he says, 'It's just so nice to not be alone,' is, I think, one of the best lines of the film. When he did that, I cried off camera. I was so moved by his performance that day," Dunst recalled.
Outside of that scene with Plemons' George, playing Rose was generally a "painful" experience for Dunst, who admitted to crying in the arms of makeup artist Noriko Watanabe after completing multiple takes of a difficult scene. "I think Rose is a very old part of myself that I had to rehash of just feeling really bad about myself, or allowing myself to feel bad about myself because of other people's comments or control," Dunst said.