What ROBOTUS From Netflix's Inside Job Looks Like In Real-Life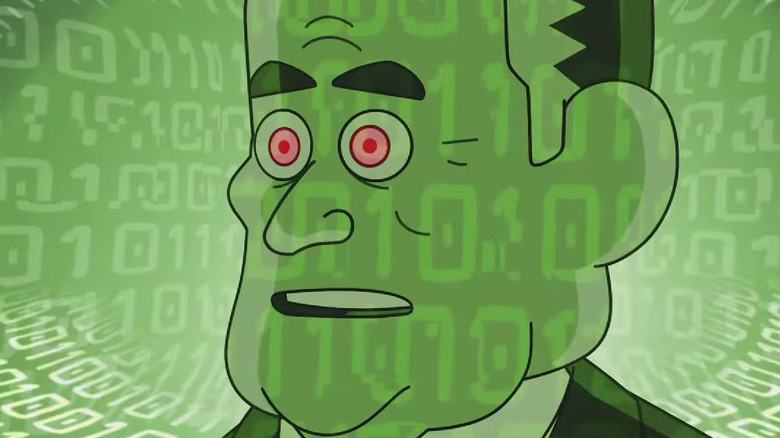 Netflix
The Netflix original animated series "Inside Job" premiered in October 2021, earning mostly positive notices from both fans and critics. The show is an animated workplace comedy, but instead of a generic office environment, it's set within the halls of Cognito, an Illuminati-like shadow government organization that's responsible for controlling the world without anyone on the outside realizing who is actually in charge.
"Inside Job" counts recognizable performers such as Lizzy Caplan, Christian Slater, Andy Daly, and Brett Gelman among its voice cast. One of those performers is Chris Diamantopoulos, who voices ROBOTUS, the robotic imposter-president who was meant to help with Cognito's mission of influencing the world, but who develops a dangerous mind of his own.
Diamantopoulos has helped make ROBOTUS a memorable member of the "Inside Job" cast of characters, as well as an integral part of the show's comedic stylings. The actor also has plenty of other credits, including both live-action and animated vocal performances, to his name.
Chris Diamantopoulos is a prolific voice actor
Press Line Photos/Shutterstock
If you don't recognize Chris Diamantopoulos' face, you might be more likely to recognize his voice. He's lent his vocal talents to no less an iconic character than Mickey Mouse in multiple contemporary Disney projects, as well as Darkwing Duck in the 2017 reboot of "DuckTales." You've also likely heard him on "Family Guy," "American Dad," and as Green Arrow in "Justice League Action."
On-screen, you may have seen him in the HBO sitcom "Silicon Valley" or Netflix's hit original flick "Red Notice," in which Diamantopoulos plays the criminal Sotto Voce. Diamantopoulos is clearly a very versatile actor, ranging from psychotic robots to cartoon mice, and even all the way to Moe from the 2012 version of "The Three Stooges." It appears that he relishes the opportunity to play these different types of roles. In a statement to Entertainment Weekly about "Inside Job," he said of playing ROBOTUS, "Adult animation gives you a creative license ... It allowed me to tap into something I haven't gotten to play before. I'm doing my best sort of augmented Alec Baldwin."
Now that you've put a face to the distinctive voice of ROBOTUS, it's very possible you'll start recognizing and noticing Diamantopoulos all over TV and movies thanks to his prodigious number of credits.