Cobra Kai's Creator Confirms The Only Character Close To Mr. Miyagi's Power Level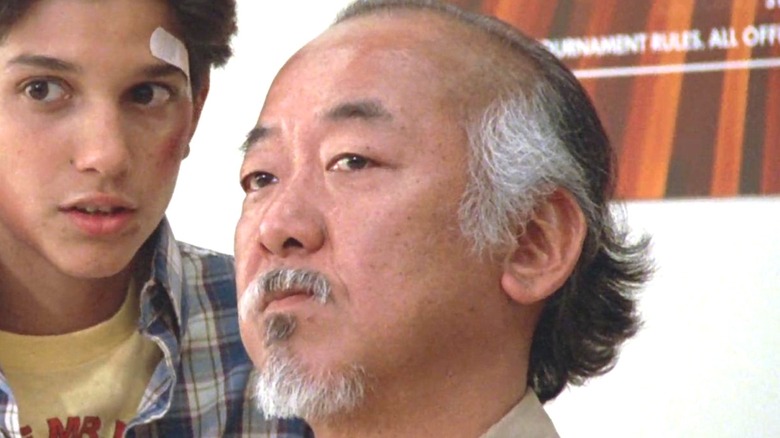 Columbia Pictures
If you have ever said "sweep the leg" and entered a Crane Stance, then you are probably a fan of the "Karate Kid" franchise. 
One of the best things to come out of the popular franchise is the spin-off show "Cobra Kai," which picks up years after the first film's fateful All-Valley Martial Arts Tournament. The competition saw Johnny Lawrence (William Zabka) take a front kick to the face from Daniel LaRusso (Ralph Macchio), which sent Johnny on a long downward spiral. As a result, when "Cobra Kai" begins, Johnny is making a living doing odds and ends, but that all changes when he uses his karate skills to defend a young neighbor from some bullies, which reignites his passion for martial arts. This leads to him eventually restarting his childhood dojo, the infamous "Cobra Kai."
Created by Jon Hurwitz, Josh Heald, and Hayden Schlossberg, "Cobra Kai" has been a huge success for everyone involved, and currently holds a 93% Tomatometer score on Rotten Tomatoes. During a virtual Q&A session, a "Cobra Kai" fan even asked Schlossberg to rank the characters in the "Karate Kid" universe by their brains and brawn, and his answer may come as a shock to some.
Which Karate Kid character is almost as powerful as Mr. Miyagi?
Mr. Miyagi (Pat Morita) played an important role in the original "Karate Kid" films. He took the young Daniel LaRusso under his tutelage and not only taught his protégé martial arts but also how to be a better human being. The friendship between Miyagi and LaRusso was, of course, forever immortalized by the "wax on, wax off" scene in 1984's "The Karate Kid," which saw LaRusso using the same motion for cleaning a car to learn the basics of martial arts.
Played by the legendary Noriyuki "Pat" Morita, Mr. Miyagi is a bona fide pop-cultural icon. Due to Morita's death in November 2005 (via Variety), Mr. Miyagi has only appeared in archival footage in "Cobra Kai," but fans are still obsessed with the character. Odds are, those viewers will also be happy to learn that "Cobra Kai" creator Hayden Schlossberg recently revealed on Twitter that the only character who is almost as powerful as Mr. Miyagi is Master Kim. Schlossberg also added that nobody else even comes close to being as powerful as those two characters.
Master Kim trained John Kreese (Martin Kove), but has never appeared in any of the "Karate Kid" films or "Cobra Kai." That said, he is mentioned in both "The Karate Kid 3" and "Cobra Kai" Season 3, so there is always a chance he could show up at some point. Who knows? Maybe Schlossberg's mention of Master Kim is actually a hint that fans will finally get to see the character appear on-screen for the first time in "Cobra Kai" Season 4? 
Fortunately, fans don't have to wait long to find out the answer to that question, with "Cobra Kai" Season 4 set to premiere on Netflix on December 31.