The Dangerous Shang-Chi Action Scene That Injured Simu Liu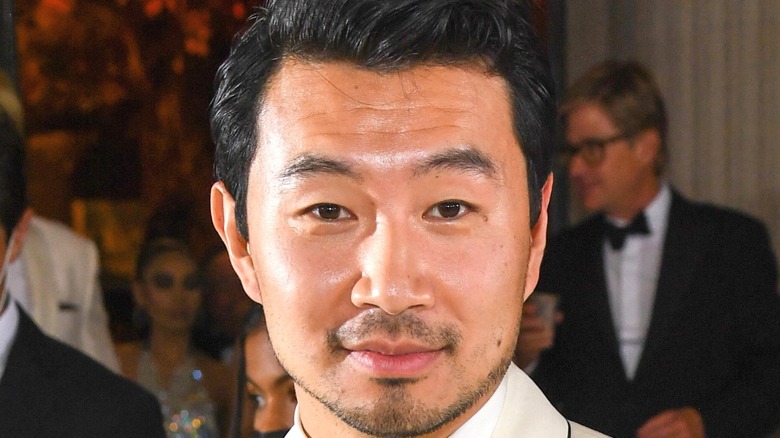 Kevin Mazur/mg21/Getty
The Marvel Cinematic Universe has a new hero to look up to, and his name is Shang-Chi. Played by Simu Liu, the hero made a dramatic entrance into this playground courtesy of "Shang-Chi and the Legend of the Ten Rings." Not only did the film show off the power the titular hero wields in his hands, but it also expanded upon the mythology of the organization known as the Ten Rings. It was a major highlight of Phase 4 and promised exciting things to come for the superhero.
With stellar reviews and an action-packed cast, it's no wonder the film currently holds the spot of highest-grossing film at the domestic box office, with a haul of over $224 million in the United States alone. Star Simu Liu is riding high on the success, as evidenced by an appearance on the hit YouTube series "Hot Ones." Between taking sips of boba tea and eating spicy chicken wings, Liu revealed it wasn't all smooth sailing during production. In fact, one scene, in particular, left him out of commission for quite a while. 
Simu Liu injured his knee filming a stunt for the Shang-Chi bus scene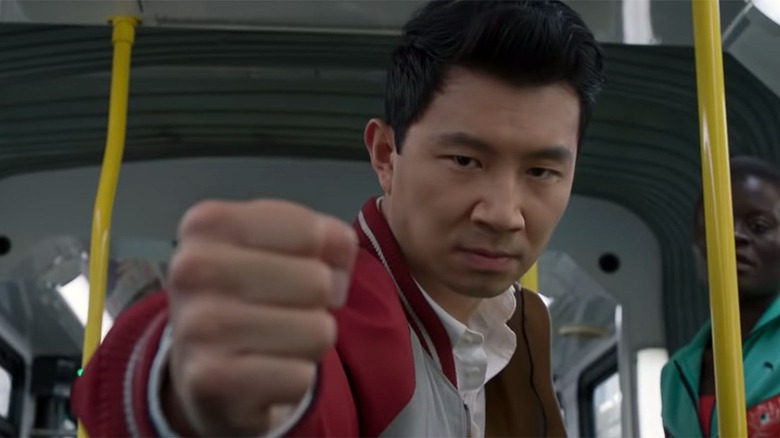 Walt Disney Studios Motion Pictures/Marvel Studios
One of the most thrilling sequences in the entire film is when Shang-Chi takes on a few members of the Ten Rings on a San Francisco bus. What's even more astonishing is that it takes place in the first third of the movie. It's an excellent sign of what's to come, but according to Simu Liu's "Hot Ones" appearance, actually shooting the scene was anything but a good time. 
He explains that they actually transferred two legit San Francisco buses to a sound stage in Sydney, Australia. This allowed them to move it in any direction, and according to Liu, he got pretty beat up during the process. As he explains, "I must've banged my knees and shins and elbows and forehead on every single possible appendage of that bus." However, one injury stands apart from the rest for how it basically required Liu to stop filming momentarily to recover. 
The actor goes on to say, "I remember being like, 'I'm gonna give it, like, just the best baseball slide.' So I went straight in, and there was this little tiny piece jutting out of the roof of the bus. And for some reason my kneecap went straight into it, and I was down and out for a hot sec." It just goes to show how not every aspect of being an actor is a good time. No word on how Liu's kneecap injury compared to chowing down on a wing with The Last Dab hot sauce.