The Office's Jenna Fischer Confirms What We All Suspected About Steve Carell's On-Set Behavior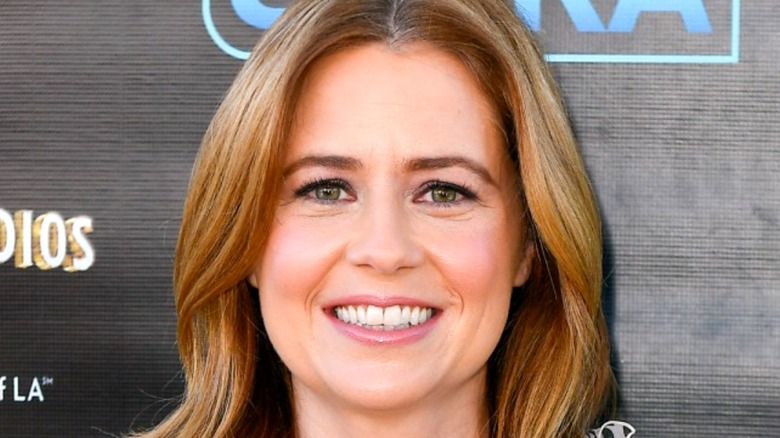 Noel Vasquez/Getty
One of the most binge-worthy TV shows of all time is "The Office," an acclaimed mockumentary series that follows the quirky coworkers of a paper supply company in Scranton, Pennsylvania. Despite ending in 2013, the NBC show remains a constant topic of discussion for many fans and a source of inspiration for others.
For instance, "The Office" inspired an entire generation of single people to fill their dating app bios with lines like "works at Dunder Mifflin" and "Just a Jim looking for my Pam" (via GQ). Billie Eilish even sampled audio from the "Office" Season 7 episode "Threat Level Midnight" in her 2019 song "my strange addiction" (via Rolling Stone).
With all this in mind, fans of "The Office" understandably rejoiced when actors Jenna Fischer and Angela Kinsey, who portrayed Pam Beesly and Angela Martin, respectively, announced their podcast, "Office Ladies." The weekly show sees the best friends and former costars revisiting episodes of "The Office," revealing how they pulled off certain iconic scenes, answering questions from fans, and opening up about what it was like working with the show's other cast members.
The podcast's latest episode breaks down "Broke," the first "Office" installment to be directed by cast member Steve Carell, and both Fischer and Kinsey discussed what it was really like working with Carell on the episode.
The Office's crew has nothing but good things to say about Steve Carell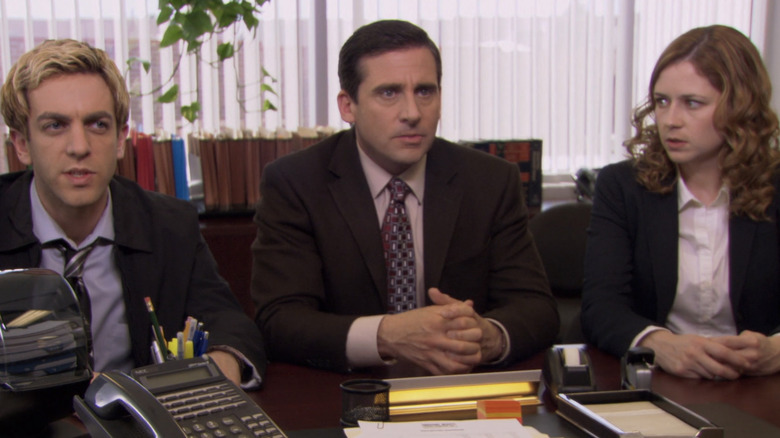 NBC
Steve Carell, of course, portrayed the zany, fan-favorite Regional Manager Michael Scott for seven seasons of "The Office." However, in his directorial debut, Carell led the cast of "The Office" for the Season 5 episode "Broke."
On the "Office Ladies" podcast, Jenna Fischer and Angela Kinsey gushed about Carell's professionalism while directing his costars. "We talked to [line producer] Randy Cordray about that, and he said Steve's work ethic was incredible, that he was totally prepared. He had great ideas, great energy," said Fischer. She went on to say that Cordray remembered how Carell was "so respectful of every crew position" and "wanted everyone's input" (via Mashable).
Fischer then rehashed a conversation she'd had with Carell about the episode in which she asked him what it was like to direct his costars, recalling, "Here's what Steve said. This is a quote: 'It was like being the conductor of a world-class orchestra. Everyone was so good, it was pretty easy.'" According to the "Office Ladies" duo, cinematographer Randall Einhorn also praised Carell for being "very focused" and "devoid of any ego" while working behind the camera. 
"He's just someone that makes everything better," added Kinsey.