The Best Episodes Of Gold Rush According To IMDB
Since premiering in 2010, Discovery's hit reality series "Gold Rush" (or "Gold Rush: Alaska" in its first season) has been a consistent hit for the network. Originally the story of six Oregon men with little to no mining experience who decided to go all-in on the adventure of a lifetime in the Alaskan wilderness, "Gold Rush" has expanded to include a veritable reality TV empire. Many of the show's mainstays, such as original crew leader Todd Hoffman, Patrick Schnabel, and fan-favorite Tony Beets, have led spinoffs and specials in Australia, Guyana, and the Amazon. Todd's next spinoff series, "Hoffman Family Gold," premieres in 2022. While its combination of rugged Americana and reality TV-style personality clashes makes for potent drama, the real meat of the show is its on-the-ground view of modern-day gold mining, where the smallest mistake can be costly, if not life-or-death. The days of panning by hand in the Klondike may be gone, but the pioneer spirit that drives these men and women remains.
Many of the original members of the Hoffman crew have departed, but the show has continued on across 12 seasons and over 250 episodes. Here are the 14 best episodes of "Gold Rush," as rated on IMDB.
The Devil's Finger (Season 8, Episode 10)
It's a calamitous week for just about everyone. Todd Hoffman's 18-year-old son Hunter is running his own crew of young, inexperienced miners, but when one of them is caught operating his prowler without fastening his safety belt, the crew is issued an Imminent Danger citation and fined $30,000. Todd, understandably angry, demotes his son to operating the rock truck. Elsewhere, Parker Schnabel proves once again that haste makes waste; while attempting to move a broken bulldozer out of the way with his new ripper (the Devil's Finger), he accidentally breaks its tension cannon, a costly mistake that earns the ire of the mechanic Mitch Blaschke. 
Elsewhere, Tony Beets overloads his bulldozer with buckets in an attempt to barge the Yukon river. As he drives, he notes to the camera the dangers of overloading, how too much weight up front will cause the back tires to lift up – right as a camera mounted to the bottom of the rig shows the tires doing just that. 
While some of the issues are easily solved, others–like organic material in the water that has forced a shutdown of the Hoffman's Colorado site–aren't so easy. The episode is a reminder of how quickly even small mistakes can balloon into big problems.
The Return of Freddy Dodge (Season 9, Episode 5)
Faced with impending disaster as his new wash plant (the delightfully named "Durt Reynolds") teeters on the edge of a pit, Rick Ness calls in wash plant expert and former Team Hoffman member Freddy Dodge. Befitting the episode's movie sequel-y title, Freddy is given a hero's entrance, with the late-day sun at his back and swelling strings playing underneath. "Freddy, man, am I glad to see you, buddy," Rick says as they embrace. Unfortunately, Freddy's prognosis is not good, but he offers to help Rick secure some new equipment that Rick at the moment can't afford. 
Parker and Tony Beets are having some wash plant troubles of their own, but the focus of the episode is Freddy and the quest to fabricate new sluice boxes for Durt Reynolds, while Rick frets about the money he's sunk into a so-far useless wash plant. By the end, all three wash plants are back up and running, but the episode effectively conveys the panic these men and women feel when faced with a gold mine that won't mine gold.
Sucker Punch (Season 9, Episode 13)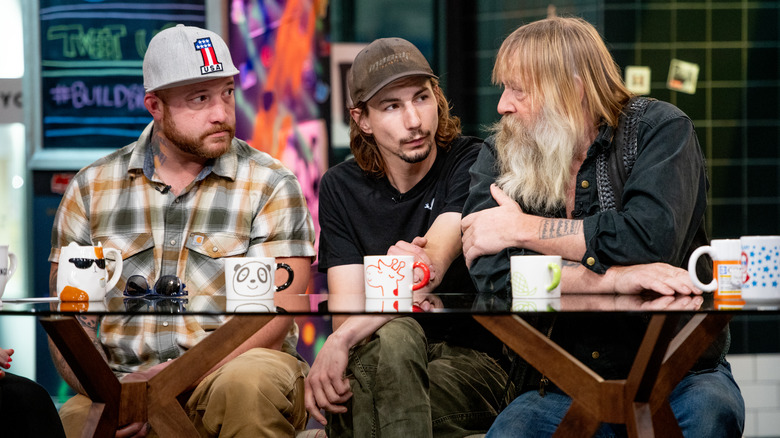 Roy Rochlin/Getty Images
The misadventures of Rick and Freddy continue in this mid-season episode, as Freddy points out that Durt Reynolds is once again having sluice box issues; this time, the box is letting in large rocks which are knocking the gold loose. Tony's crew is also having issues with large rocks blocking the flow of his plant. Meanwhile, Parker must move his wash plant (nicknamed "Sluice-ifer") 600 yards to a new site, but the excavator he normally uses is awaiting new parts. 
Their attempt to move the plant with a bulldozer along the narrow path to the new site is one of the tensest scenes in the show's history, as the threat of the bulldozer failing to move the plant, or worse, the plant tumbling into the ravine, is ever-present. Often, Paul Christie's patient narration is necessary to understand the ins and outs of the mining process, but here no narration is necessary. Fans of big machines breaking will have to wait for a different episode, however, as the bulldozer successfully completes its mission, to the cheers of Parker's team. "Did we just make history?!" he shouts. 
Fire and Ice (Season 9, Episode 22)
The Season 9 finale pulls out all the stops–fire and ice, as the title promises, and also lots and lots of shots of gold bars and dust. Filmed at the end of the miners' season in October, Parker, Rick, and Tony are stretching their crews to the limit to make their season's goals–1,000 ounces of gold for Rick, 6,000 for Tony, and a record-breaking 7,000 ounces for Parker. They're battling not only time, but also the elements. 
A fire sparks when one of Parker's crew leaves a torch running on the wash plant. When they return in the morning to assess the damage, an overnight freeze has paralyzed camp with chunks of ice. Rick also fights ice and frozen paydirt as he desperately chases the last 27 ounces he needs to make goal. Tony, meanwhile, has given up his goal in favor of completing a dredge mine that will hopefully bring in money for his family for years. The mystery of 30 missing buckets from a long-abandoned site sees Tony and his son Mike trekking through marshland with a metal detector, in one of the show's more surreal moments, even for an outsized character like Tony.
In the end, Rick emerges as the highest-earning rookie mine boss in the show's history and presents his crew with $60,000 jars of gold dust as a year-end bonus.
Three Sides to Every Story (Season 9, Bonus Episode)
This bonus episode of the 9th season sits down with Parker, Rick, and Tony to share behind-the-scenes secrets and never-before-seen footage from previous episodes. While most episodes eschew typical reality-TV histrionics and interpersonal drama, as the miners are rarely sharing screen time and often have more pressing matters to attend to, here they are allowed to unleash their inner divas and delve into all their issues with one another. 
Rick is candid about his struggles in dealing with being the boss for the first time, as well as losing his mother during the season. Parker had a falling out with Tony at the start of the season, ostensibly over water usage, but more about Parker's newfound independence rubbing Tony the wrong way. Parker also had a falling out with Rick, ostensibly about a water pump that Rick borrowed without asking, but really about Rick's unappreciative attitude toward a $50,000 bonus Parker had paid him in the past. While "Gold Rush" might be more rugged than your typical reality show, episodes like this prove that these miners can be just as petty as any Real Housewife.
Parker Comes of Age (Season 6, Bonus Episode)
"Parker Comes of Age" is a Season 6 bonus episode that serves two purposes. The first, as the title suggests, is as a coronation of sorts for Parker Schnabel, who had turned 21 that year. The episode tells his life story through clips from previous seasons, starting with the very first, when Parker was a 15-year-old local Alaskan, charging the newly-arrived Hoffman crew double for firewood and often rescuing their comically inept first attempts at gold mining. Despite being a teen, he had been mining since he was six, and was thus far more experienced than these adult city slickers, a fact that seems to simultaneously amuse and irritate Todd Hoffman.
The second purpose is to memorialize Parker's relationship with his grandfather John, who made regular appearances on the show and who passed away during the sixth season. Parker took over operations of John's mine when he was just seventeen, inheriting not only two surly middle-aged employees but also a massive amount of debt and obligation. On one hand, it's admirable that Parker knew what he wanted to do with his life at such a young age. On the other, watching scenes of Parker alone, barely out of high school, bulldozing the top of a mountain on his own suggests that this life is as much a trap as it is a legacy. When his mother gently notes that there is more to life than one's gold yield at the end of the season, Parker responds, "Not if you're a miner."
Live Kickoff (Season 8, Episode 0)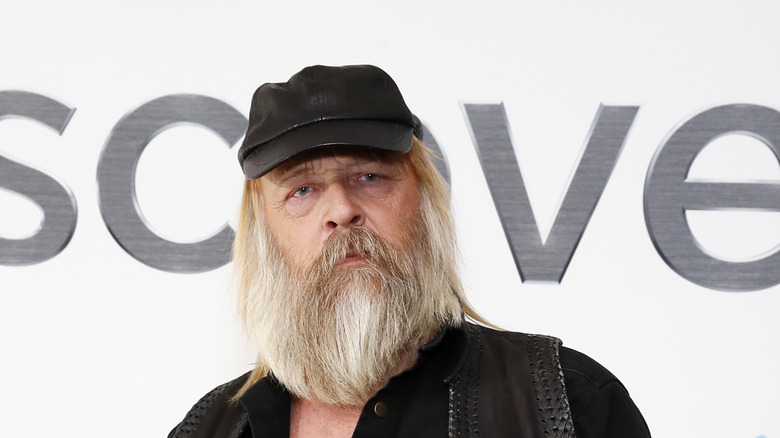 Astrid Stawiarz/Getty Images
Season 8 begins, like many reality TV seasons, with a live episode featuring the stars answering viewer questions. TV host and "American Idol" finalist Matt Rogers interviews Todd, Parker, and Tony on a studio set made to look like a frontier cabin, seated in front of a bunch of fake gold bars meant to represent their haul from the previous season. A cheeky video features the Discovery channel employee in charge of bleeping any swear words that might slip out in real time, and NFL legend and apparent "Gold Rush" superfan Brett Favre pops up in a Skype video. 
Despite Rogers' promise that "anything can happen" in this live broadcast, very little does, other than some clunky camerawork. Much of the episode is taken up by video packages from the previous season and sneak peaks of the upcoming one. While Todd Hoffman holds court and hams it up for the cameras whenever possible, Parker and Tony both look like they would rather be anywhere else. Still, fans loved the episode, making it one of the top ranked picks of the series.
Inferno (Season 8, Episode 7)
Parker's crew is getting restless, as he orders them to dig into the corner of a previously dug site. Parker thinks the area has pay dirt laying underneath 40 feet of overburden, but with excavation costs at $15,000 a day, the crew doubts their efforts will be worth the trouble, and are proven right when, after a day of digging, they find that the area had already been mined. On top of that, a forest fire is spotted on the Yukon horizon and is heading straight for the site. As the fire approaches, Parker pushes his crew to stay and get as much work done as they can, but two of his bulldozer operators leave camp. "They're scared of the fire, I guess," Parker shrugs, as if that weren't an entirely reasonable reaction to a forest fire the size of Rhode Island. 
In Colorado, the Hoffman crew is running three wash plants at the same time, and the constant upkeep is pushing lead mechanic Juan Ibarra to the breaking point. When his lunch break with his wife and baby daughter is interrupted by a catastrophic bulldozer accident, he demands additional help, and gets it in the form of Freddy Dodge's brother-in-law. Most of the episode is taken up by Parker's fire and the Hoffman crew's mechanical troubles, but there's a quick check-in on Tony and his efforts to get his barge's engine repaired–just long enough to confirm that, yep, it's still broken.
The Dakota Boys (Season 8, Bonus Episode)
The Dakota Boys are Fred and Dustin Hurt, a father and son mining team who appeared on the show from 2011 to 2014. This bonus episode aired in 2018 as a lead-in to the Hurt's spinoff series "Gold Rush: White Water," compiling footage from their adventures on the main show — particularly, their adventures making the Hoffman crew angry. 
In Season 2, Dakota Fred bought the Porcupine Creek site out from under Todd Hoffman, forcing the original crew to seek out a new site in the Yukon. The Dakota Boys' excavation of the site led to perhaps the show's most famous meme: the glory hole. Other than the opportunity to relive Fred and Dustin's greatest "Gold Rush" hits, there is little appeal here for longtime fans. The point of the episode is to be a bite-sized introduction to the Dakota Boys and to hype up their upcoming series.
Final Fury (Season 7, Episode 21)
The Season 7 finale features the customary race against time for each crew to hit their final goals before the end of the mining season. For Todd, it's 1,000 ounces (down from the loftier goal of 5,000 at the start of the season); for Parker, 4,000 ounces; and for Tony, 2,000 ounces. Tony is racing the elements, trying to get his plant down the Yukon River before it ices over, when he learns that he can't move his dredges without incurring government fines. "Well this just nicely f***ed me!" he shouts, in a moment that's perhaps a little too eager to become a meme or a t-shirt. 
When a fight breaks out between two guys on Todd's crew, it sends the camera crew scrambling to get it on tape. The camera operator hides behind a bush as Todd and company try to break up the fight. Dave, the instigator of the fight, attempts to resign in the aftermath, but is convinced to stay in a heart-to-heart campfire scene that plays like an intervention, with Todd and his crew giving tearful testimony why they don't want Dave to leave. Elsewhere, Parker's claim ices over in the night, which grinds his operation to a halt. They get the plant running again with blowtorches, but as Paul Christie's narration ominously states, "the Yukon winter could freeze them out at any moment."
Win Big or Die Trying (Season 8, Episode 23)
This post-finale Season 8 episode features sit-down interviews with Parker, Todd, and Tony, as well as unseen footage from the season. This time around, the meat of the conflict between the three men is a pre-season bet for whose yield would be biggest. In an attempt to win, Todd added a third wash plant to his operation, but as Tony notes, he could have had "four or five" plants going and still not been able to beat Parker. Parker spent the season planning to buy his own claim on land adjacent to Tony's plot, which causes tensions between the two over water rights. T
his falling out will play a large part in Season 9's action as well. Todd, despite being the nominal star of the show, is constantly wrestling with his own inadequacies as a miner and a leader, and the show hilariously undercuts him, at one point noting that Parker has paid Tony more in royalties than Todd has made in the last two seasons combined.
American Dreamer (Season 8, Episode 23)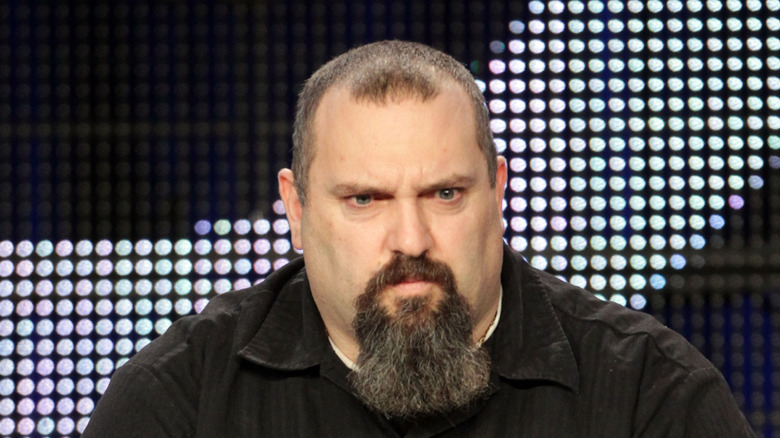 Frederick M. Brown/Getty Images
The big news at the end of Season 8 was that star Todd Hoffman was leaving the show, and in fact leaving mining behind in search of a new endeavor. This bonus episode at the end of the scene traces his story from the very beginning of the series, as an unemployed Oregon man with no experience in mining who in 2010 decided to risk it all on gold fever and move his family to the Alaskan wilds. There's no little bit of self-aggrandizement here, from the title of the episode on down, as Todd clearly sees himself in a pioneer mold. "Can't a guy risk it all in America anymore?" he asks rhetorically to the camera. But the reality on the ground was more ambivalent; just because a guy could risk it all doesn't mean he should. As seen in "Parker Comes of Age," Todd's earliest attempts at mining would have been doomed if not for the intervention of more experienced workers, and years later, even after his operation grew much bigger, the fact was that Todd was never as successful as his mining peers Parker and Tony. The implication here is that Todd's reason for leaving, his "New American Dream," was as much necessity as inspiration.
Blizzards and Bullets (Season 8, Episode 2)
This early-season episode lays out the stakes for the season, particularly a money bet between Todd, Parker, and Tony for who will have the largest yield at the end of the season. Todd has pulled ahead of Parker, which lights a fire under him and foreman Rick Ness to get started on a new cut that will hopefully get them to their 5,000 ounce goal. Todd's crew is also working toward a 5,000 ounce goal. 
As Todd talks a big game to the camera about putting gold in his men's hands, the episode jump-cuts to the next day, where a freak snowstorm has paralyzed the entire site. To make matters worse, an altercation between members of Todd's crew and a local man led to the man shooting at them. Todd evacuates the camp in a panic. Meanwhile, Tony Beets is focused on moving his dredge mine 100 miles down the Yukon River via his unreliable barge, whose constant breakdowns will take up a large amount of Tony's storyline this season.
Remembering Grandpa John (Season 6, Bonus Episode)
Parker's 96-year-old grandfather John Schnabel died in 2016, during the filming of Season 6. This bonus episode looks back on his life and his time on the show. A lifelong miner, John was an inspiration to Parker "as a man and as a gold miner." The episode underlines their many similarities, from physical resemblance to the fact that John was also a serious miner at a very young age — "all work and no play," as he puts it. The show obviously holds John in the same esteem as his grandson does, seeing him as the last link to the Klondike miners whose adventures and riches inspired Todd Hoffman and everyone else. (Notably, Todd and Tony Beets do not appear in the episode.) There's an unforced sentimentality to scenes of John and Parker panning together, or John offering Parker a rare, meaningful hug. The episode delights in scenes like these, or when Parker shows John the social media reaction to one of his posts while in the hospital. Whatever ambivalence the show may have from time to time about the life of a gold miner, none of it is on display here. John lived a long, remarkable life, and this episode celebrates it.