The Real Reason Ridley Scott Backed Out Of Adapting Dune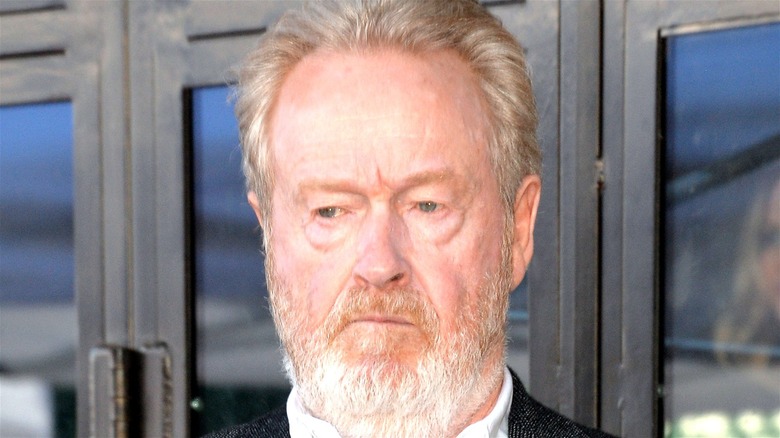 Jaguar PS/Shutterstock
For decades, Frank Herbert's acclaimed 1965 science fiction novel "Dune" had repeatedly proven itself difficult to adapt to screen, until Denis Villeneuve's 2021 adaptation managed to successfully capture the sprawling story. Villeneuve's film is technically the third live-action adaptation of the novel, but already, it is widely considered the best.
Before this, though, fans had settled for John Harrison's three-part TV miniseries, which was a mostly faithful adaptation except for the fact that it lacked the scale of the original story. Despite this criticism, it was universally agreed that Harrison's "Dune" was an improvement over the 1984 adaptation directed by David Lynch.
Lynch, a revered director with a distinct surrealistic style, has disowned his adaptation of "Dune" and avoids discussing the critically-panned project to this day. Lynch and Harrison were not the only directors who attempted to bring the sandy world of Dune to life on film, though. Arthur P. Jacobs, Alejandro Jodorowsky, and Ridley Scott had each made their own attempts to direct "Dune," and recently, Scott spoke about why his "Dune" never came to fruition — and it's not why you'd think.
Ridley Scott didn't like their shooting location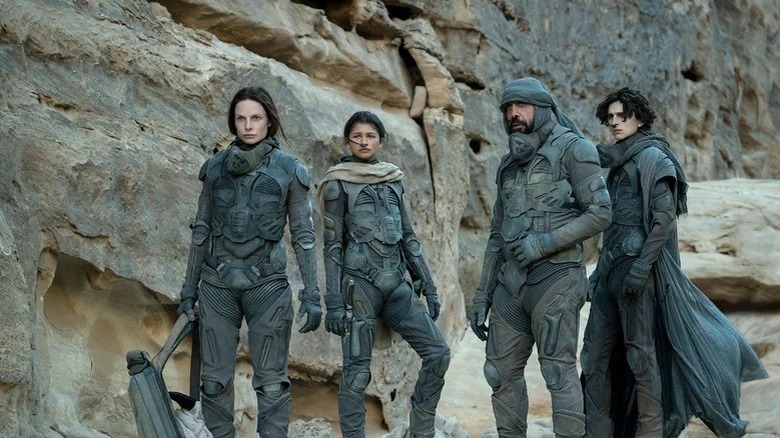 Warner Bros.
Fans of "Dune" know that the story's futuristic lore is complicated for the uninitiated, which understandably makes it incredibly hard to adapt for the big screen. The story follows the Atreides family as they attempt to restore the desert planet Arrakis, which produces a powerful drug known as "the spice." It's a winding tale that explores betrayal, politics, religion, and various other complex subjects.
However, director Ridley Scott ("House of Gucci," "Alien") wasn't put off by the story itself. In fact, he stated that he and writer Rudy Wurlitzer's script was "pretty f***ing good" on the Total Film podcast (via Games Radar). Instead, he explained that he dropped out of directing "Dune" because he didn't want to shoot it in Mexico City.
Producer Dino De Laurentiis told Scott how expensive the undertaking would be, meaning that they'd have to skimp on the location. "So he sent me to Mexico City. And with the greatest respect to Mexico City, in those days [it was] pretty pongy. I didn't love it. I went to the studio in Mexico City where the floors were Earth floors in the studio," said Scott.
"I said, 'Nah, Dino, I don't want to make this a hardship,'" he went on. "And so I actually backed out and instead moved on to 'Legend.'"
And so, "Dune" infamously went to David Lynch.