Danny DeVito Wants To Return To Play The Penguin In A New Batman Movie
Warner Bros.
Just like any star who takes on the role of a Batman villain after someone else played the Joker, Danny DeVito had the near-impossible task of being The Penguin, following Jack Nicholson's Clown Prince of Crime. Appearing as the ink-spewing antagonist to Keaton's Dark Knight in "Batman Returns" alongside Michelle Pfeiffer's Catwoman, he didn't just click into the role of Oswald Cobblepot — he crushed it, all while twirling a silly umbrella above his head.
The sad thing about DeVito's performance as Penguin was that we never saw him return, suffering the same fate as nearly every other villain in the Burton and Schumacher era of Batman movies. Now though, with Ezra Miller's upcoming solo outing as "The Flash" lighting up the Bat-Signal for Michael Keaton to reprise the role, could the Gentleman of Crime make a comeback as well? If there's a chance to do so, De Vito would happily be on board, but only under one condition — if director Tim Burton was back in the driver's seat.
DeVito would return as The Penguin ... for Tim Burton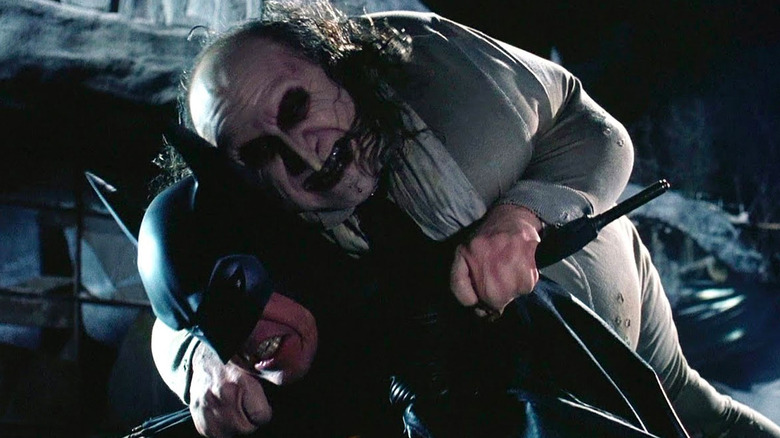 Warner Bros
Speaking to Forbes in a recent interview, Danny DeVito revealed that he has nothing but fond memories of his "Batman Returns" experience. "I love The Penguin, I love Oswald," DeVito said. "And of course, doing the movie with Tim [Burton] was one of the highlights of my career. I love that character so much." 
He also made it clear that he'd be happy to don that beak-like nose for the role, once again. "I feel like it's not out of the question that the Penguin will return someday, but this is all up to Tim, whether or not Tim wants to do this." 
Tim Burton's "Batman" and "Batman Returns" set the bar for all iterations of the Caped Crusaders that followed, but the director has never discussed returning to the property since Christopher Nolan, Zack Snyder, and Matt Reeves handled the hero. Nevertheless, De Vito still thinks there could be a chance. "I would say that could be in the cards because we ain't dead yet," laughed DeVito. "We could do a continuation of what we had in the past because that was truly a brilliant movie. They afforded me that opportunity and I feel very grateful and would I like to revisit it? Why not! It was a really great moment in time for me."
While it's been rumored that Keaton's Batman could return in more upcoming DC movies in a Nick Fury-type capacity (via Comic Book), there's been no confirmation of the foes he might face. For the time being, we can only wait and see how DeVito's "Dumbo" co-star, Colin Farrell, brings Oswald Cobblepot to life in Matt Reeves' "The Batman," when it arrives on March 4, 2022.