Action Movies That Flew Under The Radar In 2021
This content was paid for by Netflix and created by Looper.
There were plenty of high-octane action vehicles to keep audiences on their toes throughout 2021. If you were in the mood for an international cat-and-mouse game, there was the star-studded "Red Notice." If you wanted to watch a kickass band of mercenaries fight back against a nefarious mafioso, you had "Gunpowder Milkshake." We got a tale about a simple trucker who risks everything to engage in a daring underground rescue with "Ice Road," and we even got a pic about a team of thieves fighting their way through a city of zombies in "Army of the Dead." In other words, there was no shortage of options for action fans on Netflix.
With such a bounty of action originals to choose from, there's a chance you might've missed some gems of the genre that were released this year. So to help make sure you didn't overlook any of the best edge-of-your-seat action rides Netflix had to offer in 2021, here's a look at what you might've missed.
The Last Mercenary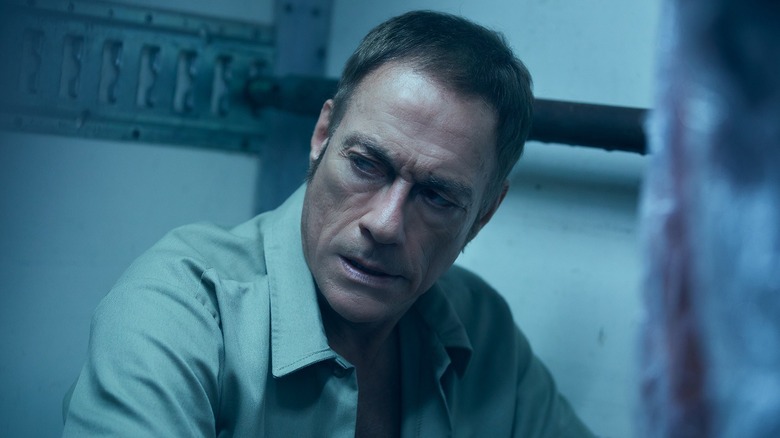 Alois Maillet/Netflix
The unconquerable Jean-Claude Van Damme reminds audiences why people call him "The Muscles from Brussels" in the delightful action-comedy film "The Last Mercenary." The French-language film, which is co-written and directed by David Charhon, features the legendary action star as a retired secret service operative named Richard Brumére, who's professionally known as "The Mist" thanks to his ability to disappear without a trace.
Though Brumére has been out of the business for quite a while by the time we meet him, he has to return to France for a new and very personal mission that will require all of his old fighting skills to be fully intact. Why? Because Brumére's son, whom he's never met, has been falsely implicated in a drug-trafficking scheme and inadvertently finds himself ensnared in a mafia operation. So Brumére not only has to connect with the boy he's kept safe from a distance for so long, but he also has to stop a barrage of bad guys and bureaucrats who are out to get his kid. 
If you haven't yet seen the classic and new moves Van Damme throws down in "The Last Mercenary," you won't regret adding this fun film to your streaming queue.
Beckett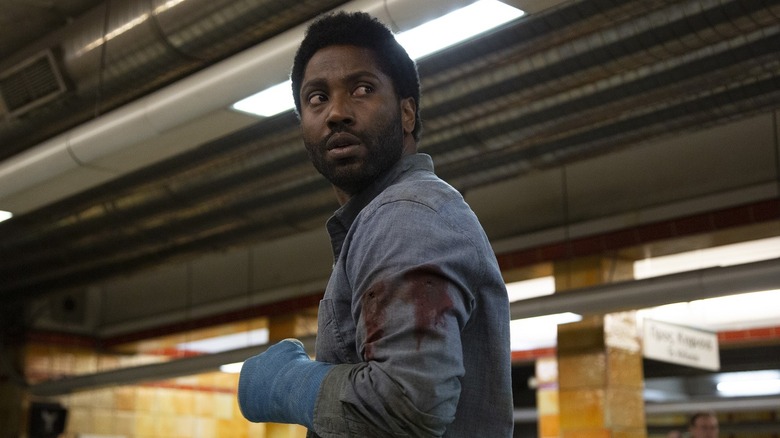 Yannis Drakoulidis/Netflix
If you already have a healthy bit of skepticism about traveling to lands where you don't know the language or a lot of people, well, "Beckett" might make you want to store your passport even more. The film features "Malcolm & Marie" and "Tenet" standout John David Washington as the titular character, an American tourist in Greece whose girlfriend, April (Alicia Vikander), takes him on a very personal tour of Athens.
Later in the pic, directed by Ferdinando Cito Filomarino, political tensions begin to brew in the birthplace of democracy just before a tragic accident strikes the couple. Unlucky as he already is, Beckett soon finds himself ensnared in a deadly scheme that has corrupted some surprising individuals, leaving him with the ability to trust almost no one in a city where he already understands so little. Not only will audiences be left guessing until the very end about who's involved in this vicious cycle of violence, but there are also some daringly real stunts that are bound to get your blood pumping as you watch.
Sweet Girl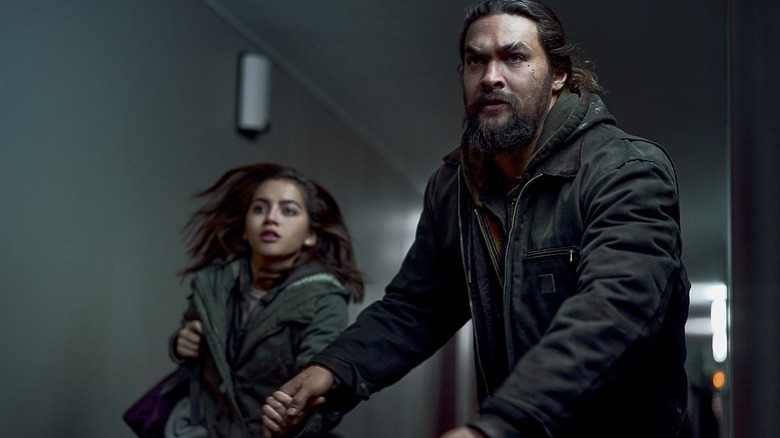 Clay Enos/Netflix
Another 2021 action gem that's worth your attention is "Sweet Girl," a film that stars Jason Momoa alongside Isabela Merced in a very twisty revenge ride. The movie, which Momoa produced alongside director Brian Andrew Mendoza, features the actor as Ray Cooper, a man who watches helplessly as his wife suffers and dies of a long illness after a pharmaceutical company greedily pulls a potentially life-saving drug from the market days before she's due to try the treatment.
Months later, Ray is contacted by a journalist who seeks to expose criminality within the same drug company, and, while meeting up with the source, he and his daughter (Merced) bear witness to a brutal crime that leaves them wounded. What then unfolds is a high-stakes chase as our heroes search for the truth and vengeance against the people who hurt their family and so many others. And if you think you know what's coming, trust us when we say you're in for some serious surprises when you check out "Sweet Girl."
America: The Motion Picture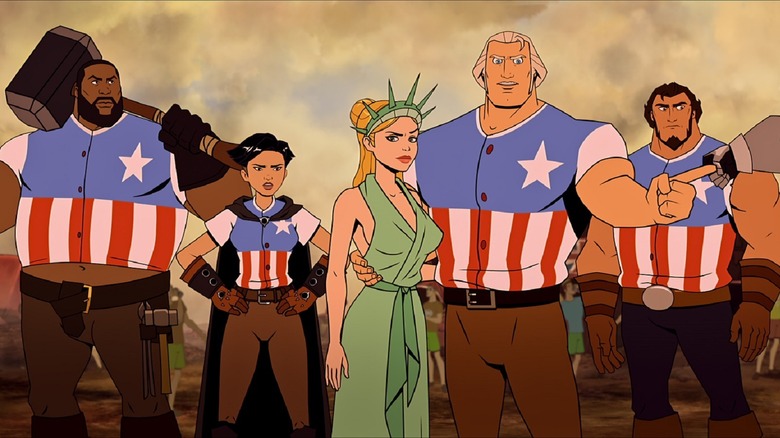 Netflix
Strap in for a rowdy reimagination of U.S. history in "America: The Motion Picture." The adult animated comedy film, directed by Matt Thompson, takes audiences back to the very beginning of the nation's birth as the Founding Fathers fight to rid the lands of British rule and create their own government in the name of freedom.
As familiar as that premise might be to anyone with even a glancing familiarity with America's earliest days, this is a very different version of the story than you'll ever find in the history books — unless, of course, you were already taught that George Washington had chainsaw arms and that Samuel Adams was the king of keg parties. With an all-star voice cast that includes Channing Tatum, Olivia Munn, Bobby Moynihan, and Judy Greer, as well as a wildly imaginative and hysterical lens on the past, "America: The Motion Picture" is an action-packed (and four-letter-word-filled) adventure that'll leave you in stitches from start to finish.
Kate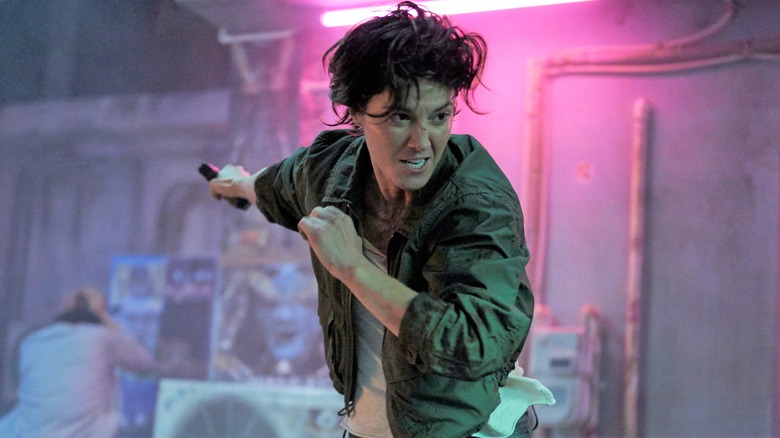 Jasin Boland/Netflix
Not every action hero is necessarily a good guy, and it becomes pretty clear early on in "Kate" that this may be the case when it comes to Mary Elizabeth Winstead's title character. At least, she doesn't seem to view herself as such.
We find out very early on in the Cedric Nicolas-Troyan-directed film that Kate is an extraordinarily talented gun-for-hire who's pressured into taking at least one assignment that makes her carry some serious guilt once the job is done. Just as she considers getting out of this life and into a more traditional one, she discovers the hard way that she's been poisoned with a deadly toxin and only has 24 hours to get revenge against the one who put her name on the kill list this time. 
Not only will you get to see some very, very slick action sequences unfold throughout "Kate," but the film also boasts a whole lot of heart — even if its eponymous heroine is far from perfect.
Sentinelle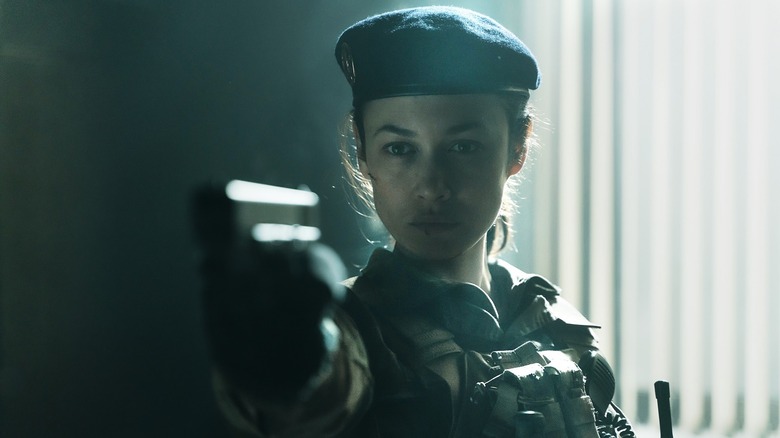 Netflix
A French-language film from director Julien Leclercq, "Sentinelle" is a captivating actioner about a woman on a mission to exact some vigilante justice. The pic stars Olga Kurylenko as Klara, a veteran of the recent conflicts in Syria who witnessed true horrors on the battleground and has been reassigned to her hometown in Nice, where she lives with her mother and sister.
As with many wartime survivors, Klara is traumatized by her past. Even as she takes on a relatively calm duty station, she's quite impulsive and quick to act with aggression. So when she finds out that, after a night out at a club together, her sister has been brutally attacked and rendered comatose, Klara doesn't let her military oaths get in the way of her need to act outside of her authority and hunt down who's responsible for hurting her sister. While she might forget about the chain of command, she doesn't forget all the tactical skills she learned in uniform, so what follows is a gnarly series of fearless fight sequences.
The Harder They Fall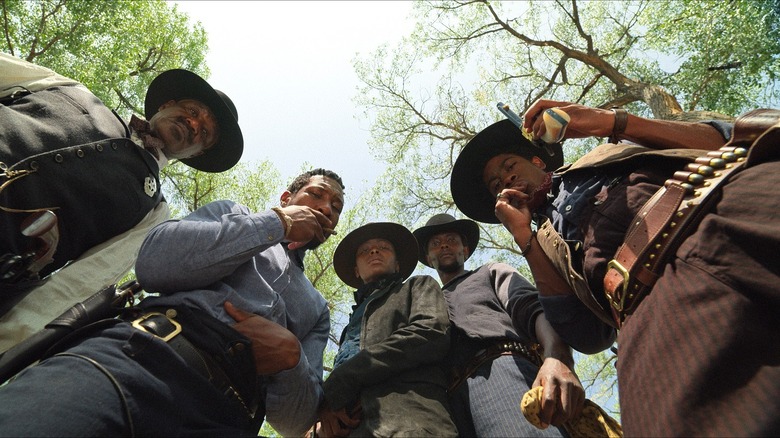 Netflix
Director Jeymes Samuel makes a triumphant feature-length debut with "The Harder They Fall." This captivating Western offers a highly stylized adventure for some of the most intriguing but underrepresented Black figures in American history, as two fearless crews collide to culminate a longstanding blood feud.
At the center of the action is Jonathan Majors as Nat Love, a man who gathers his faithful gunslinging friends to seek revenge against Idris Elba's Rufus Buck, who's just gotten out of jail. Love, who watched Buck slaughter his mother and father in front of him when he was still a child, will now stop at nothing to exact his revenge, even though Buck also has a formidable posse flanking him. 
In addition to Majors and Elba, the phenomenal cast of the film also includes Regina King, Zazie Beetz, Delroy Lindo, LaKeith Stanfield, RJ Cyler, Danielle Deadwyler, Edi Gathegi, and Deon Cole, and every single one of them shines in this breathlessly intense and invigorating showdown story. Put simply, "The Harder They Fall" is one of the year's best movies, and you won't regret watching all the action unfold in this fantastic film.
Army of Thieves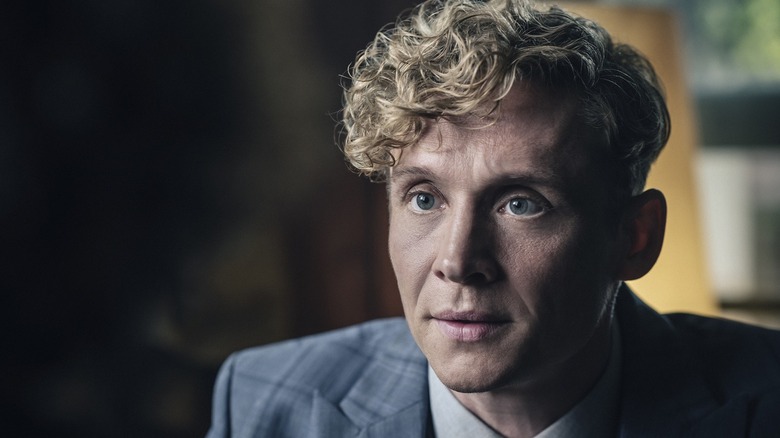 Stanislav Honzik/Netflix
Fans of "Army of the Dead" standout Ludwig Dieter get to see how he came to be such a safecracker extraordinaire in "Army of Thieves." Matthias Schweighöfer both returns to his role for the film and steps behind the camera as director, with the story taking audiences back in time to when Dieter is still just a simple bank clerk named Sebastian who has a not-so-secret obsession with Hans Wagner's notorious safes.
After honing his safecracking skills at his home for years, Sebastian finally gets a chance to put this hobby to work when he's recruited into an international ring of thieves who plan to target the Wagner safes in Europe, just as people are starting to panic about the zombie uprising underway in Las Vegas. Not only does the film give Dieter fans a lot more context about why he's so willing to join the dangerous heist in "Army of the Dead," but "Army of Thieves" is also an exhilarating action adventure in its own right.
Dhamaka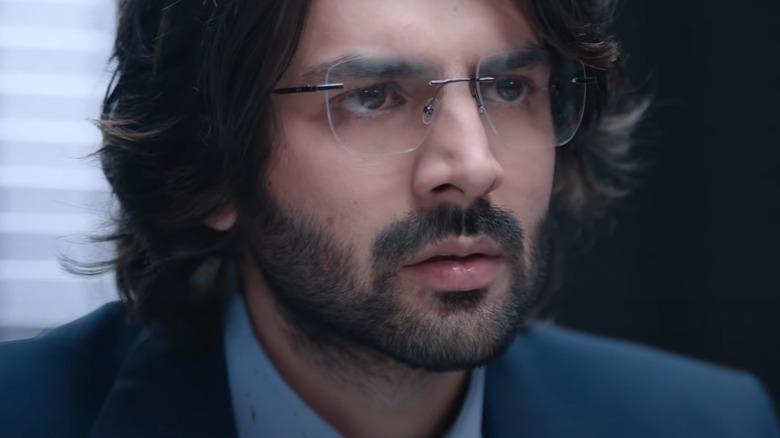 Netflix
For those audiences who got a rush out of watching the (almost) one-man powerhouse picture that was "The Guilty," the action thriller "Dhamaka" might be right up your alley — or bridge, as the case may be. The film, from writer-director Ram Madhvani, is a Hindi-language remake of the 2013 Korean film "The Terror Live." Actor Kartik Aaryan leads the action as disgraced journalist Arjun Pathak, who desperately wants to get back into primetime TV news after being demoted to radio work.
The old saying "be careful what you wish for" takes on some grisly new meaning in this story, as Arjun does indeed find himself back in the spotlight ... but with literally disastrous results. After he receives a call warning that a major bridge will be blown up — a warning that actually comes to pass — he seizes the opportunity to get the broadcast exclusive of a lifetime by continuing to converse with the caller on-air. While it's sure to be a ratings bonanza, Arjun is forced to make some morally questionable decisions, and worse than that, his own reputation — and even life — may be in jeopardy, right alongside the countless others who stand to die if he doesn't handle this live negotiation with the utmost care.