Watch This Before You See Sweet Girl
This content was paid for by Netflix and created by Looper.
Greed may turn out to be the deadliest sin of all in "Sweet Girl." The film centers on Ray Cooper (Jason Momoa), a loving husband and father who loses his wife to cancer after a pharmaceutical company removes a potentially life-saving drug from circulation just before she can get the treatment. Cooper vows to get justice against the sniveling CEO (Justin Bartha), who apparently orchestrated the scheme to take these meds off the market for the sake of his own profit. But amid Cooper's search for the truth, he faces a deadly encounter that puts both himself and his daughter, Rachel (Isabela Merced), in grave danger. What follows is a thrilling journey for justice against a force that's so much more than just one bad guy.
Not only does "Sweet Girl" boast an incredible cast and a star on the rise behind the camera, but the story at the center of all the action is certainly a relatable one. Let's take a look at what else you should know about "Sweet Girl" before it arrives on Netflix on Friday, August 20.
A killer combo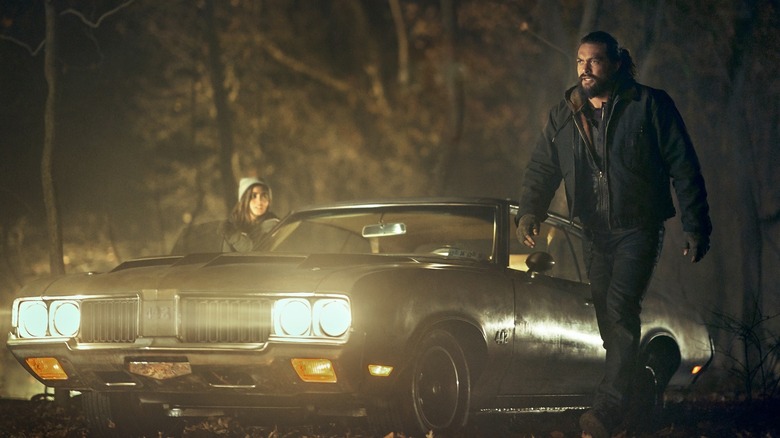 Clay Enos/Netflix
Starring as Ray Cooper in "Sweet Girl" is the one and only Jason Momoa, who fans might know best for his previous performances as Khal Drogo in "Game of Thrones," Arthur Curry in "Aquaman," and as Declan Harp in "Frontier," just to name a few of his major hits. The film was primarily shot on location in Pittsburgh, Pennsylvania, in 2019 and 2020, and Momoa used his downtime during the shoot to visit the kids at a local children's hospital and enjoy a Steelers game with a nice view from the sidelines.
In addition to carrying the on-screen action, the Hawaiian hunk also produced the film alongside debut director Brian Andrew Mendoza, who's been working with Momoa for more than a decade through his company Pride of Gypsies. Though "Sweet Girl" marks Mendoza's first turn helming a feature film, he has collaborated with Momoa on several screen projects before, including producing and serving as director of photography on the 2014 film "Road to Paloma" and the 2018 film "Braven," both of which featured Momoa in the lead and as producer. Together, the duo also executive produced multiple episodes of "Frontier" Season 3 and the 2020 documentary "Gather," and their partnership will continue with the upcoming Western film "The Last Manhunt."
With a close-knit working relationship like theirs, there's no doubt "Sweet Girl" is a major passion project for them both, and Momoa has escribed the process of creating the film together with Mendoza as "making art our way with a dream team."
The booster shots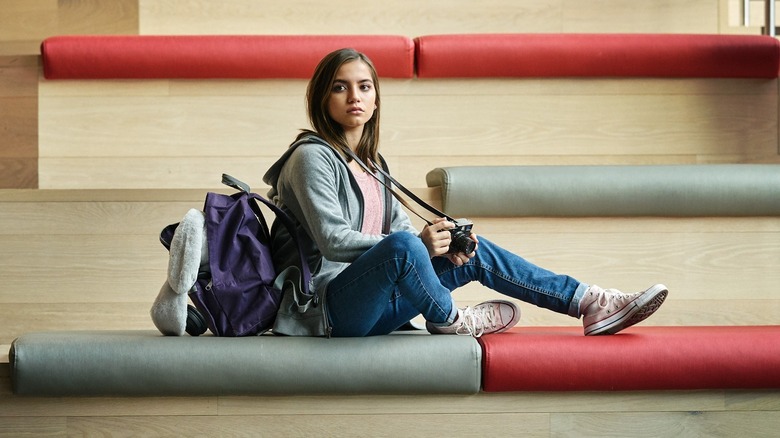 Clay Enos/Netflix
In addition to Momoa, the cast list for "Sweet Girl" is stacked with some major talent. For starters, Isabela Merced stars in the film as Cooper's spirited daughter, Rachel, who decides to join her father in the fight for what's right. Audiences may know Merced for her role as Jenny in the sitcom "Growing Up Fisher" or for her recent starring role as Dora in the 2019 live-action film "Dora and the Lost City of Gold." She's also an extremely accomplished music star, and you may have also seen Merced in films like "Instant Family" and "Let It Snow." 
Starring as Cooper's wife in "Sweet Girl" is actress Adria Arjona, who previously appeared in television series such as "Emerald City" and "Good Omens" and films like "Triple Frontier" and "6 Underground." Arjona and Merced will soon reunite on-screen, playing a pair of sisters in the upcoming reimagination of "Father of the Bride."
The film also features "The Hangover" favorite Justin Bartha as Simon Keeley, the CEO of Bioprime Pharmaceuticals who becomes a prime target for Cooper's ire. And Amy Brenneman – the celebrated star of TV's "NYPD Blue," "Judging Amy," and "The Leftovers" — also stars in the film as a woman who's willing to call Keeley's methods reprehensible on national television. 
And the talent list doesn't stop there. "Sweet Girl" will also feature "6 Underground" star Manuel Garcia-Rulfo, "Lost in Space" actor Raza Jaffrey, "Rebel" star Lex Scott Davis, and Michael Raymond-James, who previously worked with Momoa and Mendoza on "Road to Paloma" and "Frontier" and played in Mendoza's 2009 short film "The Via Monterey." Meanwhile, the script for the film was co-written by "Event Horizon" scribe Philip Eisner, celebrated novelist and "V" screenwriter Gregg Hurwitz, and "The Right Stuff" writer-executive producer Will Staples. 
With so many sublime talents both on the screen and behind the scenes and a story that will truly get your heart pumping, "Sweet Girl" is a film you won't want to miss when it arrives on Netflix on August 20.