Stephen Amell Explains Scary American Ninja Warrior Moment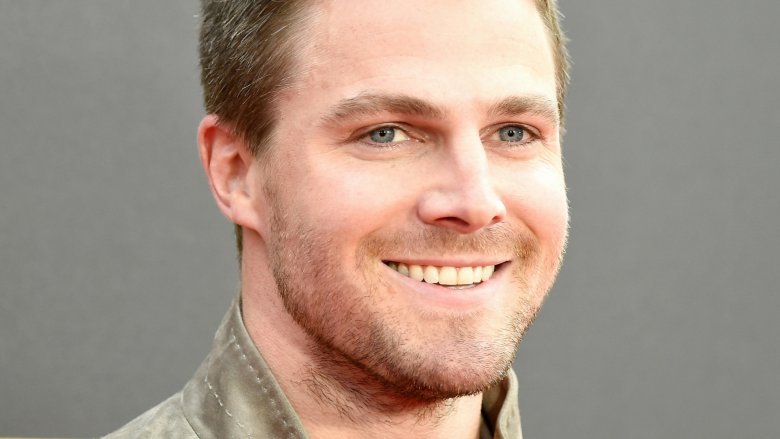 Getty Images
Stephen Amell may have crushed the American Ninja Warrior course for NBC's Red Nose Day, but it wasn't all a walk in the park. The Arrow star recently revealed at the Heroes and Villains FanFest (via ComicBook) that he had one very scary moment on the course where he wasn't sure he was going to be able to go on. "I got pretty far but after the second obstacle, you'll see me before the third obstacle, going like that to my arm," Amell said, referencing his time in between the Cannonball Drop and the Fly Wheels. "It's because I thought I tore my biceps off of the bone in the second obstacle. I couldn't feel anything from there to there. I think, all things considered, it went pretty well."
Amell was one of two celebs to complete all six obstacles on his own, alongside Olympic gold medal decathlete Ashton Eaton. With his coach Kacy Catanzaro cheering him on, Amell made quick work of the difficult course, standing atop the Warped Wall and pressing the buzzer. However, he was worried he wasn't going to get there, as there was one particular obstacle that had him tripped up: Block Run. "I was worried about the blocks that rotate when you run past them because they say, 'Don't worry if they're tilted off to the side or if they're level. Just hit the middle and go as fast as you can,'" he said. "What you get is a great idea, except when they're tilted the wrong way and they're over water!"
Even after finishing the course, Amell decided he wasn't done yet, as he became the only competitor to declare that he was now moving on to the back half of the course, where he immediately found his favorite obstacle: the Salmon Ladder. Although he easily jumped his way to the top, he got tripped up on the next obstacle, something entirely new to him and the Ninja community, and decided that there was where his run would end. He thanked fans for their support before taking a dive into the water.
"I made it as far as I thought I could go," Amell said, adding that the hardest part of the competition was definitely being mentally prepared. "When you see it, they put everything over water. If you want to know what that's like, walk across a balance beam that's two inches off the ground but it's solid ground underneath you. You'll zip across it. You won't even think about it. Do the exact same thing, the exact same width, over water, and you'll panic immediately because you think you're gonna fall in."
Amell will be back in action when Arrow returns in the fall; for now, see how he and his cast mates compare to their comic book counterparts.
We can't believe our eyes! Watch Stephen Amell glide through the course in our partner M&M's U.S.A. Run of the Night.

Posted by NBC on Thursday, May 25, 2017