Arrow's Stephen Amell Crushes The American Ninja Warrior Course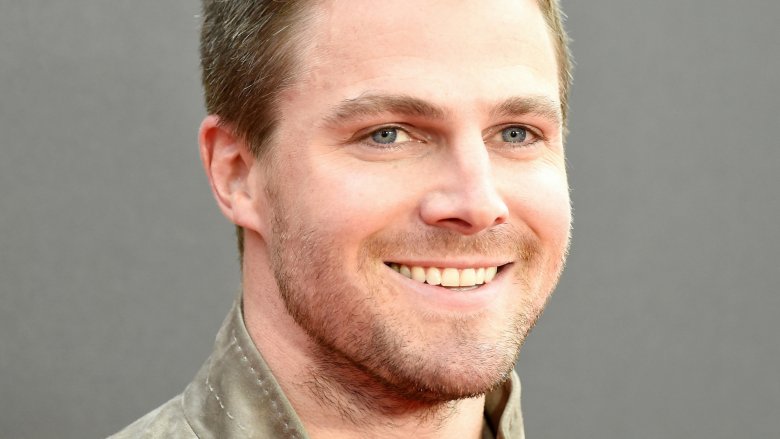 Stephen Amell was a real life Oliver Queen Thursday night on NBC's Celebrity American Ninja Warrior. The Arrow star took on the course as part of Red Nose Day, a charity event which raises money for kids in poverty across the world, and he absolutely crushed it.
Unlike some of the other celebs, who tapped out or skipped certain obstacles (or made human pyramids to get to the top of the Warped Wall), Amell used his Arrow fitness to complete all six obstacles on the course on his first try, a feat which only he and two-time Olympic gold medal decathlete Ashton Eaton accomplished. With his coach Kacy Catanzaro cheering him on, Amell made quick work of the difficult course, standing atop the Warped Wall and pressing the buzzer.
However, he decided he wasn't done yet. Amell was the only competitor who declared that he was now moving on to the back half of the course, where he immediately found his favorite obstacle: the Salmon Ladder. Although he easily jumped his way to the top, he got tripped up on the next obstacle, something entirely new to him and the Ninja community, and decided that there was where his run would end. He thanked fans for their support before taking a dive into the water.
Amell, someone who has long talked about going on American Ninja Warrior, proved that he belongs among the best athletes during his run, which also raised $35,000 for charity and won the M&M's Run of the Night. The star unfortunately won't be seen back in action until Arrow returns in the fall; for now, though, see how his and his cast mates' looks compare to their comic book counterparts.
We can't believe our eyes! Watch Stephen Amell glide through the course in our partner M&M's U.S.A. Run of the Night.

Posted by NBC on Thursday, May 25, 2017