The Nicolas Cage Vampire Comedy You Forgot Existed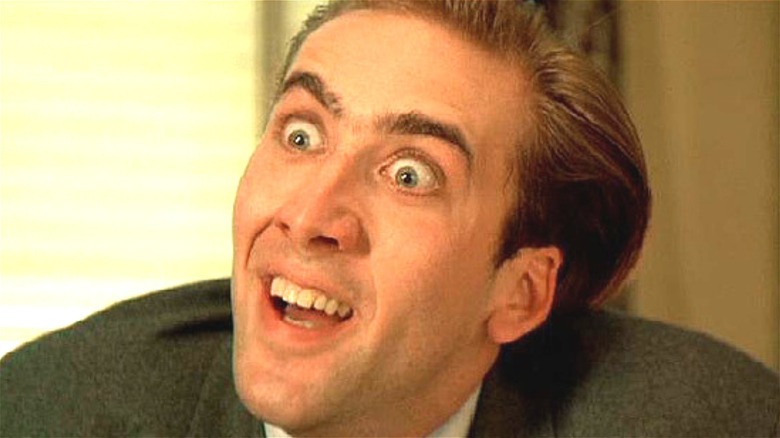 Hemdale Film Corporation
Nicolas Cage's résumé is, in a word, eclectic. It contains everything from thought-provoking character-driven dramas like "Pig" to over-the-top, big-budget horror remakes like "The Wicker Man." He has portrayed a one-handed baker furious with his brother for ruining an old romance in "Moonstruck"; a silent, animatronic-slaying night watchman in "Willy's Wonderland"; and an ex-convict obsessed with Elvis and his true love in "Wild at Heart." 
That's a lot of variety to pack into a single career, and the prolific actor will add five roles to his already lengthy filmography in 2022 (per IMDb). But with over a hundred credited parts to his name, it's not surprising that even the most ardent Cage fan might miss out on a few of his projects.
Take this 1988 vampire horror-comedy, for example. Sandwiched between "Moonstruck" and his acclaimed performance in "Time to Kill" on Cage's IMDb listing, it tends to be overlooked and often forgotten even among horror-comedy fans. Hot on the heels of the announcement that he's about to play Count Dracula in 2022's "Renfield," let us remind you about this often forgotten cinematic treasure, in which he played a different sort of fellow with a thirst for blood.
Vampire's Kiss has become a cult classic
"Vampire's Kiss" is an odd duck of a dark comedy. In the picture, Cage portrays Peter Loew, a yuppie publishing executive whose days are filled with wheeling and dealing and whose nights are filled with partying. One evening, he brings home a young woman named Jackie (Kasi Lemmons), but a bat flies through an open window and into his apartment, interrupting his amorous exchange.
After this incident, Peter becomes convinced that he is a vampire. He sees puncture wounds on his neck which do not exist, his reflection vanishes, and he develops an intolerance to bright light. When he doesn't grow fangs, he buys a plastic set to accompany his newfound symptoms. He has hallucinatory encounters with a woman named Rachel (Jennifer Beals), and his comportment and behavior quickly devolve from there.
Loew is a wholly unreliable narrator, having been seen ranting incoherently during sessions with his psychiatrist (Elizabeth Ashley) before the bat-bite incident. Is he really a vampire? Suffering from delusions? The movie plays fast and loose with the facts, ultimately leaving viewers wondering how much of what Peter goes through has actually happened at all.
"Vampire's Kiss" only made $725,131 at the worldwide box office (per Box Office Mojo), and was considered a financial flop at the time. The film holds a 61% critics rating on Rotten Tomatoes, with reviewers divided over the film's tone and Cage's very outsized performance. But "Vampire's Kiss" has gained a modern day reputation as a quirky cult classic. It even happens to be one of Cage's favorite roles, per an interview the actor gave to IMDb's "The Roles that Changed My Life."