The Emotional Last Jedi Moment Mark Hamill And Carrie Fisher Improvised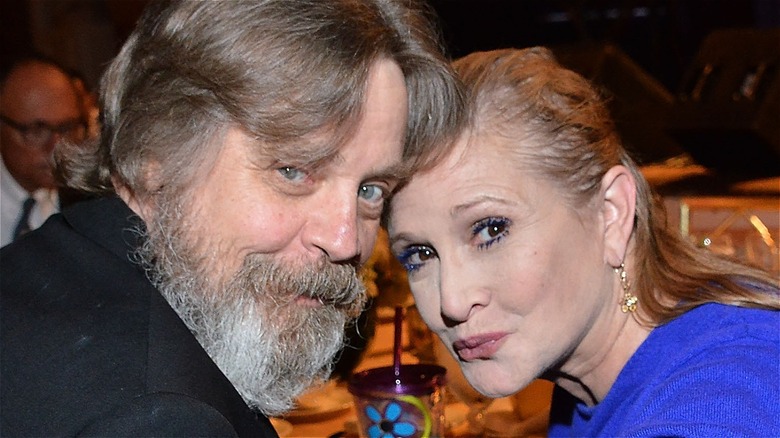 Araya Doheny/Getty
"Star Wars: Episode VII – The Force Awakens" arrived on the big screen in 2015, breaking a decade-long streak of no new Skywalker saga entries at the movies. In doing so, director J.J. Abrams' science-fantasy flick introduced moviegoers to a brand new era in the galaxy far, far away, but he certainly didn't forget the franchise's roots. As the cherry on top, "The Force Awakens" brought back Harrison Ford, Mark Hamill, and the late Carrie Fisher as Han Solo, Luke Skywalker, and Princess Leia — a legendary trio of actors whose characters that hadn't graced the cinema together since 1983.
While this news was more than enough to bring "Star Wars" fans to their local theater, how "The Force Awakens" presented these old heroes sparked a bit of debate. Many fans took exception to the death of Han at the hands of Kylo Ren (Adam Driver) near the end of the film, and some were vocally unhappy with Luke's lack of dialog and on-screen presence. Nevertheless, the trilogy moved forward into the ever-controversial "Star Wars: Episode VIII – The Last Jedi," where both Luke and Leia had much more to do.
After spending the entirety of "The Force Awakens" apart, Luke Skywalker and the now-General Leia briefly reunite in its 2017 sequel. During this emotional scene, Mark Hamill and Carrie Fisher let their improv skills take the reins for a mere moment.
Luke's goodbye kiss was totally spontaneous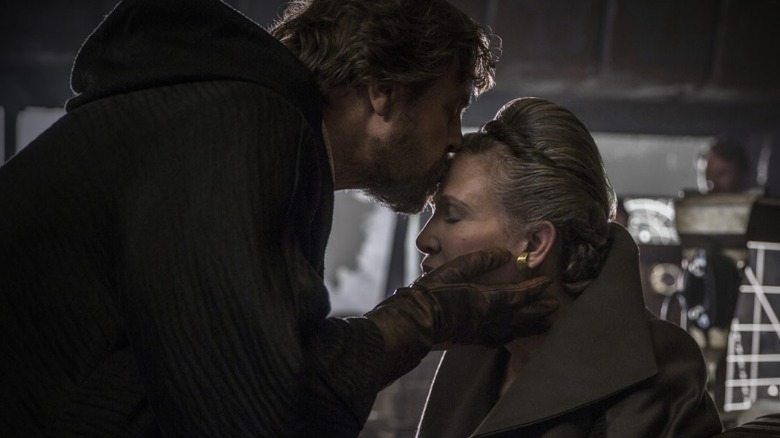 Lucasfilm/Disney
Similar to "Star Wars: Episode V – The Empire Strikes Back" from 1980, "The Last Jedi" put our protagonists into quite a precarious position during the third act. The dwindling Resistance forces found themselves pinned down by the First Order on Crait in a situation so bad even Leia herself had lost hope. Thankfully, just in time, a Force projection of Luke Skywalker appeared to face Kylo Ren and rally the rebels, though not before sharing a tender moment with his twin sister. The Skywalker siblings exchanged words before Luke went out to face his nephew, giving Leia a goodbye kiss on the forehead.
With Luke knowing full well that his galaxy-spanning Force projection would ultimately kill him, his embrace of Leia before heading out onto the battlefield felt totally natural. However, it wasn't a part of the script at all, according to Mark Hamill himself. As he explains in a tweet from March of 2019, the day they filmed the scene was "emotionally charged" considering Luke's impending sacrifice, adding, "The kiss was unscripted & spontaneous in the moment, summarizing his/my feelings in a way words could never have conveyed."
Suffice to say, Hamill and Fisher's improvised farewell between Luke and Leia couldn't have been more fitting. Regardless of how one feels about "The Last Jedi," it's hard to deny how special this scene was.