The 9-1-1 Season 5 Episode 8 Scene That Fans Can't Help But Love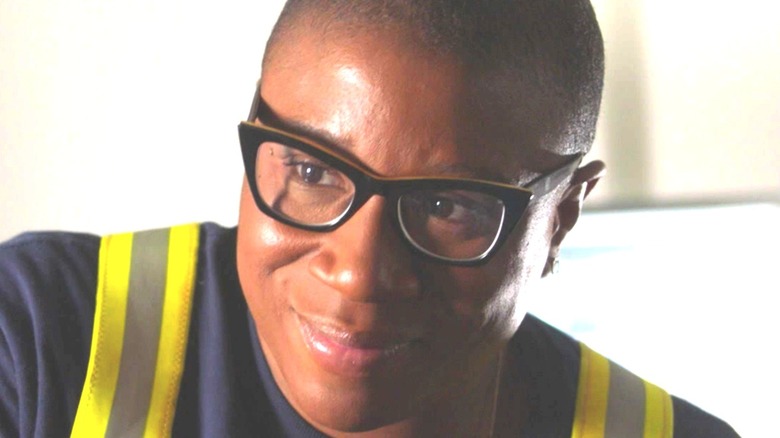 Fox
Fox drama "9-1-1" has a way of warming the hearts of its viewers. This is mostly thanks to the time the show has spent developing relationships between the characters, whose lives we follow between nerve-jangling rescues and tense investigations. From the troubled romance between emergency dispatch operator Maddie Buckley (Jennifer Love Hewitt) and fireman Howard "Chimney" Han (Kenneth Choi) to Maddie's loving but often difficult relationship with her younger brother Evan "Buck" Buckley (Oliver Stark) to the epic courtship between Athena Grant Nash (Angela Bassett) and Robert "Bobby" Nash (Peter Krause), "9-1-1" knows how to make its audience cry, laugh, and thrill via these bonds.
During Episode 8 of Season 5, titled "Defend in Place" (per IMDb), "9-1-1" fans were once more delighted and beguiled by the way the show's characters interact while dealing with downtime. They got to watch Eddie (Ryan Guzman), Hen (Aisha Hinds), and Buck sit around and chat — a rarity on this high-octane program, which does not often allow its protagonists time to shoot the breeze. What had them expressing their love for the banter between two of their favorite firemen on social media?
9-1-1 fans can't get enough of Buck and Eddie's relationship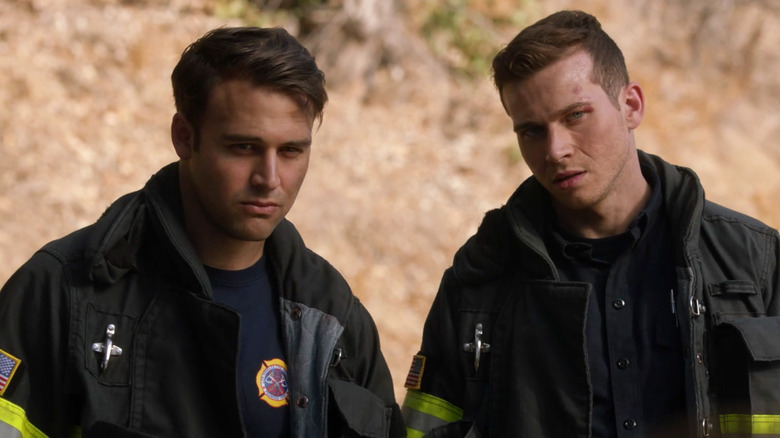 Fox
In a special scene from Season 5, Episode 8 (later turned into a clip by Twitter user @bluegreytan), Henrietta "Hen" Wilson (Aisha Hinds), Buck, and Eddie Diaz (Ryan Guzman) can be spied hanging out beside their fire truck discussing the latest gossip. "My abuela would eat this up," Eddie says. "She loves a good telenovela." Buck shoots back, "Oh, 'cause you don't? Come on, I know you watch them with Christopher [Diaz, Eddie's young son]." Eddie then declares that this is "how [he and Christopher] practice [their] Spanish," to which Buck chuckles, "Uh-huh."
Fans of Eddie and Buck  — specifically those on social media who ship the characters together — couldn't get enough of the idea of Eddie, Buck, and Christopher hanging out. They spilled their excitement all over Twitter when the scene aired. "This scene was free serotonin," declared @buckleyofthe118. Twitter user @EDDIEBEGlNS agreed, writing, "The teasing is such old married couple behavior." 
"THE WAY THEY KNOW EACH OTHER TO THIS LEVEL," cried @FanGirl2000 in a quote retweet. "Buck watching telenovelas with Eddie and Christopher is not a want, but a need," said @kingssmythe. "It's me, I'm the abuela eating this up," said @tropicbreezus, adding a crying face emoji and speaking for many Buck and Eddie fans across the globe.
Will Eddie, Buck, and Christopher ever get to watch a telenovela together? Find out when the next episode of "9-1-1" airs at 8 p.m. ET on Monday, December 6 on Fox.