The Connection You Didn't Know 9-1-1 Had To Titanic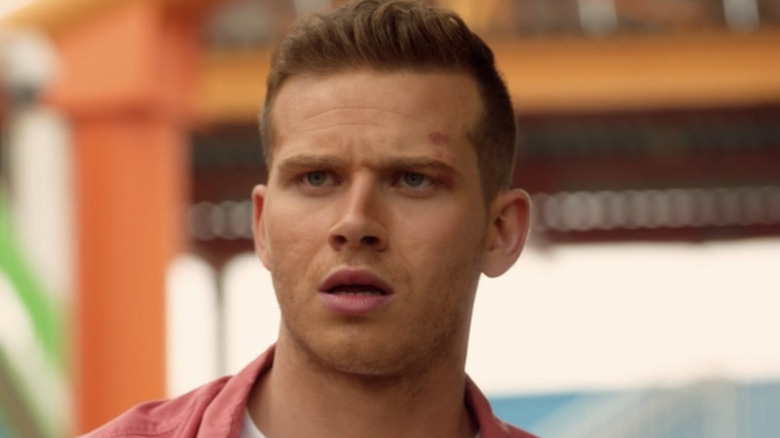 Fox
Fox's "9-1-1," now in its fifth season, has been keeping viewers entertained since its 2018 debut. A large portion of the show's success can be credited to its great cast, which includes Angela Bassett and Peter Krause as team leaders (and power couple) LAPD Patrol Sergeant Athena Grant-Nash and LAFD Station 118 Captain Robert Nash, respectively. In addition to Bassett and Krause, "9-1-1" stars Oliver Stark, "American Horror Story" alum Aisha Hinds, and Jennifer Love Hewitt as 9-1-1 operator Maddie Buckley.
"9-1-1" brings together heroes from a wide variety of different agencies located in and around Los Angeles, like the aforementioned Los Angeles Police Department and the Los Angeles Fire Department. The show also follows various L.A. first responders, paramedics, and dispatchers, and all of these characters respond to calls made on the titular emergency number. This makes for a show that combines a few different varieties of popular procedural into one successful package, providing fans with enticing drama to dig into week after week.
But there's another reason "9-1-1" is continuing to satisfy fans: the elaborate setpieces featured in special episodes, like Season 3's flooding of the Santa Monica Pier during a dramatic tsunami event. The Santa Monica tsunami sequence on "9-1-1" was great television, but in bringing the sequence to life, the producers of the show tied it to one of the most beloved films of the '90s at the same time.
This 9-1-1 Season 3 sequence was filmed in sets originally constructed for Titanic
In a 2019 interview with The Hollywood Reporter, "9-1-1" series co-creator Tim Minear described himself as "the Irwin Allen of network television," putting himself on par with the producer who made his name on big-budget disaster films including "The Towering Inferno" and "The Poseidon Adventure." But a nice bit of production trivia mentioned in the same article ties the Fox drama — specifically, the Santa Monica Pier flood sequence from Season 3's episode "Sink or Swim" (via IMDb) — to another Hollywood hotshot: James Cameron.
The giant wave seen terrorizing visitors to the Santa Monica Pier (via YouTube) was created with digital effects. But the scene and its aftermath were also made possible through the use of massive, specially-constructed sets located, recreating the seaside spot and other parts of Los Angeles. Incredibly, these sets were built inside the giant water tanks originally constructed for 1997's "Titanic" when the production moved to Rosarito, Mexico (via The Things).
According to Minear's comments to THR, using those "Titanic" tanks allowed for an impressive sense of scale to come across on the show. He explained, "These tanks are huge. We built city streets in these tanks. And when you look at some aerial shots from the drones, you see in one corner of these enormous tanks are city streets, and then a lot of water, like a mile of it, and then there is a Ferris wheel sticking out of the ocean. Those are the tanks that we used."
So, if you've been impressed by the sense of scale and grandeur on "9-1-1," particularly in the episodes dealing with the Santa Monica Pier being hit by a tsunami, "Titanic" is one of the things that made it possible.