Is Jimmy Palmer Really Leaving NCIS?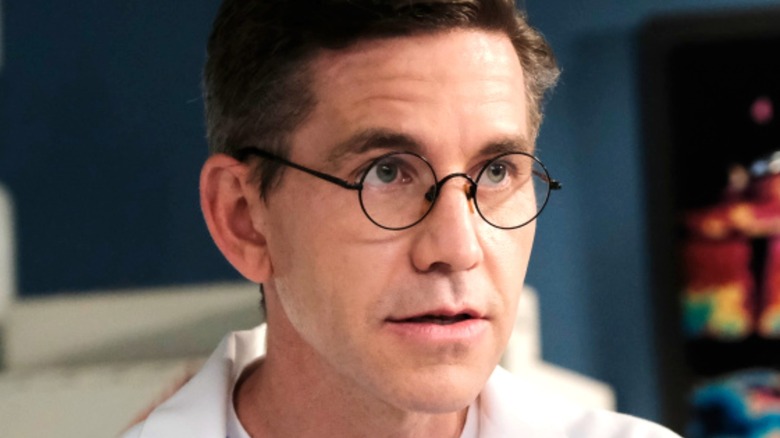 Edward Chen/CBS
In "NCIS," Jimmy Palmer (Brian Dietzen) is the resident "Autopsy gremlin." The team's chief medical examiner, Jimmy is upbeat and cheery and tends to bring a bit of light to the show's often heavy and dramatic storylines. As a result, Jimmy's colleagues adore him and have tried to support him through some recent rough times. That includes the death of Jimmy's wife, Breena Palmer (Michelle Pierce), during a time jump that took place in "NCIS" Season 18, which left him a single father to their seven-year-old daughter, Victoria Elizabeth Palmer. 
Understandably, Jimmy went into denial over Breena's death, experiencing such intense grief that it eventually affected him physically. Ultimately, it took a conversation with Gibbs (Mark Harmon) for Jimmy to truly begin the grieving process and start letting go of Breena. That said, there have been recent rumblings amongst the "NCIS" fandom that Jimmy might be leaving the series sometime soon. 
But is there any truth to these rumors? Here's what we know so far.
Jimmy Palmer doesn't seem to be going anywhere right now
It looks like "NCIS" fans may not have to say goodbye to Jimmy Palmer anytime soon. In fact, based on all available indications, it seems like actor Brian Dietzen and, therefore, Jimmy Palmer will be sticking with "NCIS" for the foreseeable future.
Recently, Jimmy had a major role in "Peacekeeper," the eighth episode of "NCIS" Season 19, and came out of that case alive and well. Additionally, Brian Dietzen revealed on Instagram in late November that he co-wrote one upcoming "NCIS" episode, which the actor said was set to begin filming after the Thanksgiving holiday weekend. While there's no guarantee that this means Dietzen will be sticking with the show past that episode, it's an encouraging sign that suggests his relationship with "NCIS" remains healthy and positive.
Of course, fans of the show have a reason to be concerned. After all, Mark Harmon left "NCIS" in October, and the show has said goodbye to multiple cast members over the course of its very long run on CBS. However, it doesn't seem like fans need to be worried right now about Dietzen exiting the series. Here's to hoping that also means Jimmy Palmer fans will be able to continue watching the character grow and progress for several more years.