Here's How Paul McCartney Ended Up In Pirates Of The Caribbean 5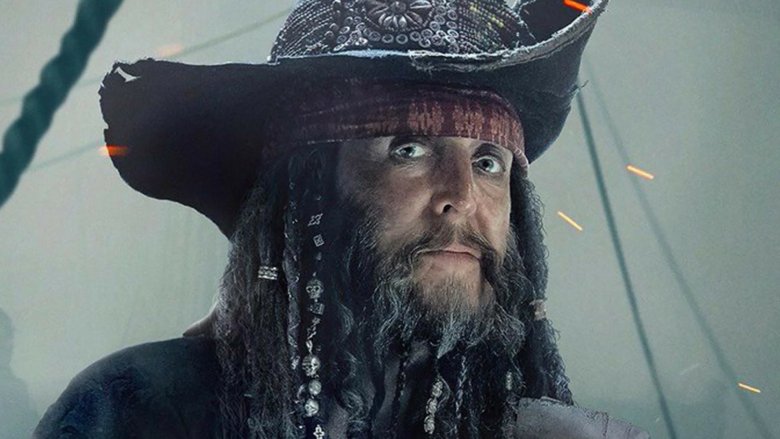 Warning: This article contains minor spoilers for Pirates of the Caribbean: Dead Men Tell No Tales.
Jack Sparrow has a new relative in Pirates of the Caribbean: Dead Men Tell No Tales. The movie introduces former Beatle Paul McCartney as Jack's uncle, also named Jack, an impressive bit of casting that co-directors Joaquim Rønning and Espen Sandberg came about via a text from Johnny Depp.
Rolling Stones legend Keith Richards appeared as Jack's father in Pirates of the Caribbean: At World's End and On Stranger Tides, and Rønning and Sandberg first tried to see how to get him to return to the franchise, even writing a scene for him. However, scheduling issues prevented him from making it out to Australia for the shoot. 
"We sat down with Johnny and kind of brainstormed, like, 'Okay, who could fill his shoes?'" Rønning said. "Because we felt we should have something. We should honor the tradition of showing a Jack Sparrow family member. And we made a very short list, and, of course, at the very top of that list was Sir Paul McCartney."
Rønning and Sandberg weren't sure how to get McCartney no board, but luckily, Depp had a pretty simple solution– he just texted him. "He just texted Sir Paul, and Sir Paul texted back," Sandberg said. "And it went back and forth, and their lingo got more and more pirate-y, and it was like, well this is going to happen!"
Rønning and Sandberg decided to also make use of McCartney's musical talents in the film, something which the co-directors had a lot of fun recording. "The scene starts with him singing a song, and at the very end of the day, we needed to do a wild take to just record him singing," Rønning said. "Nobody else is working on the set so on the soundstage, it's completely quiet, and we're only rolling sound. So I'm sitting there behind the monitors, listening in with earphones and basically recording Paul McCartney. That was a big, big moment."
Pirates of the Caribbean: Dead Men Tell No Tales, which also stars Geoffrey Rush, Javier Bardem, Orlando Bloom, Brenton Thwaites, and Kaya Scodelario, is in theaters now. If you've already headed out to see the film, see why you recognize Captain Salazar.