See The First Look At Paul McCartney's Pirates Of The Caribbean 5 Character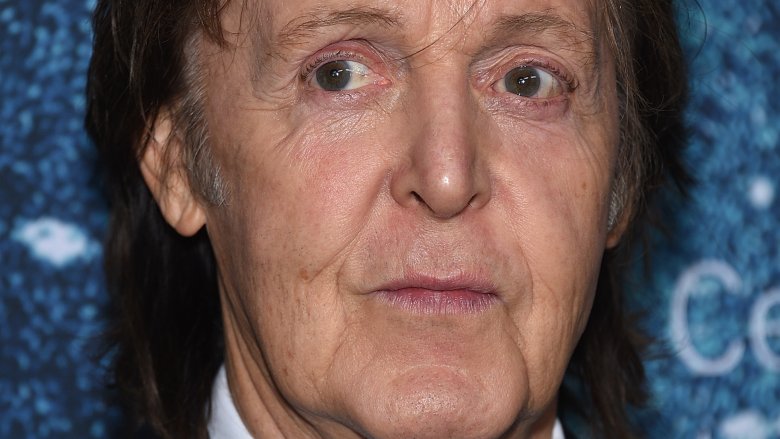 Getty Images
It's a pirate's life for him.
Beatles legend Paul McCartney recently showed off a distinctly different look of his, taking to Twitter to share a poster of his yet-unnamed Pirates of the Caribbean: Dead Men Tell No Tales character. Donning a tattered, wide-brimmed pirate's hat, a dark crimson bandana, decorated dreads, and a coarse salt-and-pepper beard, McCartney looks far less like the musician fans know him as and more like a brother to Johnny Depp's Captain Jack Sparrow.
Word broke of McCartney's involvement in the upcoming Pirates movie last March. Deadline announced that McCartney had "quietly joined the cast," though details on his role weren't revealed. Sources told Deadline reporter that Dead Men Tell No Tales directors Joachim Ronning and Espen Sandberg, along with producer Jerry Bruckheimer, had returned to production to "add an extra big set-piece scene," apparently built around McCartney's character.
By the looks of the character poster, McCartney will fit right in with the cast of the film. And he isn't the first iconic rock-and-roller to appear in the movie franchise. In the past, Rolling Stones guitarist Keith Richards popped up in two Pirates of the Caribbean films (2007's At World's End and 2011's On Stranger Tides) as the father of Jack Sparrow, Captain Edward Teague.
McCartney will also join Geoffrey Rush as Barbossa, Keira Knightley as Elizabeth Swann-Turner, and Orlando Bloom as Will Turner, along with new-to-the-series stars Javier Bardem as Captain Salazar, Kaya Scodelario as Carina Smyth, and Brenton Thwaites as Henry, the character recently revealed to be Will Turner's son.
Take a look at McCartney (or should we say "McC-arrr-tney"?) in his sea captain garb below.
#PiratesLife pic.twitter.com/9GXS5QB931

— Paul McCartney (@PaulMcCartney) May 13, 2017

Here's the full plot synopsis for Pirates of the Caribbean: Dead Men Tell No Tales:
"The rip-roaring adventure finds down-on-his-luck Captain Jack feeling the winds of ill-fortune blowing strongly his way when deadly ghost sailors, led by the terrifying Captain Salazar, escape from the Devil's Triangle bent on killing every pirate at sea — notably Jack. Jack's only hope of survival lies in the legendary Trident of Poseidon, but to find it he must forge an uneasy alliance with Carina Smyth, a brilliant and beautiful astronomer, and Henry, a headstrong young sailor in the Royal Navy. At the helm of the Dying Gull, his pitifully small and shabby ship, Captain Jack seeks not only to reverse his recent spate of ill fortune, but to save his very life from the most formidable and malicious foe he has ever faced."
Pirates of the Caribbean: Dead Men Tell No Tales is set to sail into theaters on May 26. Until then, check out the actors who were almost cast in Pirates of the Caribbean.