The Devastating Death Of David Gulpilil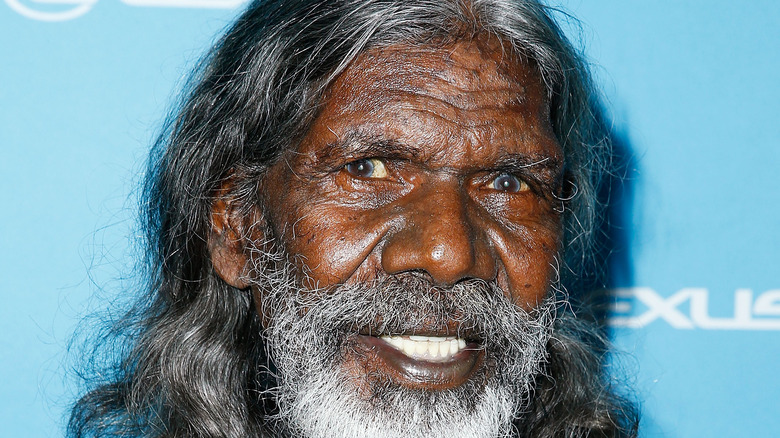 Brendon Thorne/Getty Images
Movie star David Gulpilil, who represented Aboriginal Australians on the big screen for nearly five decades, has died following a reported battle with lung cancer. He was 68. "It is with deep sadness that I share with the people of South Australia the passing of an iconic, once-in-a-generation artist who shaped the history of Australian film and Aboriginal representation on screen — David Gulpilil Ridjimiraril Dalaithngu (AM)," said South Australian Premier Steven Marshall in a statement on Monday, November 29 (via Variety). 
"David Gulpilil was from the Mandhalpingu clan of the Yolŋu people, and was raised in the traditional ways in Arnhem Land," Marshall explained. "In his later years he was a resident of Murray Bridge. He was a brother, son, friend, father, grandfather and husband. An actor, dancer, singer and painter, he was also one of the greatest artists Australia has ever seen." Gulpilil also faced many challenges throughout his lifetime, including racism and ignorance, but he faced it with grace and intelligence. 
According to Variety, Gulpilil was first diagnosed with lung cancer in 2017 as he was preparing to work on his very first film as a producer, "My Name is Gulpilil," which detailed his health struggles and debuted back in May 2021. The man was a profound and talented artist, leaving behind a major legacy for Indigenous people working in Hollywood and the wider entertainment industry.  
Gulpilil's film career included roles in Walkabout and the Crocodile Dundee movies
David Gulpilil has had some well-known movie roles over the years, but his most recognizable would have to be "Walkabout" (1971), "Storm Boy" (1976) and the "Crocodile Dundee" films. Not only did these parts put him on the map with mainstream audiences, but they also led to other critically acclaimed acting jobs. Gulpilil's 2002 performance in "The Tracker" earned him a win at the Australian Academy of Cinema and Television Arts Awards for Best Actor, which he won again in 2014 for "Charlie's Country." Gulpilil is arguably one of the most famous and prominent Aboriginal actors in cinematic history. He also appeared in 2008's more mainstream Hollywood movie "Australia," costarring Nicole Kidman and Hugh Jackman. 
According to South Australian Premier Steven Marshall, Gulpilil was "never expected to survive" through the filming or May 2021 premiere of his last film, "My Name is Gulpilil," but the universe had other plans. "It was no surprise to anyone that he was front and center on opening night, where he would receive his final standing ovation," Marshall said in his statement announcing Gulpilil's death. The Australian official noted how Gulpilil was one of the first people to ever portray an Aboriginal character on the big screen, and stated that his legacy would last forever. "He was a man who loved his land and his culture, and he was a man who took it to the world," Marshall concluded.