American Rust Season 2 - What We Know So Far
Showtime
"American Rust" premiered on September 12, 2021, on Showtime. It's based on Philip Myers' 2009 novel of the same name and set in the ideal place for a crime show: a struggling Western Pennsylvania Rust Belt town where desperation drives people to crime. It starred Jeff Daniels in the lead role, the morally conflicted and ultimately compromised chief of police Del Harris. If that description makes you think of another 2021 Pennsylvania crime drama series on a premium cable network that starred an award-winning actor (read: "Mare of Easttown"), you wouldn't be the first person to make that comparison.
While the Season 1 ratings for "American Rust" weren't exactly robust (via TV Series Finale), and even though it fully adapted the source material from Myers' book, the show still left plenty of room for Season 2 and beyond. It's been a few months since "American Rust" aired its Season 1 finale episode on November 7, so here's everything we know so far about Season 2.
What is the release date for American Rust Season 2?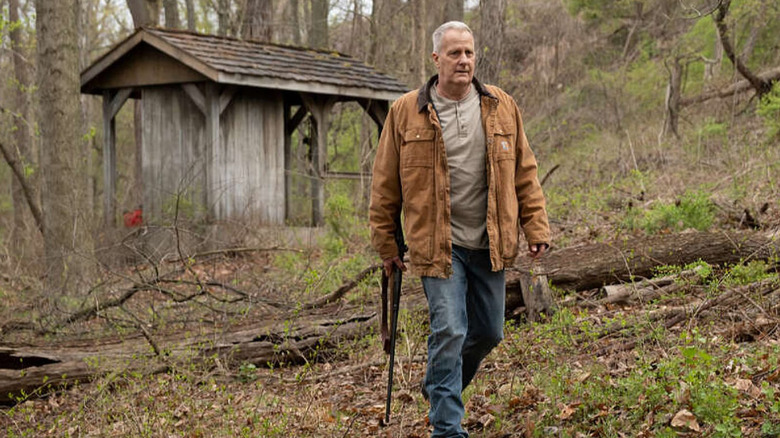 Showtime
As of late January 2022, it looks like "American Rust" is kaput. On January 25, the Pittsburgh outlet Tribune-Review was the first to report Showtime had canceled "American Rust" and included a statement from the cable channel that offered additional insight into their decision. Showtime's statement, per the Tribune-Review, reads: "We can confirm that 'American Rust' will not be moving forward with a second season. We would like to thank our partners at Boat Rocker, our talented showrunner Dan Futterman and the rest of the wonderful writers, and our amazing cast led by Jeff Daniels and Maura Tierney."
After spending a few years in development hell, "American Rust" got the series order from Showtime back in July 2019 (via Variety). After multiple pandemic-related delays, Season 1 finally began filming in March 2021 (via Trib-Live) and premiered in September 2021. The season wrapped in early November, and now, as we know, with it the "American Rust" story has also wrapped for good.
Who is in the cast of American Rust Season 2?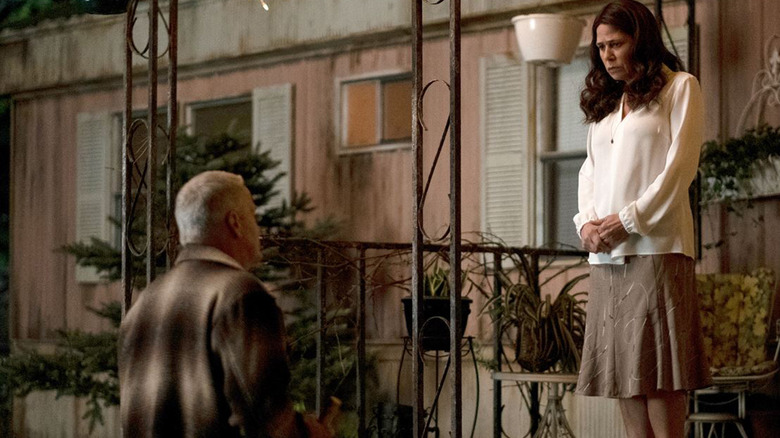 Showtime
Because Showtime has canceled "American Rust" as of late January 2022, there will be no Season 2. As a result, fans of the Showtime series must say good-bye to Jeff Daniels, Maura Tierney, Bill Camp ("The Queen's Gambit"), David Alvarez ("West Side Story"), Alex Neustaedter ("Colony"), and the rest of the incredible ensemble cast forever.
In Season 1, audiences are introduced to Daniels as small-town police chief Del Harris. Tierney played Del's love interest, warehouse worker Grace Poe, and Neustaedter played her son, Billy, who is left in a coma at the end of Season 1. Rounding out the Poe family was Mark Pellegrino ("Supernatural") as Virgil, Billy's father and Grace's husband. There's also Alvarez, who played Billy's best friend Alex English; Camp showed up as Alex's father Henry; and Julie Mayorga as Alex's sister (and Billy's ex-girlfriend) Lee. Finally, Rob Yang ("Succession") appeared as Del's deputy Steve Park, a character who was poised for a bigger role had Season 2 be confirmed.
What is the plot of American Rust Season 2?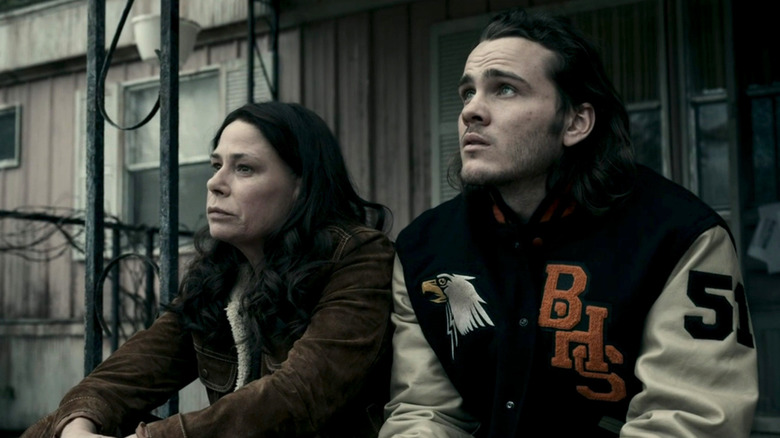 Showtime
As we noted in our writeup of whether "American Rust" would get a second season, Season 1 ended on so many cliffhangers that it felt pretty obvious where the show could have gone next. The big development is that, after spending Season 1 investigating Billy for the murder of cop-turned-drug dealer Pete Novick (Jim True-Frost), Del finds himself now covering up a triple homicide that he committed. If you didn't see it, Del was forced to kill two of Novick's associates as well as their 87-year-old cousin in self-defense. At the end of Season 1, Del's deputy Steve Park was suspicious of his involvement in the killings. 
With these events in mind, fans were likely looking forward to Season 2 incorporating the following plot points: Del finding himself in Billy's shoes, with Steve Park playing the Del role; Del also finding out at the end of Season 2 that Novick's real killer was Billy's friend Isaac English, and that Isaac killed Novick to protect Billy. Del decided to cover up Isaac's involvement.
"American Rust" ended on a dramatic note for the Poe household, which technically doesn't exist anymore. Grace burned down her own house to give her an excuse to get closer to Del. She was also trying to unionize the workers at the warehouse where she worked, an effort that ultimately failed. Finally, Billy received a nasty prison beat-down that left him in a coma. All in all, there were plenty of stories that "American Rust" Season 2 could have picked up.