Red Notice's Director Teases What We Could See In The Sequel On Netflix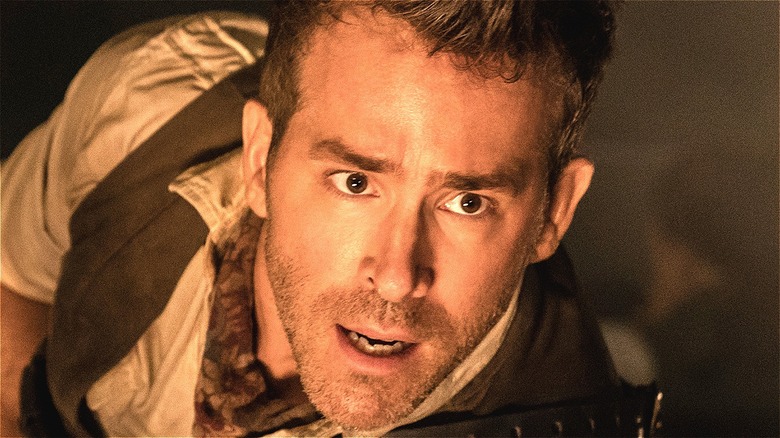 Frank Masi/Netflix
"Red Notice" has been an enormous hit for Netflix since its November 12 release on the platform. As we've previously reported, it's already had the biggest opening day of any new Netflix movie, becoming one of the most-streamed productions in the streamer's history. The combined star power of Dwayne Johnson, Gal Gadot, and Ryan Reynolds likely has a lot to do with the film's success. It also doesn't hurt that the movie sits at a 6.4 out of 10 on IMDb and a 92% Rotten Tomatoes audience score, as of press time. Both factors have seemingly contributed toward keeping "Red Notice" at the top of Netflix's global top 10 charts.
Unsurprisingly, where Hollywood success lies, so does talk of sequels. Rawson Marshall Thurber, who both wrote and directed "Red Notice," apparently already has an idea for a sequel already in the pipeline. Here's what we know about his plans to expand the movie's universe — if Netflix greenlights the production.
The Red Notice sequel would take our trio to the Louvre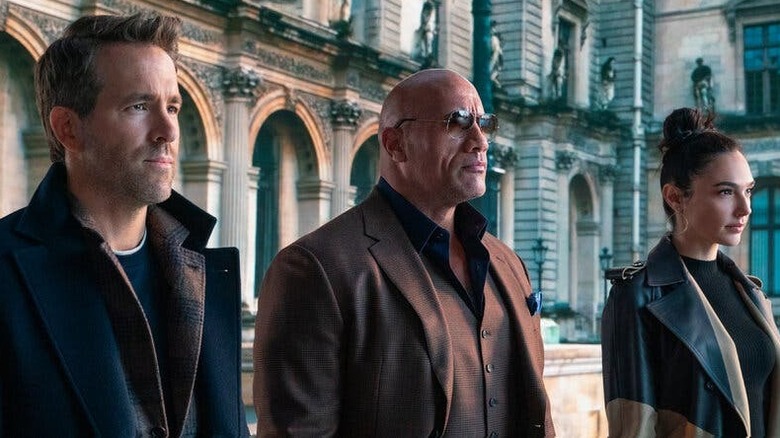 Frank Masi/Netflix
Per a recent interview with Collider, there have definitely been discussions between director Rawson Marshall Thurber and the streaming giant about the possibility of there being more to the "Red Notice" story. Thurber admits, "I've certainly been noodling with what I would do for a follow-up," but nothing has been officially put in motion as of this writing.
As for Thurber's idea for a sequel, well, this is where things get interesting. In the concluding moments of "Red Notice," we learn that Dwayne Johnson's Special Agent John Hartley has been something of a double agent the whole time. After looking for the final egg in Argentina, Hartley and art thief Nolan Booth (Ryan Reynolds) have a final face-off with "The Bishop," played by Gal Gadot. Johnson's character reveals he's Bishop's partner, which explains how she's kept ahead of him during their movie-long game of cat and mouse. Nolan is shocked by this revelation — but not so shocked that he doesn't agree to team up with Hartley and Bishop for a second job. As "Red Notice" closes, we see the trio walking toward the Louvre in France.
Thurber's current sequel idea picks up on the film's original ending, which was trimmed from the version posted to the streaming platform. "We cut out what our three heroes are off to steal at the Louvre," he says. That leaves things wide open for a sequel. Might they swipe the Mona Lisa? The Venus de Milo? After all, there are dozens of renowned works at the Louvre that they could snag.
Fans will have to stay tuned to see if Thurber's hopes come to fruition. For now, you can stream "Red Notice" on Netflix.