The John Carpenter Movie That Inspired Resident Evil: Welcome To Raccoon City - Exclusive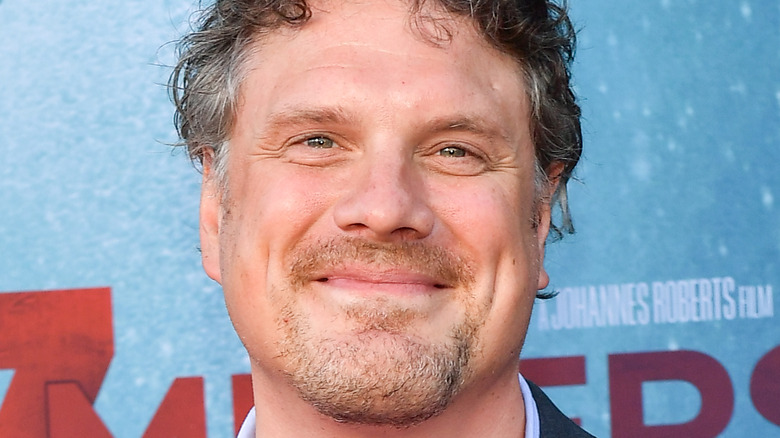 Matt Winkelmeyer/Getty Images
When writer and director Johannes Roberts was recruited to reboot the "Resident Evil" franchise, he had one thing on his mind: He wanted to make it scary again.
The six previous films based on the game, starring Milla Jovovich, were more action-oriented and liberally adapted from the popular Capcom survival horror series. Roberts was interested in taking the film franchise back to the beginning, basing "Resident Evil: Welcome to Raccoon City" largely on the first two games in the series and bringing back characters like Claire Redfield (Kaya Scodelario), Jill Valentine (Hannah John-Kamen) and Leon S. Kennedy (Avan Jogia), all of whom had often been portrayed quite differently in the earlier movies.
Not only was Roberts yearning to take "Resident Evil" into the realm of pure zombie horror again, but he wanted to also make it a siege movie, with Redfield, Valentine, Kennedy and the rest of the cast battling the horrid monsters created by the Umbrella Corporation both in the eerie Spencer Mansion and the bowels of the Raccoon City Police headquarters. To create the kind of suspense he wanted, with an ensemble of characters slowly gathering together against an unstoppable force in a closed location, there was one film in particular that inspired Roberts.
"I was like, 'This is my benchmark for how we are going to bring everyone together,'" Roberts tells Looper about the film in question. "So I very much looked at that."
Resident Evil: Welcome to Raccoon City pays tribute to an early Carpenter classic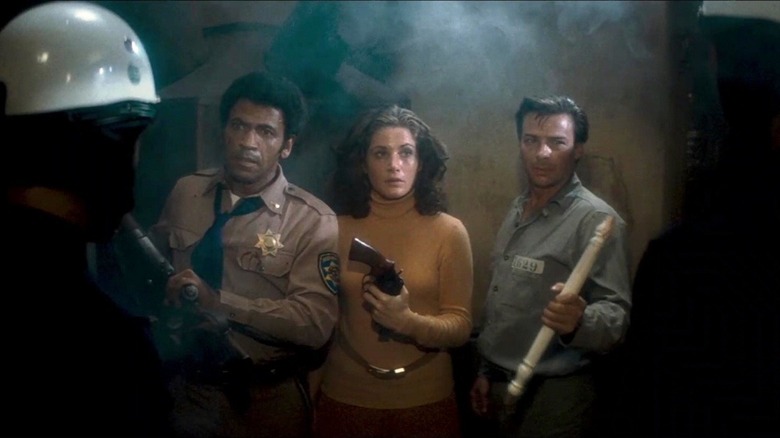 Turtle Releasing Organization
The movie that Johannes Roberts saw as his template for dealing with an ensemble under siege was John Carpenter's 1976 cult classic, "Assault on Precinct 13."
"You've got all these different characters," Roberts says about writing the "Resident Evil: Welcome to Raccoon City" script. "That was very tricky for me in telling the story. I was like, 'Okay, how am I going to do this?' And really, my way into the movie was 'Assault on Precinct 13.' I'm a huge John Carpenter fan. I just went, 'Okay, this guy knows how to tell a siege movie.'" 
In "Assault on Precinct 13," Carpenter's second movie, an escalating war between Los Angeles police and a local street gang reaches a boiling point when an army of gang members lays siege to a soon-to-be-closed precinct headquarters and the handful of cops and prisoners trapped inside. The terror generated by the vicious gang surrounding the building is matched by the atmosphere of tension and mistrust within, creating a film now regarded as one of the best crime thrillers of the 1970s. Made for an economical $100,000, the film led directly to Carpenter getting asked to make what would become his first masterpiece, 1978's "Halloween." 
"'Assault on Precinct 13' is one of my favorite movies of all time," says Roberts. "I was like, 'This is my benchmark for how we are going to bring everyone together.'"
Roberts adds that his love for the director covers his entire filmography. "I'm just obsessed with John Carpenter," he admits. "I just think he's a wonderful storyteller and his movies are just — this movie is a love letter to his work as much as it is to 'Resident Evil.'"
"Resident Evil: Welcome to Raccoon City" is in theaters now.