The Halle Berry Drama That Dethroned Red Notice On Netflix
There have been a lot of great films on Netflix in recent years, but few have had the kind of splash of "Red Notice." The hit action-comedy stars A-listers Ryan Reynolds, Gal Gadot, and Dwayne Johnson as they navigate the high-stakes and hijinks of the world of art thievery. Shortly after its release on the streaming platform, the heist flick broke a Netflix record with its sky-high viewership numbers.
"Red Notice" made headlines in 2019 when it became Netflix's most expensive film production ever (via Variety). Though a critical flop with a mere 35% on Rotten Tomatoes, fans feel quite differently, giving it a cumulative score of 92%. The film's success definitely shows that audiences still have quite the appetite for big-star and big-budget action thrillers. Though "Red Notice" is still going strong in Netflix's Global Top 10 ranking, another film has dethroned it for a coveted leading spot on the U.S. Top 10 chart.
Netflix viewers are tuning in to Halle Berry's directorial debut, Bruised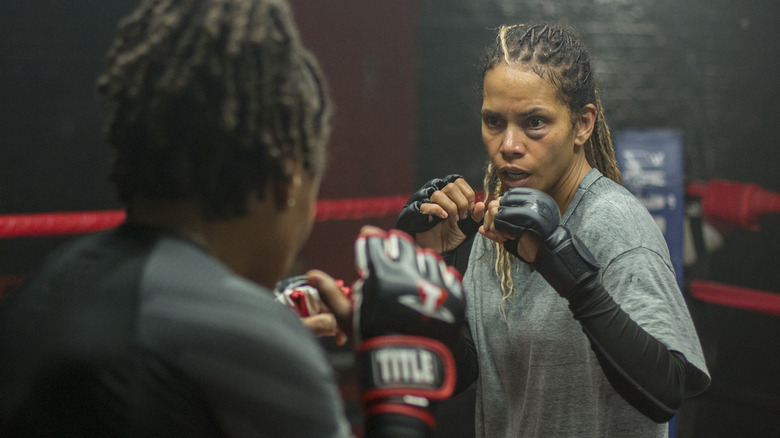 John Baer/Netflix
Following its November 24 release on Netflix, "Bruised" is one of the most-watched films on the streaming platform. At the time of writing, the sports drama holds the number two spot while "Red Notice" has slid down to the number six position. The movie's high ranking in Netflix's Top 10 is supported by the fact that "Bruised" is an incredible watch. The directorial debut of megastar Halle Berry, "Bruised" tells the story of Jackie Justice (Berry), a former MMA fighter whose personal struggles have laid her low after her prolific career in the sport. When Jackie's life begins to spin out of control, she gets a second chance at both her fighting career and motherhood. Many are watching the incredible sports drama, but what do they have to say about the film?
"Bruised" has a mixed reception from critics, with an average score of 51 on Metacritic. However, those who did enjoy the film praised Berry's talents, both behind and in front of the camera. "[She]...excels at mood," praised the A.V. Club in their review, remarking that Berry "oftentimes adopt[s] a constructivist approach to set the scene, relying on the audience's reptilian brain to map the space from the details that introduce it." Over at The Guardian, the outlet's review says Berry brings "commitment and focus" to the film while IndieWire remarks Berry "showcases a compelling tenacity, both in her performance and the way the camera captures the fights."
Gritty sports dramas often feel a dime a dozen, but Berry brings something new to the drama with "Bruised." With an extraordinary supporting cast including Adan Canto, Sheila Atim, Adriane Lenox, and impressive child actor Danny Boyd Jr. as Jackie Justice's son Manny, "Bruised" is an enjoyable watch.
Stream "Bruised" on Netflix right now.