The Improvised Dwayne Johnson Moment That Changed The Fast Franchise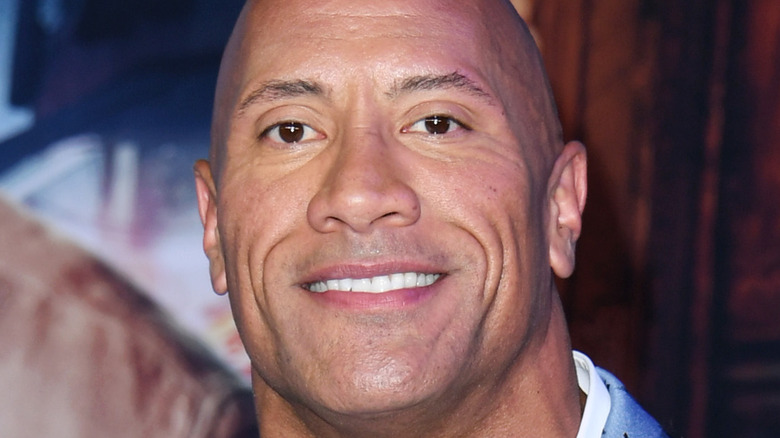 Jon Kopaloff/Getty Images
As much as some involved in the project may dispute the case, Dwayne Johnson's addition to "The Fast and Furious" world was a jolt the series was in desperate need of. Tagged as 'franchise viagra' when he rocked up on the scene in "Fast Five," he brought a heavy dose of charisma and star power that clashed in all the right ways with the rest of the Toretto crew. But if his collaboration with the team of car thieves was comparable to lighting a match, sticking him in a room with villain-turned-hero, Deckard Shaw (Jason Statham) was like pouring on lighter fluid.
When Statham arrived in what might be one of the twists of the century, it marked a path for two of Hollywood's biggest action stars to go toe-to-toe for more than a few rounds. From office floors to cell blocks, these two titans went at it and took absolutely no prisoners (or prison guards for that matter), and fans lapped it up. What was even more rewarding, though, was the chemistry that slowly sparked between the two, with one particular moment causing the franchise to switch gears in the best way possible.
A brave idea from Johnson was the start of something big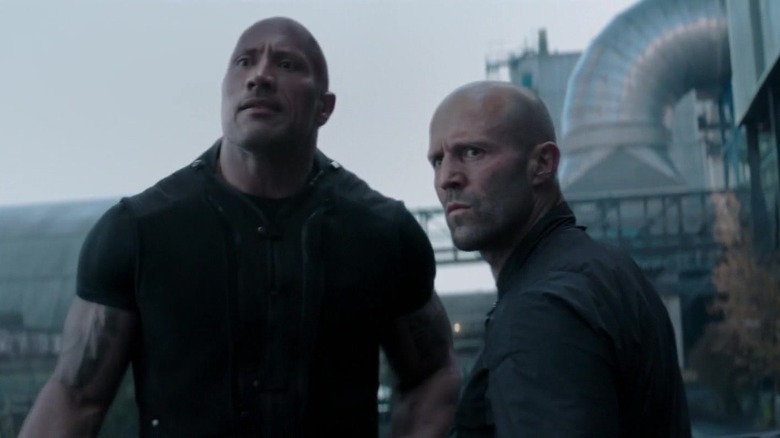 Universal Pictures
By "Fate of the Furious," Shaw had reluctantly allied with the film's heroes, much to Hobbs' frustration. Even so, amidst the absolute car-nage that unfolded in this particular chapter of the "Fast Saga," it allowed the two to interact with one another which Johnson revealed he took full advantage of.
Speaking to CBR.com following the release of "Hobbs & Shaw," Johnson explained how he used one particular scene to throw in a fun dose of friction with his co-star. "I remember there was a scene where he was working on his car, and I went to him and I said, 'So let's change things up a little bit. I'd like to say something to you in this, I wanna talk a little s–t to you. I don't want to tell you what I'm going to say, I just really want you to react and I'll react to your reaction.'"
Initially, it took Statham time to get on board with the idea, giving an eventual "okay, mate." It was the go-ahead Johnson needed to give audiences one of the funniest back and forths in the franchise and a stepping stone to something bigger.
Ad-libbed trash talk is what got us Hobbs & Shaw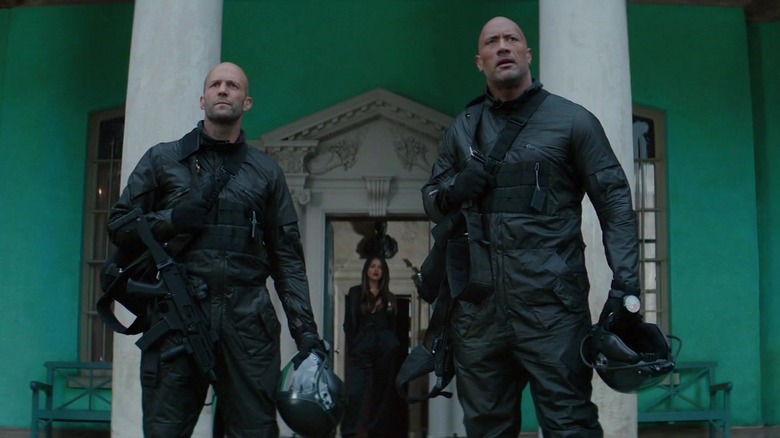 Universal Pictures
The scene in question saw Dwayne Johnson tell his on-screen frenemy, "When this is over, I'm gonna knock your teeth so far down your throat you're gonna stick a toothbrush up your a– to brush 'em." A colorful exchange, without question, and one that cracked the cement-like glare of his co-star. "He looked at me, and he started to crack up and broke character," Johnson recalled. "That's the take that we used in the movie, and honestly, it was in that moment that this kind of unique thing happened."
This moment marked the blossoming of a buddy movie in the making once the dust had settled and the iconic Torretto BBQ was powered up. This brutal bickering was something fans immediately warmed to, and all the studio needed to plan the next steps. "We had such a good time, and it was after that movie that Universal [realized] the audiences loved our characters together and loved what we were really doing," said Johnson. "And that was the creative nudge we needed that make the spinoff."
It turned out to be a smart move. Not only did the collective star power of Johnson and Statham for "Hobbs and Shaw" haul in $759 million at the box office (via Box Office Mojo), but it also sealed plans for a second outing for this beloved destructive and dynamic duo.