Shows Like Anne With An E That Coming-Of-Age Fans Need To See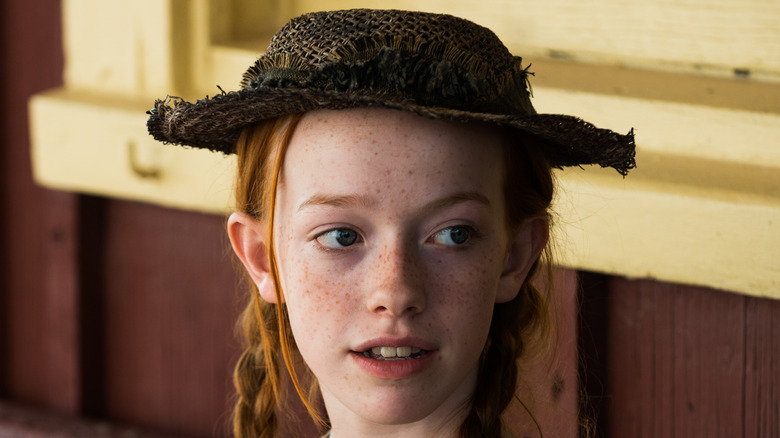 Netflix
Netflix's "Anne with an E" is the most recent adaptation of the beloved book series "Anne of Green Gables" by Canadian author Lucy Maud Montgomery. This beloved tale is a wholesome classic about an eccentric but exceptional and imaginative orphan named Anne, coming of age in the early years of the 20th century. This classic tale is brought to life (once again) in Netflix's new series. When Anne comes to Green Gables on Prince Edward Island to be adopted by the Cuthberths (a brother and sister who never married), she's enchanted by the natural beauty of the land. The headmistress of the orphanage made a mistake, however, and Anne is devastated when she learns the Cuthberths wanted a boy to help with chores on the farm, not a girl.
Desperate to stay at Green Gables, Anne passionately argues that girls can do anything boys can (and more). Marilla Cuthberth, determined to rectify the situation, takes Anne back to the orphanage, but when she sees the conditions Anne will have to live under, Marilla reconsiders, agreeing to try things out. Although Anne tries to be obedient, she gets herself into all kinds of trouble while living with the Cuthberths because of her quick mind and sassy mouth. This is a charming story about a precocious girl living in an idyllic setting while trying to find her place in the world — and for fans of this type of narrative arc, we've put together a list of shows like "Anne with an E" that coming-of-age fans need to see.
Anne of Green Gables (1985)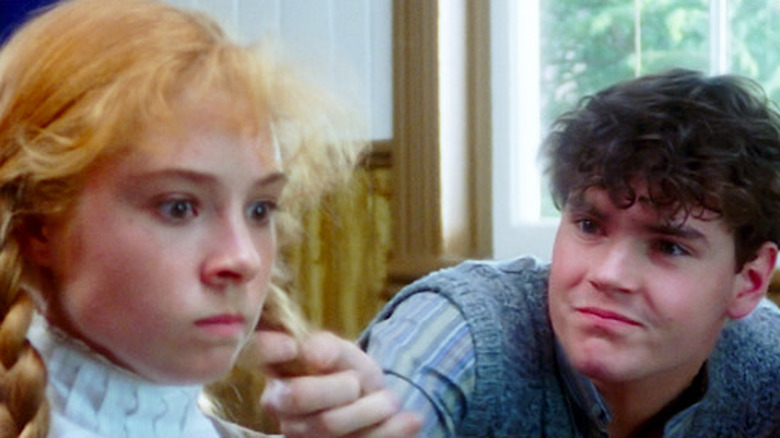 Gazebo TV
If you loved "Anne with an E," your next binge should be the 1985 miniseries "Anne of Green Gables," which is truer to the book than Netflix's adaptation. Almost every generation since the 1930s has had a film or television adaptation of this beloved book series, but somehow its classic coming-of-age story about a spunky, headstrong young woman never feels tired or dated. It also hasn't aged poorly, becoming problematic, as so many classics do. The 1985 miniseries brought Anne's spunk and charm from the page to the television set and quickly became the obsession of young viewers growing up in the '80s and '90s in North America. Audiences fell in love with the lush scenery of Prince Edward Island and the characters so lovingly portrayed in this version of the book series. You can stream this miniseries on Gazebo TV, or purchase the DVDs if you've never had the pleasure of seeing it.
Anne of Avonlea (1987)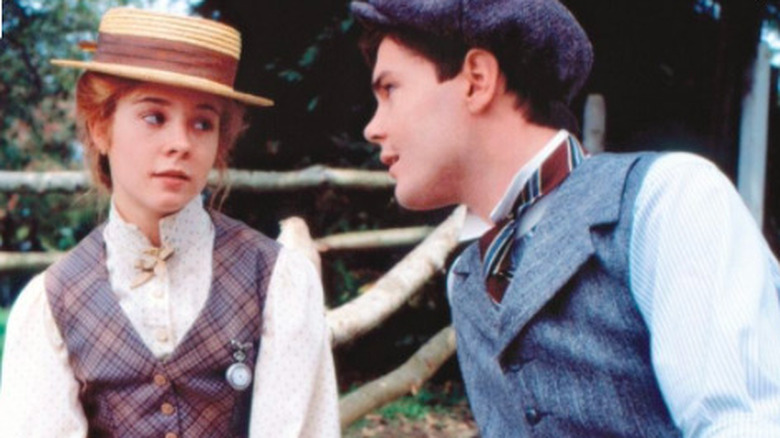 Gazebo TV
You can't watch "Anne of Green Gables" and not follow it up with the 1987 miniseries "Anne of Avonlea," during which we follow Anne Shirley to Kingsport Ladies College, where she has accepted a teaching position. Canadian actor Megan Follows returns to her role as Anne Shirley, and Jonathan Crombie reprises his role as Gilbert in this sequel. Girls everywhere loved Gilbert and rooted for the two childhood friends to reunite after Anne turned down his proposal of marriage before moving away to teach. In 2000 and 2008, Follows returned again her role as Anne Shirley in two additional miniseries that follow the character into her 20s during World War I, and later in her 40s working as a novelist. If you loved "Anne With An E," you can get lost in the world of Green Gables for hours by streaming the entire collection on Gazebo TV.
Little Women (2017)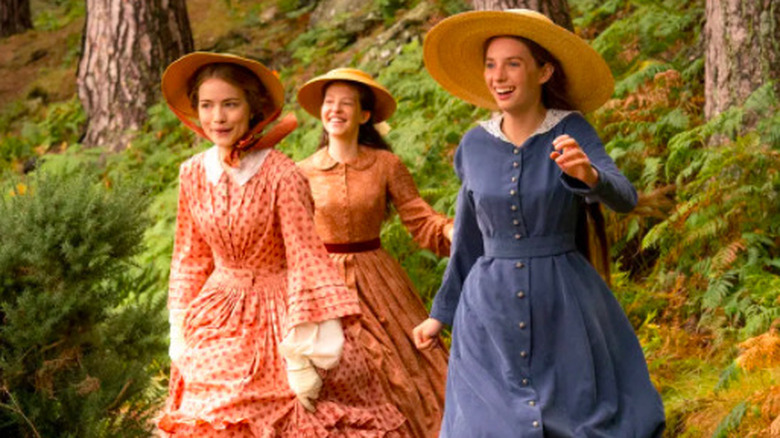 PBS
Any list based on Canadian author Lucy Maud Montgomery's "Anne of Green Gables" must include its American counterpart "Little Women," a much-loved classic novel about the four March sisters coming of age during the Civil War. Much like Anne Shirley from Green Gables, Louisa May Alcott's seminal novel is about a young woman, Jo March, with a keen mind and an independent spirit that defies the gender norms of her time. "Little Women" has been adapted to the screen multiple times, but the 2017 miniseries produced by PBS is excellent — and true to the original novel. The cast is stellar, with Angela Lansbury playing Aunt March, Emily Watson as Marmee March, and Maya Hawke (who played Robin in "Stranger Things") as Jo March, the story's protagonist. Her three sisters were expertly cast: Willa Fitzgerald as Meg March, Kathryn Newton as Amy March, and Annes Elwy as sweet Beth. Jonah Hauer-King plays Laurie. This version of the classic story is excellent and guaranteed to make you cry. Who doesn't cry over sweet Beth every time?
The Wonder Years (1988-1993)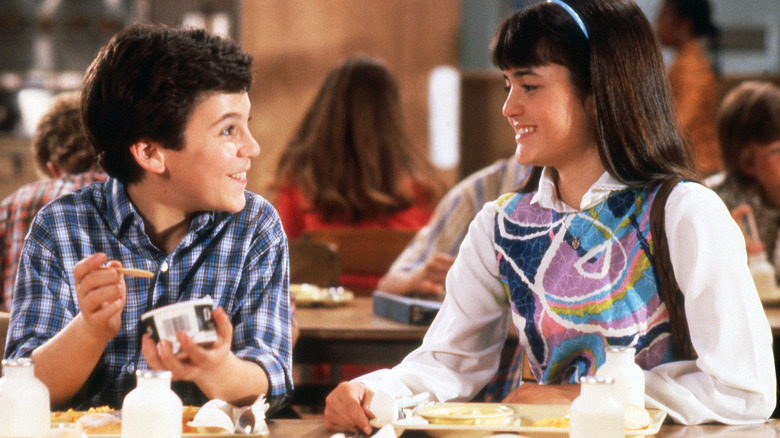 ABC
Every generation has a TV show that captures the entire family's attention and wins their hearts. If you grew up in the '80s and '90s, there were a few serious contenders for family favorite, but ABC's "The Wonder Years" was a standout success. With voiceovers provided by Daniel Stern, we get to know the Arnold family through their youngest son Kevin, played by Fred Savage. Kevin begins junior high in 1968, growing up during a time of cultural upheaval and change in the U.S. "The Wonder Years" hits the sweet spot in coming-of-age stories by embracing a nostalgic slice of Americana that appealed to parents and children alike.
Although "The Wonder Years" deals with serious social issues of the late '60s and '70s, there's an overall feeling of nostalgia for a simpler timer. Perhaps this is why ABC has rebooted the series, exploring the late '60s and '70s from the perspective of a Black family in Montgomery, Alabama. The new series has the same nostalgic tone as the original, and is both endearing and entertaining. Perhaps it'll become a family favorite for a new generation.
Blossom (1990-1995)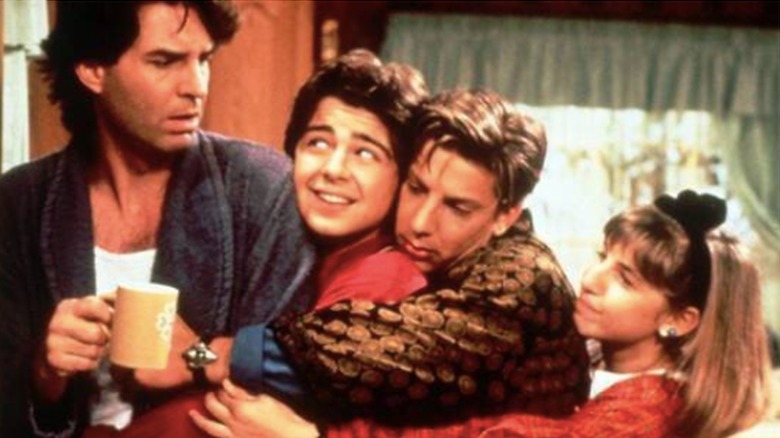 NBC
At its core, "Anne with an E" is about a spirited girl trying to find her way in the world. In the '90s, audiences fell in love with NBC's "Blossom," a hit series starring Mayim Bialik as a spunky, intelligent teenage girl blundering her way through adolescence. During its five seasons, Blossom Russo channels Anne Shirley's spirit with her quick wit, enthusiasm for life, and occasionally her insecurity and awkwardness. Much like Anne =, Blossom is uncomfortable with her looks, not seeing herself in women she recognizes as classically beautiful. Living in a home filled with men, including her musician father and her two older brothers, Blossom struggles with what it means to be a woman. She regularly turns to her best friend Six, played brilliantly by Jenna von Oÿ, for advice. "Blossom" is both comedic and heartfelt, occasionally dealing with divorce, teen sex, and substance abuse. As was common for its era, at times it seemed a tad too wholesome and sanitized, devoting one or two episodes to a serious issue before going back to its traditional family sitcom formula.
My So-Called Life (1994)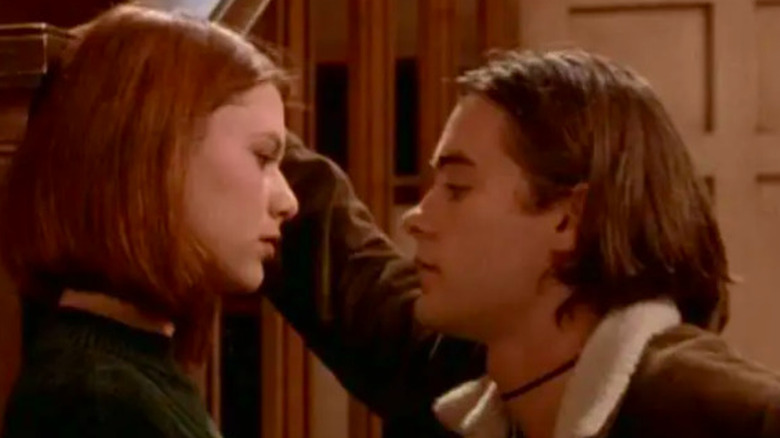 ABC
During the '94-'95 school year, "My So Called Life" — starring Claire Danes as Angela Chase and Jared Leto as her epic crush Jordan Catalano — defined a generation. Angela isn't as outspoken or sassy as Anne Shirley. Perceptive, emotionally sensitive, and hopelessly romantic, she's Anne's soft-spoken spiritual mirror — they're two girls trying to figure out who they are and where they fit in. Angela, the 15-year-old eldest daughter of a middle-class family living in a suburb of Pittsburgh, is a sophomore at Liberty High School and has become dissatisfied with her predictably boring life and her dorky childhood friends. At the start of the show, Angela is drifting away from her childhood best friend, Sharon, and has started hanging out with a new crowd. Her new friend, Rayanne Graff, is a bit wild and troubled. Their friend Rickey Vasquez, played brilliantly by Wilson Cruz, is exploring his sexuality and gender identity while coping with problems at home.
Although it only ran one season, this series captured the reality teens experienced in their lives but didn't see reflected in network family television. "My So Called Life" was a pivotal coming-of-age drama that reflected the teen angst of mid-'90s culture and paved the way for a new breed of gritty programming geared toward teens. The series didn't shy away from infidelity, adoption, drug use, sexual orientation, teen sex, guns in schools, domestic abuse, mental health, homelessness, and learning differences — and it also launched the careers of actors who became and remain huge stars. It even produced the first nickname for the micro-generation born between 1977-1981 who don't identify with Gen X or millennials, initially called Generation Catalano and now referred to as Xennials.
Dawson's Creek (1998-2003)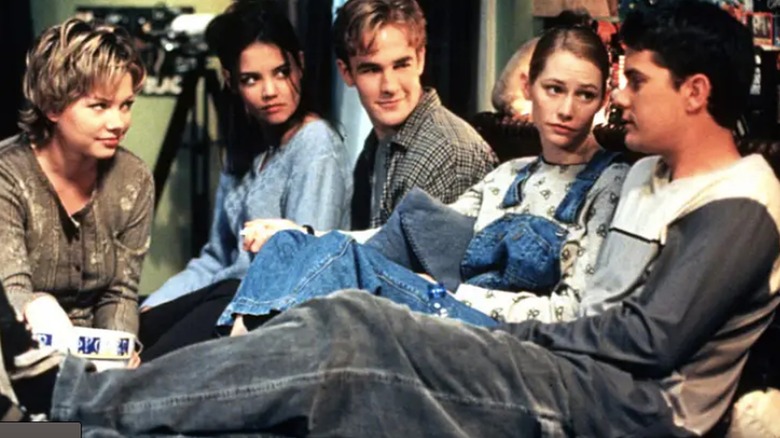 WB
For teenagers coming of age in the late '90s and early '00s, one show dominated ratings and catapulted its cast into stardom: "Dawson's Creek." Although this story is centered on and told through Dawson Leery's perspective, it's the character of Joey Potter, played by Katie Holmes, who stole the show and the hearts of Dawson and his best friend Pacey Witter. Joey is a lot like Anne Shirley in "Anne with an E." Both girls are tenacious, intelligent, independent, and opinionated. Joey isn't technically an orphan, but her older sister is raising her after their mother's death and their father's incarceration. Like Anne, Joey has to figure out who she is as a young woman without the support of her mother.
"Dawson's Creek" walked the fine line between being a show representative of the lives of young adults while remaining tame enough for network television. This series has the nostalgic rosy glow essential to coming-of-age stories, but still deals with real-life issues affecting teenagers. By leaning into experiences like first love, jealously and heartbreak, the WB hit television gold with a show that remains universally relevant while also being wholly representative of the time period in which it was made.
Gilmore Girls (2000-2007)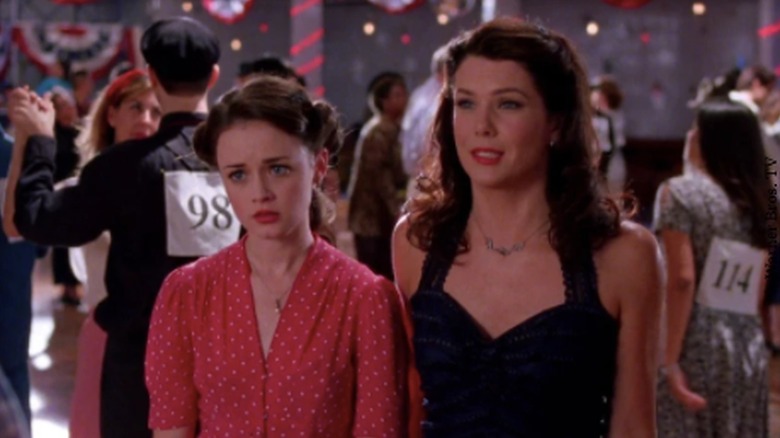 WB
In the character of Rory Gilmore in the WB's hit show "Gilmore Girls," we see another echo of Anne Shirley. Rory is intelligent, rambling and quirky, just like Anne. She's whip-smart, motivated, and on her way to an Ivy League education. Rory is raised by her single mother Lorelei Gilmore, who had her daughter at 16; when the show begins, Rory is a 16-year-old sophomore and Lorelei is an inn manager filed with caffeine and sass. Lorelei and Rory's high-speed repartee, a hallmark of the show, might be fueled by high-octane coffee, but this show is also filled with heart. During its seven seasons, we watch Rory finish high school and then college, graduating from Yale at the end of Season 7.
Set in the fictitious and idyllic small town of Stars Hollow, "Gilmore Girls" might be a little sweeter and less racy than some of its contemporaries, but this is precisely why this series is perfect for fans of "Anne with an E." Watching Rory, a sweet, well-intentioned, smart girl, make mistakes as she stumbles through adolescence and into young adulthood is pure coming-of-age storytelling with a heart. This series launched the careers of Alexis Bledel, Melissa McCarthy, Jared Padalecki, Lauren Graham, and Milo Ventimiglia. "Gilmore Girls" is equal parts quirky, smart, and sweet.
Atypical (2017-2021)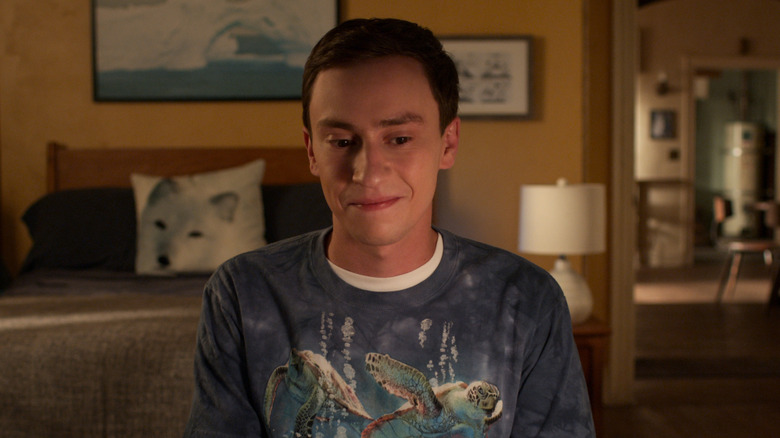 Netflix
In Netflix's delightful series "Atypical" we meet Sam, an endearingly quirky teenage boy living life on the autism spectrum. This family dramedy is a heartwarming coming-of-age story with an excellent ensemble cast. When 18-year-old Sam decides it's time for him to date, his mother Elsa, played by Jennifer Jason Leigh, has a hard time accepting her little boy growing up. Sweet and family-friendly — and really funny — it's wholly representative of our cultural moment.
While the show doesn't get everything right in its representation of a teenager on the autism spectrum, it's successful in bringing representation to the neurodivergent community — and others. Sam's younger sister, Casey, is a wisecracking track athlete. After having a boyfriend for a while, Casey develops feelings for one of her female teammates. As Casey explores her sexuality and identity, her character brings representation to the screen for queer teens. Not only is "Atypical" a coming-of-age story about siblings figuring out who they are and learning to navigate the world and their relationships, it's also about how changing family dynamics are bittersweet for parents watching their children leave the nest.
Never Have I Ever (2020- )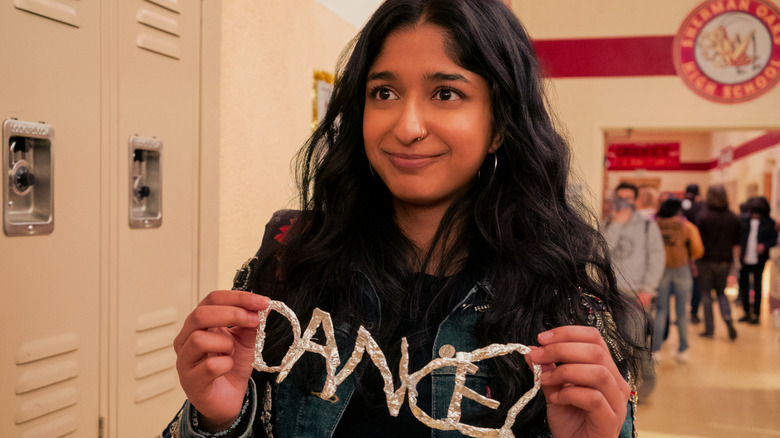 Netflix
Netflix's "Never Have I Ever" tells the hilarious and heartwarming story of 16-year-old Devi, a teenage girl living in Southern California while bridging two cultures. Devi's parents immigrated from India to California before she was born. Like many first generation Americans, she often feels torn between two cultural identities. As a South Asian girl, Devi often pushes against restrictive stereotypes and oppressive expectations. In many other ways, she's your typical Southern California teenager — boy-crazy and trying to figure out who she is while surviving the sociological experiment known as high school.
When we meet Devi, her father has died unexpectedly; she and her mother, a dermatologist, are working through their grief in their own ways. Devi is in therapy and walking again after a bout of psychosomatic paralysis that left her in a wheelchair. Thanks to her fierce competitive streak and temper, she's known as "crazy Devi" at her school, and constantly gets herself into hilariously awkward situations because of her impulsive choices and smart mouth. But at her core, Devi is an exceptional, bright, big-hearted girl, just trying to figure out where she belongs — not only at school, but also within her family and her larger ethnic community. "Never Have I Ever" is a funny, smart, and charming coming-of-age story with a multicultural cast.
The Queen's Gambit (2020)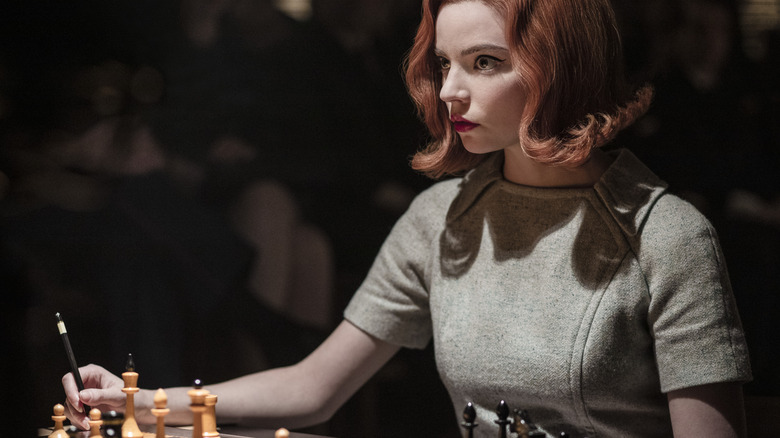 Netflix
Netflix's limited series "The Queens Gambit" is darker and more mature than "Anne with an E," but it's also an emotionally resonant coming-of-age story about an intellectually gifted orphan trying to find her place in the world. Set during the Cold War era, the show — which boasts absolutely flawless costumes and set designs — centers on Beth Harmon, a chess prodigy who learns to play from the custodian at the orphanage where she lived at after being abandoned at the age of nine. After leaving the orphanage and being placed in foster care with a childless couple in a loveless marriage, Beth begins competing in chess tournaments.
After her foster father abandons the family, Beth supports her adoptive mother Alma with her winnings from tournaments. Despite Alma's alcoholism and depression, she remains a supportive and loving mother figure for Beth. The two women travel to tournaments as Beth strategically works to become the best chess player in the world. "The Queen's Gambit" is an immersive coming-of-age story exploring themes of mental illness, addiction, and isolation; a wildly successful hit for Netflix, it simply can't be missed.
The Mysterious Benedict Society (2021- )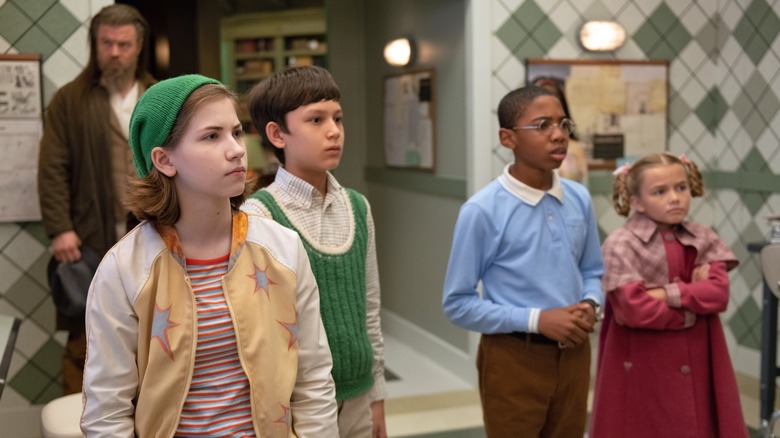 Disney
Disney's "The Mysterious Benedict Society" is a charmingly whimsical adventure about exceptional orphans adapted from the bestselling children's book series by Trenton Lee Stewart. Although this story is more of a fantastical adventure than a period drama, it's just as heartwarming and endearing as "Anne with an E." This series follows four gifted orphans recruited to infiltrate the Institute, a boarding school run by Dr. Curtain. The children's eccentric benefactor, Mr. Benedict, has sent them to discover how his evil twin, Dr. Ledroptha Curtain, is creating the Emergency, a global crisis distorting reality. Dr. Curtain's invention, the Whisperer, is creating a worldwide panic and undermining truth by planting ideas in people's minds. The series has a slow build-up during the first season, but it remains entertainingly quirky, visually stunning, and overall endearing.
A Series of Unfortunate Events (2017-2019)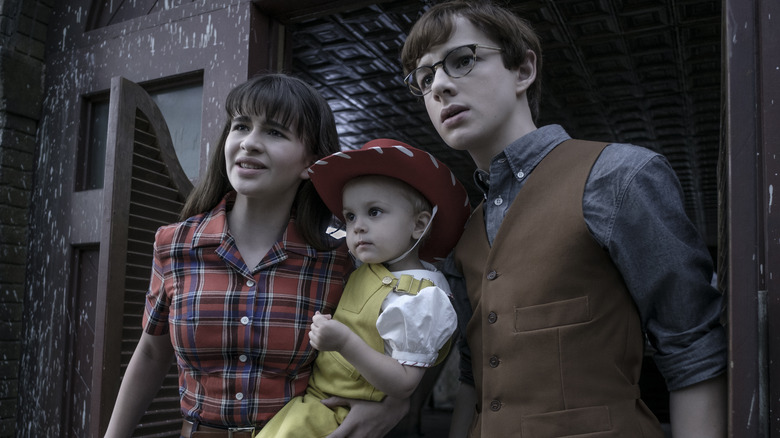 Netflix
An adaptation of the well-loved book series by author David Handler under the pen name Lemony Snicket, Netflix's "A Series of Unfortunate Events"  follows the Baudelaire children (Violet, Klaus, and Sunny) after their parents die under suspicious circumstances in a house fire. The Baudelaire siblings investigate their family secrets as they're passed around from relation to relation, hoping to discover what happened to their parents. Count Olaf, played brilliantly by Neil Patrick Harris, constantly hounds the children, trying to steal their family fortune. The series is visually stunning, dark, and otherworldly, perfectly translating the imagined world of the book series onto the screen. 
The Netflix series, much like the books, isn't cutesy entertainment for kids. It recognizes that the Baudelaire children's tale isn't a happy one, and doesn't force a happy ending. With morally gray characters, "A Series of Unfortunate Events" acknowledges that sometimes coming-of-age stories are about children forced to grow up too quickly because of their circumstances. For fans of the way "Anne with an E" looks at growing up too fast while looking back with nostalgia on the simplicity of childhood, Lemony Snicket's tale of the Baudelaire children fits right in.