What The Rotten Tomatoes Reviews Are Saying About Little Women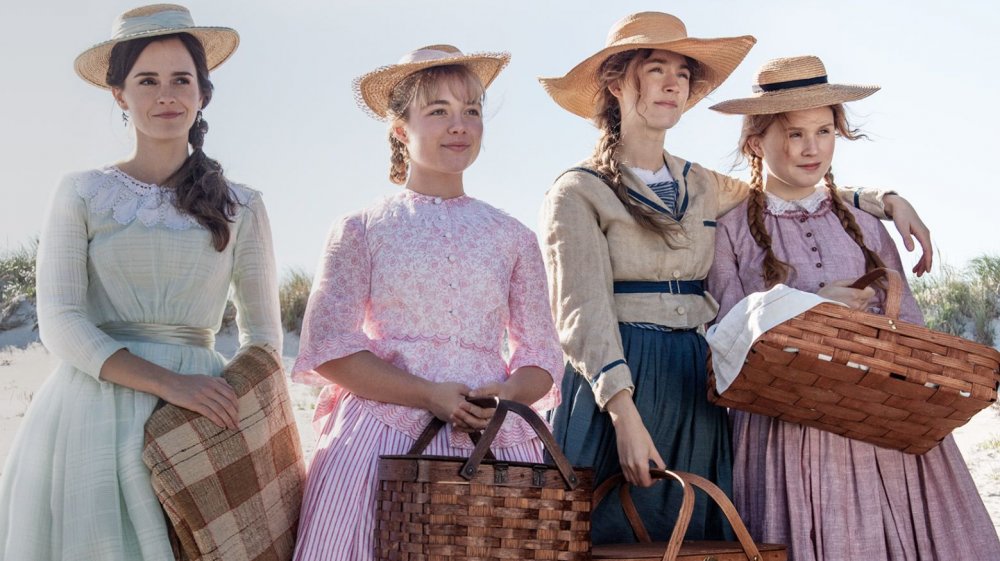 Sony Pictures
Little Women is already making a big splash.
Ahead of its holiday season release, Little Women's critical consensus is overwhelmingly positive, which is a great sign for writer-director Greta Gerwig's second major project. Following the huge success of 2017's Lady Bird, which netted Academy Award nominations for Gerwig and the film itself, it's clear that the skilled director isn't falling prey to any "sophomore slump" — an encouraging fact for fans of Gerwig and the original novel alike.
Based on Louisa May Alcott's classic 1868 novel, Gerwig's Little Women adaptation boasts a star-studded cast, some of whom have already worked with the lauded director. Saoirse Ronan, who starred in the titular role in Lady Bird, reunites with Gerwig as the strong-willed Jo March; Timotheé Chalamet, who appeared alongside Ronan in Gerwig's first movie, returns to play Laurie, Jo's would-be suitor. The rest of the March family is completed with Emma Watson as Meg, Florence Pugh as Amy, Eliza Scanlon as Beth, and Laura Dern as their mother Marmee. AAnd in case that wasn't enough star power for you, Meryl Streep is also featured in Little Women as the March family's rich, cantankerous aunt.
Clearly, Gerwig's efforts have already paid off. Critics are loving her take on the classic tale, which uses a non-linear narrative and presents every sister of the March family as equal in importance (Jo is usually regarded as the "main character," which often feels a bit unfair to the other three sisters) — proving that Gerwig is a serious directorial talent to be reckoned with.
With plenty of versions of Little Women out there in the world — including the well-loved 1994 version that starred Susan Sarandon, Winona Ryder, Kirsten Dunst, Claire Danes, and Christian Bale — you might wonder if the world even really needs yet another adaptation. But apparently, Gerwig has made the case that this movie isn't just necessary, but all-around excellent. With 43 reviews as of this writing, Little Women is super-fresh with a 98 percent rating on Rotten Tomatoes.  Here are just a few of the things critics had to say about the newest version of this beloved story.
Greta Gerwig has created a new classic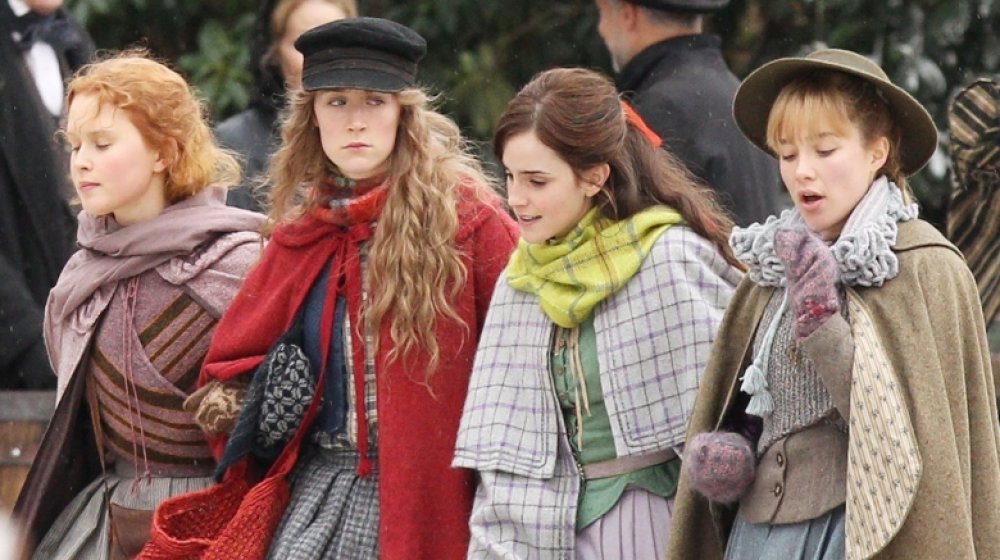 Writing for the Los Angeles Times, critic Kenneth Turan said that Little Women's "strong, unmistakable message and even stronger emotions reinforc[e] each other to splendid effect." Ultimately, he wrote that Gerwig's potentially risky approach to the material succeeds: "As writer-director, Gerwig has found a way to have it both ways in this Little Women, constructing an ending that marries the commercial pressures of writing a novel with the realities of Alcott's life and the pleasure she clearly took in being a successful author. It's a very of-the-moment conclusion, and by the time we get there we wouldn't have it any other way."
Over at Vulture, Alison Wilmore said it all in her headline: "There is no resisting Little Women." She, like Turan, thinks Gerwig's version of the story is worth watching: "It feels, exhilaratingly, like the throwing down of a gauntlet. Gerwig's Little Women demands its viewers reconsider these familiar characters and what we've always assumed they stood for. It doesn't just brim with life, it brims with ideas about happiness, economic realities, and what it means to push against or to hew to the expectations laid out for one's gender."
Wilmore continued, "The biggest choice Gerwig makes is to cut Alcott's narrative into pieces and rearrange it by theme rather than chronology, using color grading to distinguish the past from the present. But her boldest, by far, has to do with how the film elevates Amy, the youngest and, traditionally, the least loved of the four March sisters. The rambunctious Jo, the iconoclast of the family, has always tended to be seen as the story's driving force. But while Jo, played by Lady Bird lead Saoirse Ronan, is still central in this version, Amy, played by the marvelous Florence Pugh, is right alongside her. The journeys of the two characters, often at odds, get placed in counterpoint — their creative aspirations, their desire to see more of the world, and their respective clear-eyed assessments of the limitations put on them by society."
Plenty of critics, including Mashable's Erin Strecker, highlighted Amy's expanded role and Pugh's anchoring performance. Strecker made clear in her review that she's a huge fan of the overall film, but singled out Pugh as an incredible delight in saying, "Pugh is Oscar-worthy outstanding. In many previous versions, the character gets shortchanged a bit, remembered for her spoiled, little girl tantrums and her conflicts with Jo. It was gratifying to see Gerwig and Pugh team up for something better this time around — a thoughtful look at a young woman with a lot of family pressure who makes choices that we may not agree with, but we certainly understand. Pugh brings dimension to even the character's shallowest moments, not to mention supplying some of the film's biggest laughs."
Entertainment Weekly's Leah Greenblatt gave the film an A-, writing it stays true to Alcott's values while still feeling fresh: "Purists might blanche at the strenuously modern brand of feminism the movie imposes here, and the generally contemporary air that swirls over all its carriages and top hats. If Gerwig's woke Women-hood verges on anachronism, though, it also feels fully loyal to the spirit of Alcott, a woman always well ahead of her time. And like a sort of balm too, for an era when the novel's long-held values — courage, kindness, strength in vulnerability — still feel a lot further away than they should."
Meanwhile, Katie Rife at The A.V. Club awarded the movie a solid A in a glowing review, praising its feminist bend and the way it handles each sister's love story, whether it's romantic or sisterly. By the end of the review, she was all in on the movie: "Little Women is the best kind of Hollywood film: thoughtful yet escapist, sophisticated yet accessible, expertly crafted and deeply felt. The performances are all top notch—Ronan and Pugh, especially, breathe new life into their characters. Gerwig's direction is also first rate, using symbolism and composition to reinforce the emotional arcs of the material. The film tweaks the structure of a well-known and beloved story and modernizes it with light meta touches, all while staying true to its old-fashioned belief in the virtues of kindness and selflessness. It's a living, breathing, vibrant work of art, one that's as bittersweet as life itself."
IndieWire's Kate Erbland called the adaptation "stunning," writing, "Fans of the original novel (and the first-rate 1994 Gillian Armstrong adaptation of Alcott's book) shouldn't fret over the contemporary implications of Gerwig's film." She summed up Gerwig's Little Women with a succinct statement: "It's the same Little Women that has endured for centuries, given new life with an original narrative conceit, and a level of craftsmanship that's nothing short of stunning." 
At The Hollywood Reporter, David Rooney's "bottom line" for the film is that it's "ageless." His review reads in part, "Aside from minimal use of direct-to-camera address, Gerwig foregoes fussy directorial flourishes, instead shepherding an elegant film in the classical mold, often with a painterly look. It's also pleasingly paced through its two-and-a-quarter-hour run time, with nimble camerawork and editing that suggest the vigor of youth and the urgent sense of discovery that comes with young adulthood. Alexandre Desplat's lush score is laid on a little thick, but even that seems appropriate for a story whose sentiments are always grounded in genuine emotion. Gerwig has taken a treasured perennial of popular American literature and reshaped it for a new generation, which should give the captivating film a long shelf life."
Peter DeBruge at Variety liked the film — and though he said it might not have as much staying power as other critics believe it will, he argues that it doesn't have to: "In terms of sheer logistics, Little Women marks a huge step forward for Gerwig, who shows an aptitude for future studio projects without sacrificing her distinctive directorial voice. Cinematographer Yorick Le Saux sustains the Currier and Ives-like look of Gillian Armstrong's 1994 film while plunging us further into the characters' midst than any of the earlier adaptations. In the end, this latest version doesn't have to hold up for 60 years. It's enough that it plays well today, and a plus if young people are still watching it whenever someone decides to remake it for the next generation of little women."
Alonso Duralde at The Wrap wrote, "We have all, by this point in history, seen multiple adaptations of Louisa May Alcott's Little Women, but we have never seen one quite like writer-director Greta Gerwig's moving and meaningful 2019 version." He continued, "In an era in which sentimentality is a seasoning that filmmakers either shun entirely or employ with too heavy a hand, Gerwig crafts a work about love and family and devotion and empathy that is moving without being manipulative. This is a Little Women for the ages."
Though some recent reboots have faltered with critics and have totally bombed at the box office, Little Women seems poised for a particularly good debut, especially with an already beloved director like Gerwig and a talented, capable cast at the helm.
Little Women will warm hearts in theaters everywhere on December 25.