'Agatha All Along' From WandaVision Just Got A Huge Honor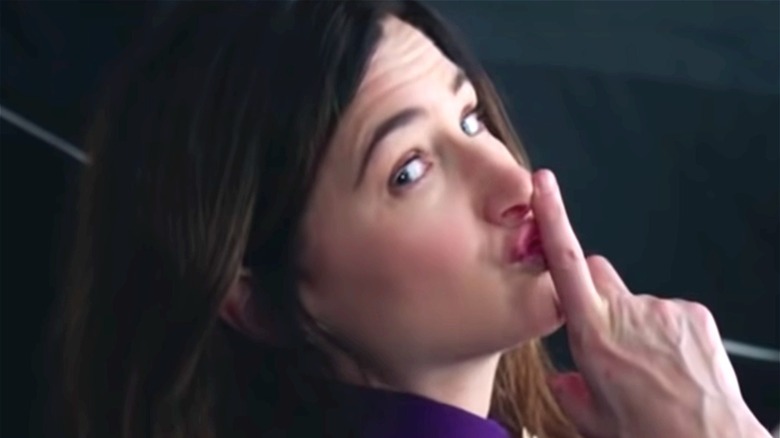 Disney+/Marvel
Who's been a secret music sensation? It's been Agatha all along! 
As the cackling villain of the first major MCU series following the end of the "Infinity Saga," it's no surprise that Kathryn Hahn — who played the wicked witch Agatha Harkness in "WandaVision" — has received a major spike in popularity. Heck, Agatha is even receiving her own show. However, nobody expected for her theme song, "Agatha All Along," to become a chart topper, as well. After the song premiered in Episode 7 of "WandaVision," it went viral and steadily rose in popularity among MCU fans. Within a few weeks, the song had swiftly made its way to the #1 spot on iTunes. In its climb to the top, the enchanting track even outclassed popular artists like Justin Bieber (via The Tonight Show).
Now, the accolades for "Agatha All Along" have grown even larger, as this mystical incantation just received another huge honor — a Grammy nomination for Best Song for Visual Media. According to Chart Data on Twitter, it is the first TV song to earn a Grammy nomination, in its categories, in the last eight years.
The story behind Agatha All Along's success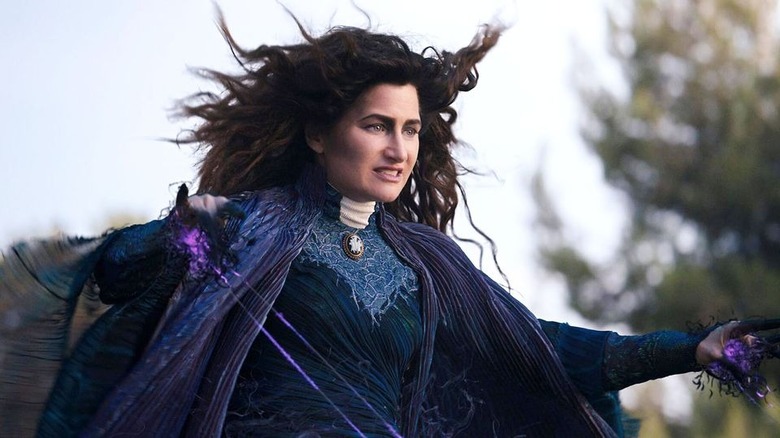 Marvel Studios/Disney+
So how did a song from a superhero series manage to waltz its way into the Grammys? Well, in short, the song was built to resonate with people in ways they might not notice. In an interview with the New York Times, songwriters Kristen Anderson-Lopez and Robert Lopez explained how they built the song around a particular familiar chord.
"In a way, 'Agatha All Along' was there all along," said Anderson-Lopez. "We've been spoon-feeding a tritone that's called the devil's interval — the [soft voice] duh-duh-duh — throughout the series. And then ultimately, when the big reveal happens with the [thundering voice] DUH! DUH! DUH!, everyone had been hearing it steadily, so it felt like an old friend."
Of course, the success of this tune can't all be chalked up to the composers. Hahn also deserves some credit for singing her own theme, as well. "I knew I was going to have a theme song," Hahn told Nylon. "But I actually didn't know I was going to be singing it until we were midway through shooting it and they were like, 'Oh, we're going to need you to sing.' I was like, 'Great,' but I had zero expectations that it was going to be the thing that would pop out."
Though she hasn't responded to her Grammy nomination yet at this time of writing, Hahn did tell Nylon in that same interview that the song's success seemed "surreal." Neither she, nor the songwriters really expected it to be a success. But, like in the show, the twist is that Agatha is always a bit more than she appears.